Abbeyleix in Co. Laois named Ireland's Tidiest Town and Overall winner of Ireland's Tidiest Small Town
Geashill in Co. Offaly named as Ireland's Tidiest Village
Gold Medals for Abbelyleix and Geashill as well as Portlaoise, Athlone, Tullamore, Abbeyshrule, Ballinahown
Water and Communities Award for Milltownpass
Minister for Rural and Community Development, Heather Humphreys TD, today (6 October) announced Abbeyleix, Co. Laois as Ireland's Tidiest Town for 2023.
Over 600 TidyTowns volunteers were present at the SuperValu TidyTowns awards ceremony at Croke Park in Dublin with the event live-streamed to thousands more online.
This year, 887 towns were competing for the prestigious awards demonstrating the continuing huge national interest in the SuperValu TidyTowns competition which has been running since 1958.
Abbeyleix, Co. Laois was named as Ireland's Tidiest Town as well as Ireland's Tidiest Small Town.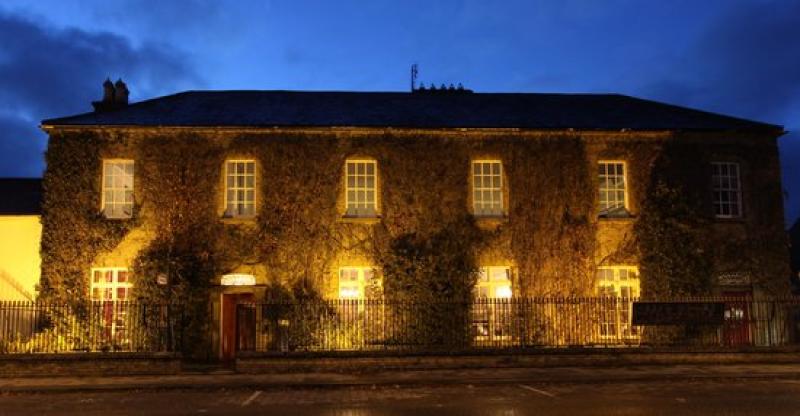 Announcing Abbeyleix as the overall winner, Minister Humphreys said:
"I offer my warmest congratulations to Abbeyleix and all of its TidyTowns volunteers for being crowned Ireland's tidiest town for 2023. This is a truly great achievement and a special moment of immense pride for Abbeyleix and indeed the wider county of Laois. Having first entered the competition in 1960, Abbeyleix today continues to showcase all that is good about innovation, sustainability, community spirit and volunteerism. This is at the core of what the competition is all about. As always, the standard of competition was extremely high this year in all categories, with 887 entries received overall. I want to pay tribute to all the winners today across all the various categories. In particular, I want to recognise the vital role of TidyTowns volunteers across the country who are working so hard all year round to ensure our communities are vibrant, sustainable places to live, work and visit. You are truly an inspiration, and the embodiment of everything that is good in our communities."
SuperValu have been the competition's main sponsor for over 30 years, and Ian Allen, Managing Director of SuperValu, announced the results with Minister Humphreys, commenting:
"On behalf of SuperValu, I would like to congratulate Abbeyleix on becoming Ireland's Tidiest Town. This achievement is a testament to the hard work and commitment of the committee and team of volunteers involved in the town. Since the inception of SuperValu's valued partnership with TidyTowns, the competition has grown significantly and meaningfully. There are now over 1,000 active committees backed by a powerful movement of almost 30,000 volunteers all of whom are highly committed to enhancing their towns and villages all around the country.
Minister Humphreys also announced a special allocation of €1.5 million in funding to support the work of TidyTowns groups in their continued efforts to make their towns and villages better places to live, work and visit. Since 2017, the Department has provided €9.5 million in funding to support the important sustainability and other activities of these groups.
The Minister concluded:
"The focus on sustainability and biodiversity are particularly impressive and important for all of us. The funding from my Department will help Groups continue with their inspirational efforts to transform their communities and the local environment."
Midlands Tidy Towns Results
On top of the overall win for Abbeyleix, it was another great year for the Midlands in the SuperValu Tidy Towns Competition in 2023, with many awards and medals across Laois, Longford, Offaly and Westmeath. Now entering its 66th year, the spirit of Tidy Towns is about more than the awards, it's about communities and people coming together to improve the places where we live. Hundreds of thousands of people have participated in community initiatives over the years, with Tidy Towns becoming a national movement with 887 towns and villages participating this year.
The high scores and awards for the region are part of a proud history for the Midlands in the Tidy Towns Competition, with the region winning the overall national award a total of 9 times since the competition began in 1958.
2023 Midlands Tidy Towns Awards
Ireland's Tidiest Town
Ireland's Tidiest Small Town
Ireland's Tidiest Village
Gold Medal Awards
Abbeyleix, Co. Laois
Geashill, Co. Offaly
Abbeyshrule, Co. Longford
Athlone, Co. Westmeath
Ballinahown, Co. Westmeath
Portlaoise, Co. Laois
Tullamore, Co. Offaly
Silver Medal Awards
Birr, Co. Offaly
Longford, Co. Longford
Bronze Medal Awards
Newtowncashel, Co. Longford
Clonbullogue, Co. Offaly
Durrow, Co. Laois
Mullingar, Co. Westmeath
Newtowncashel, Co. Longford
Tyrellspass, Co. Westmeath
Endeavour Awards
Ballinkill, Co. Laois
Barry, Co. Longford
Kilcormac, Co. Offaly
Milltownpass, Co. Westmeath
In addition, Midlands towns and villages were also recognised and shortlisted in a number of the Specialist Awards announced at the event.
Water and Communities Award – National Winner
Milltownpass, Co. Westmeath
All-Ireland Pollinator Plan – Highly Commended
Tyrellspass, Co. Westmeath
For the full list of winners, see TidyTowns.ie