Sustainability Entrepreneurs in the Midlands encouraged to apply for the 2024 Accelerate Green executive accelerator programme from Bord na Móna.
SMEs, early-stage companies & start-ups in the sustainability sector encouraged to apply
Closing date for entrants is 10 November 2023
Flagship business accelerator programme for green business, based in Lough Boora, Offaly
Bord na Móna investing €5m in the rollout of the initiative until 2025 to continue helping green Irish businesses to scale
Accelerate Green alumni businesses have experienced average revenue growth of 150% since completing the programme, and 80% have grown their workforce
Leading Executive Accelerator programme for Green Business
Applications are now open until November 10th 2023, for companies to take part in Bord na Móna's Accelerate Green programme. SMEs in the Midlands looking to scale, start-ups with innovative sustainability and climate solutions, and companies in the development stage looking for investment are all encouraged to apply.
Accelerate Green is an Executive Accelerator designed to scale sustainability-driven businesses. The programme works through a series of workshops at the Accelerate Green HQ in Lough Boora, where companies work in an environment that values collaboration over competition to drive strategic growth in their business. Bord na Móna and Resolve Partners focus on connecting participating companies with key reference customers, access to infrastructure, industry specific expertise, and world-class mentors.
The programme itself will officially commence in January 2024 and is a transformative accelerator programme developed to equip Irish business owners in the climate action and sustainability sector with the skills and knowledge to scale their business here in Ireland and beyond. In conjunction with Resolve Partners, Accelerate Green will bring the successful applicants through a series of expert learning modules delivered by industry leaders, entrepreneurs, potential investors and successful Irish business representatives.
Accelerate Green businesses enjoy access to networking, mentoring and business development opportunities through engagement with the experienced senior leaders across Bord na Móna's businesses. The participants will also gain insight into Bord na Móna's commercial expertise and learnings as a business that has fully transitioned from Brown to Green – shifting from traditional peat harvesting to climate solutions and renewable energy development.
Past Alumni experience 150% revenue growth, with 85 jobs created
Twenty-five Irish businesses from across the country have successfully completed the programme since it first launched in 2022, and are on their journey to delivering innovative sustainability focused products and services as a result. For example, past alumni include Roscommon-based enterprise Positive Carbon who developed an innovative system to reduce food waste; Co. Tipperary located cartoned water business Borrisoleigh Bottling; and EpiSensor an energy management and demand response solutions company based in Limerick.
Since completing the programme, many alumni have experienced significant, sustainable progress in their businesses. According to recent research* among the 2022 alumni, all business participants felt the experience had a positive and tangible impact on the success of their business. The majority of alumni (80%) saw the scale of their company grow significantly in the 12 months following the programme – 60% of these expanded their business operations here in Ireland, with slightly more (80%) growing their operations abroad. All participants also found the focus on networking to be extremely beneficial, with the vast majority leveraging the connections made to the benefit of their own business in varying ways.
Across all companies that took part in Accelerate Green, 80% have increased the size of their workforce (85 jobs) since completing the programme, and the average revenue growth of the alumni is 150 percent.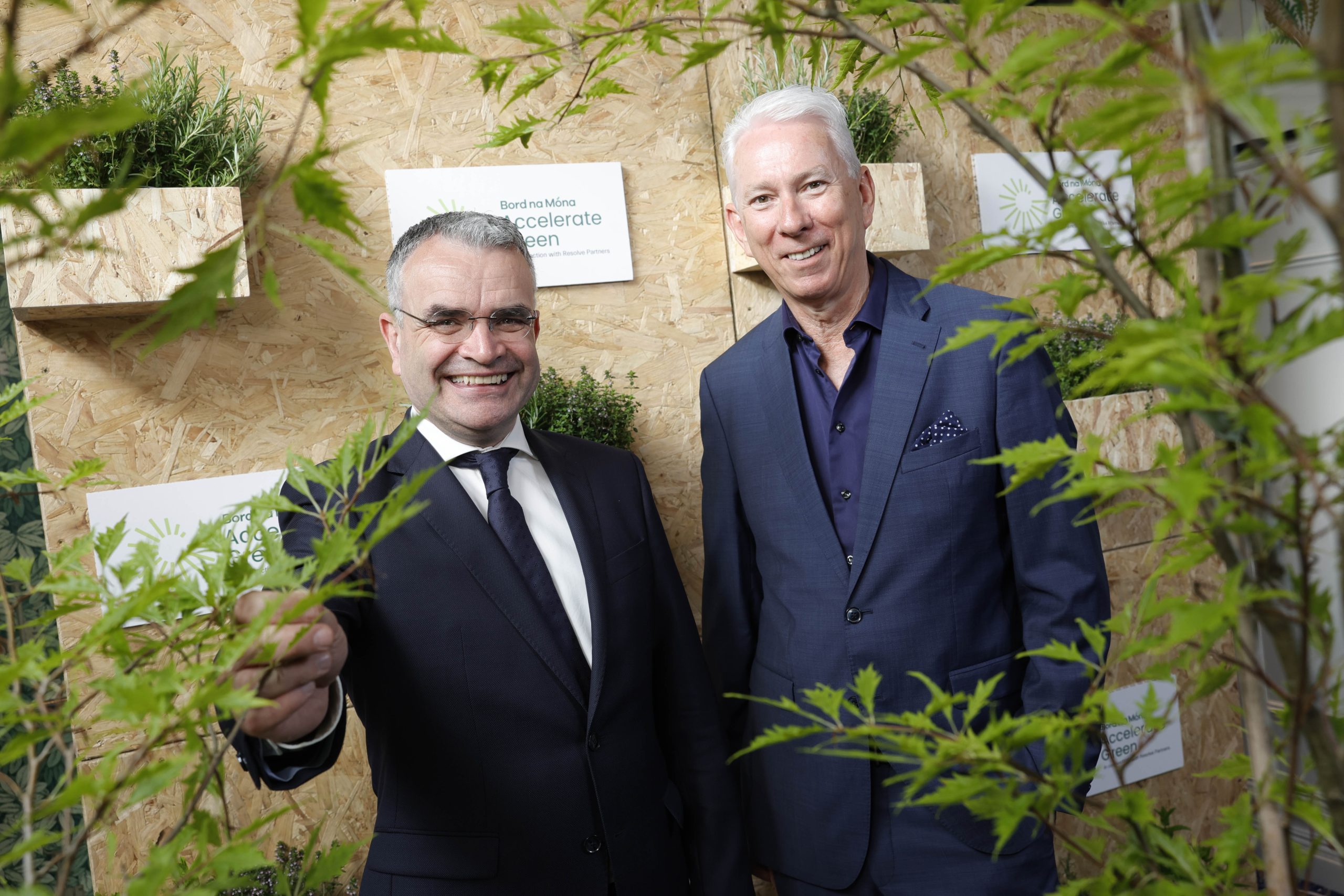 Commenting on the launch of the new Accelerate Green Programme, Bord na Móna Chief Executive Tom Donnellan said:
"A key element of Bord na Móna's mission is to lead the way and help the country re-imagine how it engages with climate action and Accelerate Green is an important element of this. This year, we have committed €5 million to the continued rollout of this important programme and we are delighted to see the impact it has already made on our growing alumni since we first launched in 2022 with many reporting experiences of thriving business operations not only here in Ireland but internationally too.
Accelerate Green is a tremendous opportunity for Ireland's rising green innovators to learn, grow and scale their business. The modules and mentoring we offer as part of the programme are tailor-made to help participants develop a thorough understanding of how to build a sustainable and resilient business model – an invaluable asset for all early-stage companies, and particularly those with the shared purpose of supporting a more sustainable future for Ireland through pioneering green innovations. I would highly recommend all businesses keen to make a difference in the sustainability sector to apply."
Minister of State for Trade Promotion, Digital and Company Regulation Dara Calleary TD commented on the programme launch:
"Ireland has ambitious environmental targets for 2030, as well as our longer-term goal of achieving carbon neutrality by 2050. To meet these objectives, it is important that we support and nurture the next generation of innovative and sustainable Irish businesses that are making strides in the climate solutions sector. A strong, thriving community of sustainable innovators is imperative to realising our national goals and ensuring a sustainable future for Ireland. Participants of Bord na Móna's Accelerate Green programme to date have demonstrated the high standard of homegrown talent emerging in Ireland and I look forward to seeing what new green innovators are selected as part of the 2023 Accelerate Green cohort."
For more information, and to apply for the 2024 programme, visit Accelerate Green