Wins for Midlands-based PolyBo and Agri Data Analytics announced at the 2023 Enterprise Ireland Innovation Arena Awards
Simon Coveney TD, Minister for Enterprise, Trade and Employment, attended the official awards ceremony at the National Ploughing Championships
Midlands hosts over 40 international Agritech buyers from 10 countries visiting the Innovation Arena this week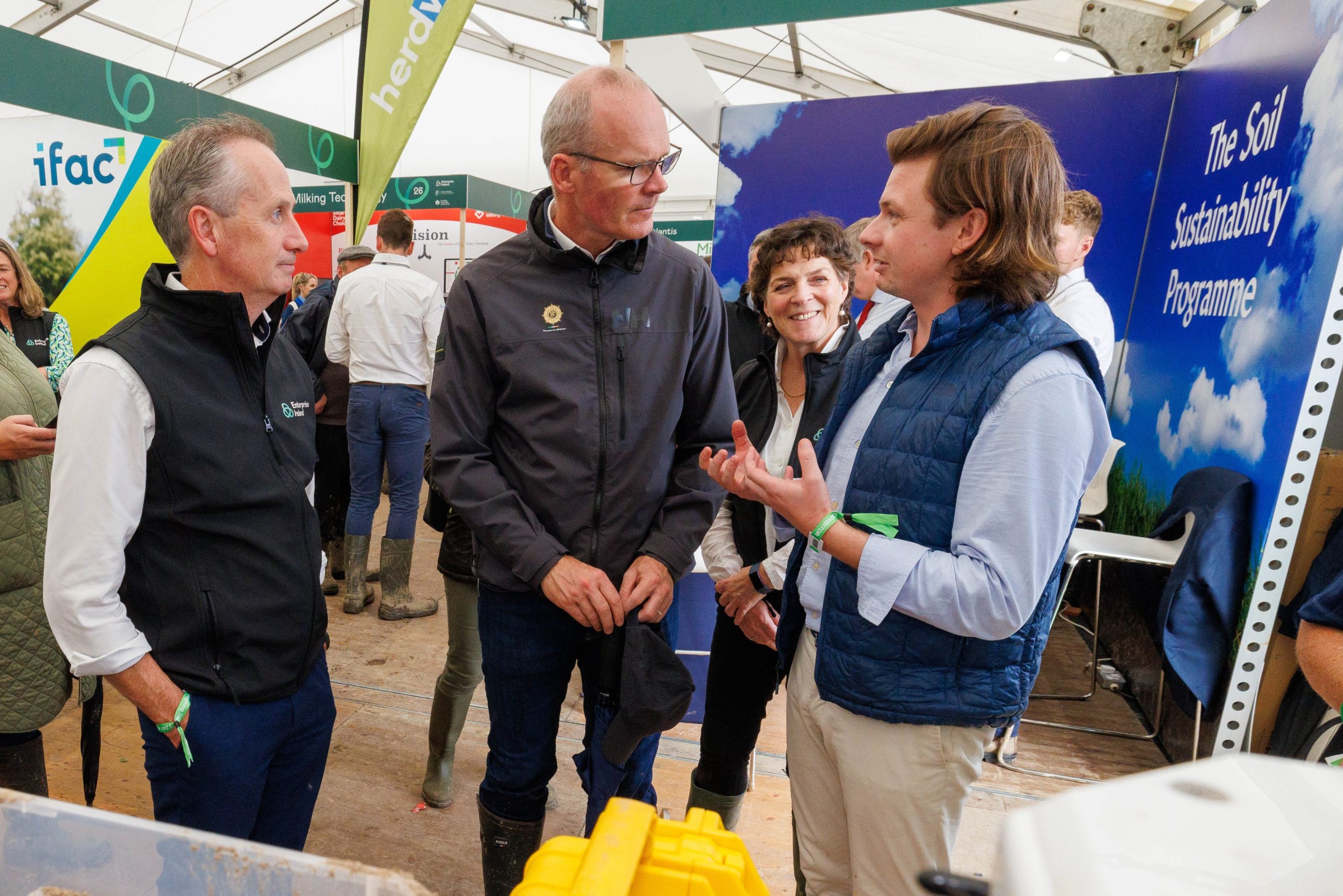 Biodegradable polymers for mineral bolus systems from PolyBo, and Methane measurement technology from Agri Data Analytics were two innovative Midlands Agritech winners at this year's Enterprise Ireland Innovation Arena Awards.
The winners of the Innovation Arena competition, hosted by Enterprise Ireland in association with the National Ploughing Association, were announced at an awards ceremony attended by Simon Coveney TD, Minister for Enterprise, Trade and Employment, at the opening day of the National Ploughing Championships in Ratheniska, Co Laois.
Enterprise Ireland's Innovation Arena is an annual must-see exhibition platform, and the competition recognises innovative and cutting-edge products and services from agritech entrepreneurs who are delivering forward-thinking solutions to address some of the toughest global challenges.
Midlands wins in Biodegradable Polymers and Data Analytics
The awards ceremony this afternoon, which was also attended by Leo Clancy, CEO, Enterprise Ireland, and Anna May McHugh, Managing Director, National Ploughing Association, saw two Midlands winners with Polybo based in TUS Athlone taking the Research Emerging from 3rd Level Award, and Agri Data Analytics in Offaly taking the AgTechUCD Start Up Award.
PolyBo is based in PRISM at TUS Athlone and offers a unique mineral bolus system. Being composed of FDA-approved biodegradable polymers, the system allows for a tailorable release rate of contained ingredients. The unique self-regulated formation of micropores in the bolus matrix provide a consistent long-term release rate tailorable through formulation alterations in the polymeric matrix formulation. Envisaging PolyBo as a platform delivery system, they have to date been able to achieve a consistent release rate ranging from 1-9 months.
Agri Data Analytics Ireland are based in Offaly and offer the Bovine Breathalyser, a non-invasive machine that measures enteric methane emissions from ruminants. Using a small amount of feed, ruminants are enticed into a feeding area where testing takes place. While eating, multiple breath samples are collected and passed through specialised gas sensors that accurately measure the amount of methane produced by the animal. Using this information, the average enteric methane output of any ruminant can be determined. This allows researchers to not only identify the high emitters within our herds, but also the genetically optimal animals that produce large amounts of beef/dairy while minimising methane output.
Sustainable Farming and Digital Technologies
Among this year's competition entries, there was a strong focus on sustainable farming, through digital technologies, data-driven solutions and innovations to enhance efficiencies on farm.
Speaking at the Innovation Arena, Simon Coveney TD, Minister for Enterprise, Trade and Employment, said: "The Innovation Arena competition is a landmark exhibition platform and competition, as it brings together ambitious agri-innovators every year. Ireland is synonymous with agriculture, and it is our own entrepreneurs who are helping to shape the future of the sector globally. With the ongoing challenges and the need to develop and implement sustainable practises, the work of these Irish innovators has never been more vital."
Leo Clancy, CEO, Enterprise Ireland, said: "Irish agri-tech companies continue to have an influential impact internationally with their cutting-edge products and services that are helping to bring greater efficiencies across agriculture.
"Enterprise Ireland is committed to supporting innovative companies and entrepreneurs, and the Innovation Arena at the National Ploughing Championships provides a key platform for showcasing the achievements and capabilities of our agritech innovators to both a domestic and international audience.
"I would like to congratulate all the winners of this year's Innovation Arena Awards for their achievements, and I would also like to thank all the participants and entrepreneurs who entered this year's competition- these are the products and services which are shaping the future of this industry and are delivering real solutions."
Anna May McHugh, Managing Director, National Ploughing Association, added: "The NPA is delighted to host the Enterprise Ireland Innovation Arena again at this year's National Ploughing Championships, which provides an excellent opportunity for innovators in the agri-tech and agri-engineering space to showcase their products and services at Europe's largest outdoor event. The standard, once again, was exceptionally high, and I want to congratulate all of today's winners and wish them all the best for the future on this great achievement."
Enterprise Ireland Innovation Arena attracts international audience
The Innovation Arena is showcasing ground-breaking agri-related products and innovations from 50 Irish agri-companies over the course of the National Ploughing Championships, including the finalists of this year's competition and previous winners from the Innovation Arena Awards.
Companies will also have the opportunity to showcase their products to an international audience, as this year 50 international buyers from 10 countries will visit the Innovation Arena and Irish companies supported by Enterprise Ireland who are exhibiting at the event.
A new addition for 2023 gave previous participants the chance to apply for a space in the 'AgTech Hub' within the Arena, allowing companies to return to the Innovation Arena to showcase their progress and growth since first exhibiting.
For more information, view the Enterprise Ireland Innovation Arena Directory