Bord na Móna will invest €5m over the next three years in Accelerate Green, its Offaly-based accelerator programme for green innovation companies. Accelerate Green is the leading accelerator programme in Ireland dedicated to scaling companies leading the response to climate action and sustainability, by developing products and services based on green innovation.
The semi-state company has also announced the eight companies that will take part in the second edition of Accelerate Green. Between them, they employ over 70 people and generate turnover of more than €5m.
The participating companies are NanobOx, Hibra Design, HaPPE Earth, Hub360, Superfy, Trinity Green Energy, EC Charging and CW Applied Technology.
Approximately 15% of the new funding from Bord na Móna will be invested in targeting new companies to apply to Accelerate Green, with a particular emphasis on identifying Midlands-based companies.
Of the 17 companies who have already come through Accelerate Green, Bord na Móna have established a working partnership with six companies and facilitated ten to scale up, secure more funding, diversify their business and provide more climate focussed roles in the Midlands.
Accelerate Green is headquartered at Bord na Móna's office complex in Boora, Co Offaly, which has been developed in conjunction with Irish innovation advisory firm Resolve Partners and ERINN Innovation.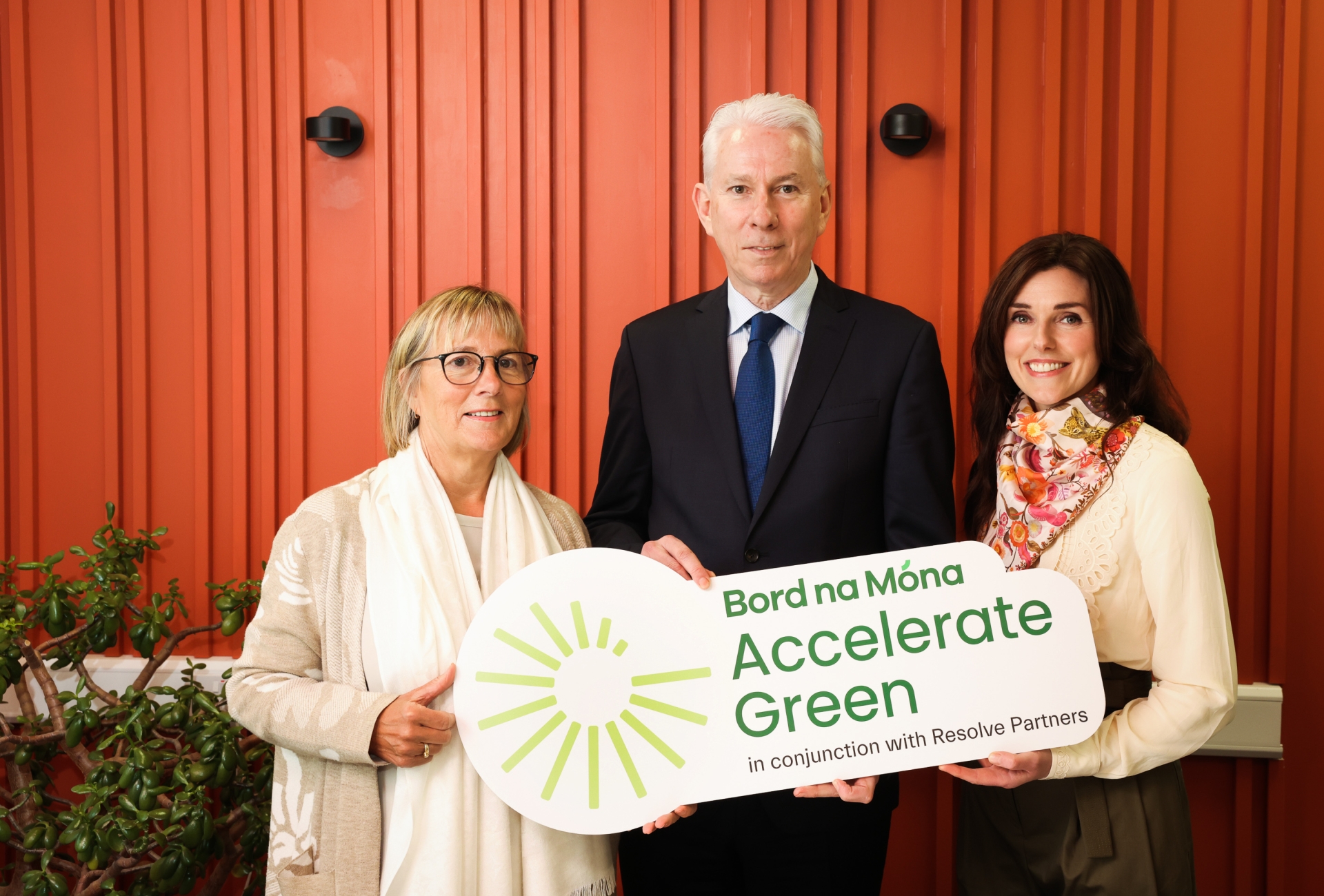 Accelerate Green 2023 Programme
Eight sustainable start-ups have been selected to participate in this year's programme. Together, the companies employ more than 70 people and have a combined turnover of over €5 million.
CW Applied Technology
Overview: CW Applied Technology offers a range of services including Advanced Creative Design, Agile Manufacturing, Fulfilment, Sourcing Solutions, Product and Process Debug, Process Management and Value Added Services, to facilitate successful electronic innovation for their clients. They also have their own designed and manufactured product offerings in disinfection and air cleansing based on Germicidal UV Irradiation.
Hibra Design
Overview: Hibra Design is the first and only Irish automotive design engineering company. They develop clean technology powertrain systems allowing fossil-fuel powered vehicles to be re-engineered with Battery Electric or Hydrogen Fuel Cell Systems. Hibra Design supports industrial vehicle operators reduce operational costs, produce healthier working environments and increase production efficiency.
NanobOx
Overview: NanobOx is bringing to market highly energy-efficient water treatment technology that will increase the productivity and sustainability of crop cultivation and land-based aquaculture and will have application in any managed bio-process that requires addition of oxygen to the process media such as biological wastewater treatment and industrial fermentation.
HaPPE Earth
Overview: HaPPE Earth champions sustainability and the circular economy by aiming to bring together CE approved, compostable PPE products with a Sustainable Development Goals (SDG) impact measurement tool for healthcare, and a medical waste industrial composting solution.
EC Charging
Overview: EC Charging is a well-established manufacturer of EV charging equipmen. Designing, developing, building, installing and maintaining smart EV charging systems. Coming from a background providing solar-powered, traffic management equipment to the transport sector, they made the decision in 2008 to transition into the E-mobility industry with the mission to enable the delivery of a clean, renewable fuel source to the transport sector. EC Charging believes the key to EV adoption is the ease of access to safe, reliable, user-friendly charging equipment at home, work and on the move.
Trinity Green Energies
Overview: Trinity Green Energies (TGE) specialise in the capture, storage, and utilisation of carbon dioxide from the atmosphere. TGE aim to be the leading inventor and integrator of sustainable and affordable technologies for the capture, storage and utilisation of carbon dioxide using renewable energy
HUB360
Overview: HUB360 is a software platform that optimises the load planning, load fulfilment, routing of the loads & delivery of sales orders, for companies that use their own delivery fleet or use third party hauliers to deliver their goods on their behalf. This platform is a proven end-to-end digital management system for order processing from when the order is created to delivery, using intuitive mobile Apps to interface with an intelligent data driven back-end engine. HUB360 has developed a disruptive suite of products (APPS & Desktop environments) which are transformative for businesses in the Manufacturing / Construction Industry resulting in significant cost savings through the use of smart apps, optimisation, and automation
Superfy
Overview: Superfy delivers sustainable smart resource management solutions through technology, empowering enterprises and connecting cities. Their circular economy solutions cover sustainability, waste, recycling, operations, workforce and fleet management. The Superfy platform tracks and monitors operational impact to drive efficiency, enhance operational performance, reduce CO2 emissions and meet your ESG reporting requirements
To learn more about Accelerate Green, and to apply for future programmes, visit the Accelerate Green website