Ireland's largest gathering of music & arts, and the ultimate rock n' roll circus, Electric Picnic has established itself as one of the world's most unique festivals. With a great selection of music, art, theatre, comedy, food and holistic health, it's the most delightfully diverse end of summer party on the Emerald Isle. Ireland's premier 3 day music and arts festival, 70,000 revellers descend on the beautiful surroundings of Stradbally Hall for the annual event with its history including international acts such as Kraftwerk, Röyksopp, Nick Cave, Sonic Youth, New Order, Björk, Arcade Fire, Beastie Boys, The Stooges, The Chemical Brothers, Gary Numan, The Flaming Lips, Sigur Rós and Sex Pistols.
Electric Picnic 2023 takes place in Stradbally Hall, Co. Laois from 1-3 September 2023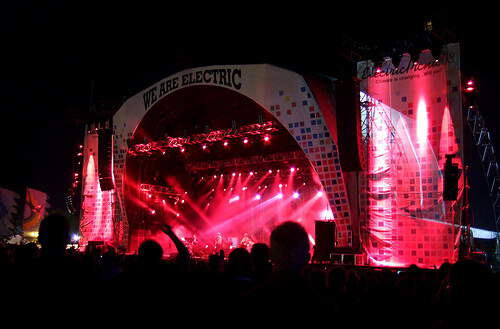 Electric Picnic has over 27 stages, realms, areas & venues to explore. From live music to craft workshops, late night woodland raves and cooking demos. There's theatre, art and topical debate. Holistic therapies, and hot tubs. You'll discover something unique around every corner of this beautiful festival.
MAIN ARENA
Catch some of the weekends biggest performances across the four main arena stages!
TERMINUS
Freetown's towering temple of dance.
SALTY DOG
The marooned pirate ship plays host to some of Ireland's best talent and Picnic's rowdiest parties.
MOTHER AFTER DARK
The most decadent late night party destination hosted by Mother DJs, exciting guests and friends
MIND & BODY
Retreat from the humdrum of the main arena into Mind & Body, Electric Picnic's area dedicated to creating an oasis for all the senses.
FREETOWN
EP's new late night district. Jam packed Top secret venues & bars. This is a must visit destination. All a complete cover for mischief-making!
MINDFIELD
Engaging debate, your favourite podcasts, enlightening conversation, slam poetry and spoken word in Electric Picnic's brain trust.
THE THEATRE
Electric Picnic's brand-new arts and culture hub featuring Ballet, Opera, Cabaret and theatrical productions!
THEATRE OF FOOD
Fantastic feasts, sumptuous cocktails and inspiring food conversations.
TRAILER PARK
Electric Picnic's eccentric caravan commune.
THE HOTHOUSE
Bougie bites to eat in EP's most sought after restaurant!
GLOBAL GREEN
Global Green is a colourful pop-up eco-village of green ideas, merriment, inspiration and action.
TRENCHTOWN
Explore the sounds and tastes of the Caribbean that await in this tropical little corner of the Stradbally woods.
ANACHRONICA
Picnic's most popular spot for a late night bop.
GREENCRAFTS
Craft your own flower crowns, pottery and jewellery.
BERLINHAUS
Can you find EP's top secret underground techno bunker?
THE HAZELWOOD – AN CHOLLCHOILL
If you're looking to get away from it all at the festival, then follow the path into the woods and immerse yourself in the tranquil wonderland that is The Hazelwood!
THE JERRY FISH ELECTRIC SIDESHOW & FISHTOWN
Get lost in Electric Picnic's carnival town.
TRANSMISSION
Interplanetary rave beats beamed from the mothership.
ARTLOT
Take a wrong turn down a forest path and you may find yourself at a place called ArtLot.
THE LAKE
Blow away the cobwebs with a refreshing swim in Stradbally Lake.
For more, visit https://www.electricpicnic.ie/