Fancy walking off the Christmas turkey, taking a little breather from the in-laws or just dragging your child away from their brand new Nintendo Switch over Christmas? Here are the 'Midlands Walks of Christmas', both forest and trail ways, to help you shake off the cobwebs. So lace up your boots, get your scarves ready and off we go to Laois, Offaly, Westmeath and Longford.
Laois
Abbeyleix Bog Walk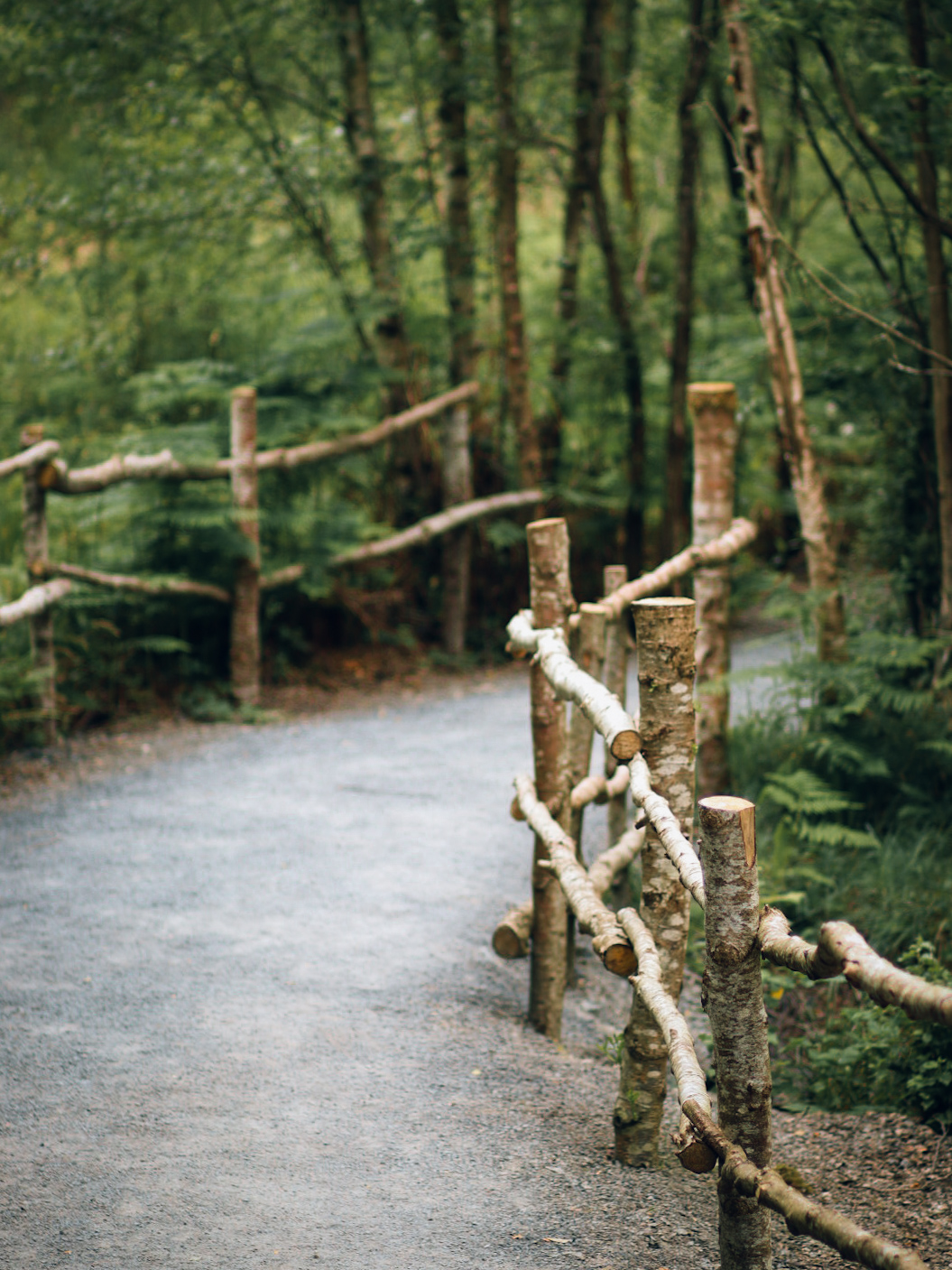 Abbeyleix Bog walk is something special, it could even be called a 'boggy heartland'. Run by volunteers, it is community project which began 20 years ago when the people of Abbeyleix got together and saved their bog. Now an amenity for people who travel from all over, to walk and enjoy the flora and fauna of the wetlands which encompasses an area of almost 500 acres of diverse habitats including degraded (but recovering) raised bog.
This 8km trail takes approximately 2 hours to get around. There are 2 walks.
The Collins Bog loop is 4.5 km, and is the shorter of the 2 looped walk options, if you continue on the Killamuck Bog Loop and complete the full 8K.
There's a lovely new café right beside it called 'Pollys', an extension to the Abbeyleix Manor Hotel.
Trailhead: The carpark of Abbeyleix Manor Hotel, is located just south of the town on the N77, see Abbeyleix bog.
Type: Easy walk following a well-marked path. Wet in places so sturdy footwear is required.
Glenbarrow, Waterfall Loop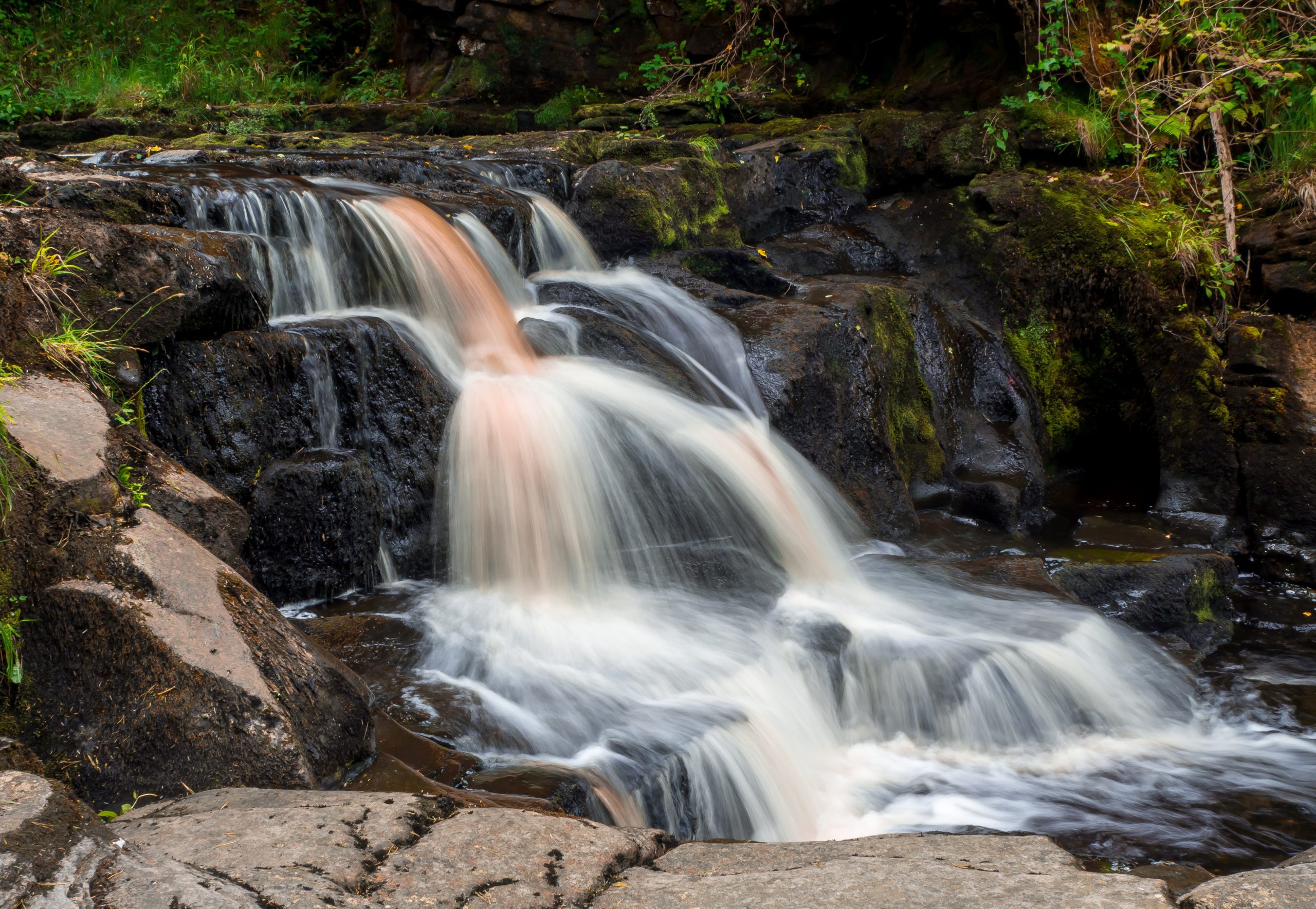 At the source of the River Barrow, this is one of the most scenic parts of the Slieve Bloom area with its waterfalls and steep valley. The area has four way-marked marked trails. The trails all start at the car park and all follow the river for the first section.
You've plenty to choose from. They are The Flat Rock loop (3km), The Waterfall loop (7km), The Old Mill loop (12km) and The Eco walk (10km).
It tends to be very wet and muddy in places, so wear a good pair of boots. An average to a good level of fitness is needed as there are some hills to navigate. The trail takes you along the forest track, a boardwalk, waterfalls and along riverside paths. Kids will love it too as it is senses overload.
Offaly
Kinnitty Castle Loop and Glinsk Castle Loop – Forest Walks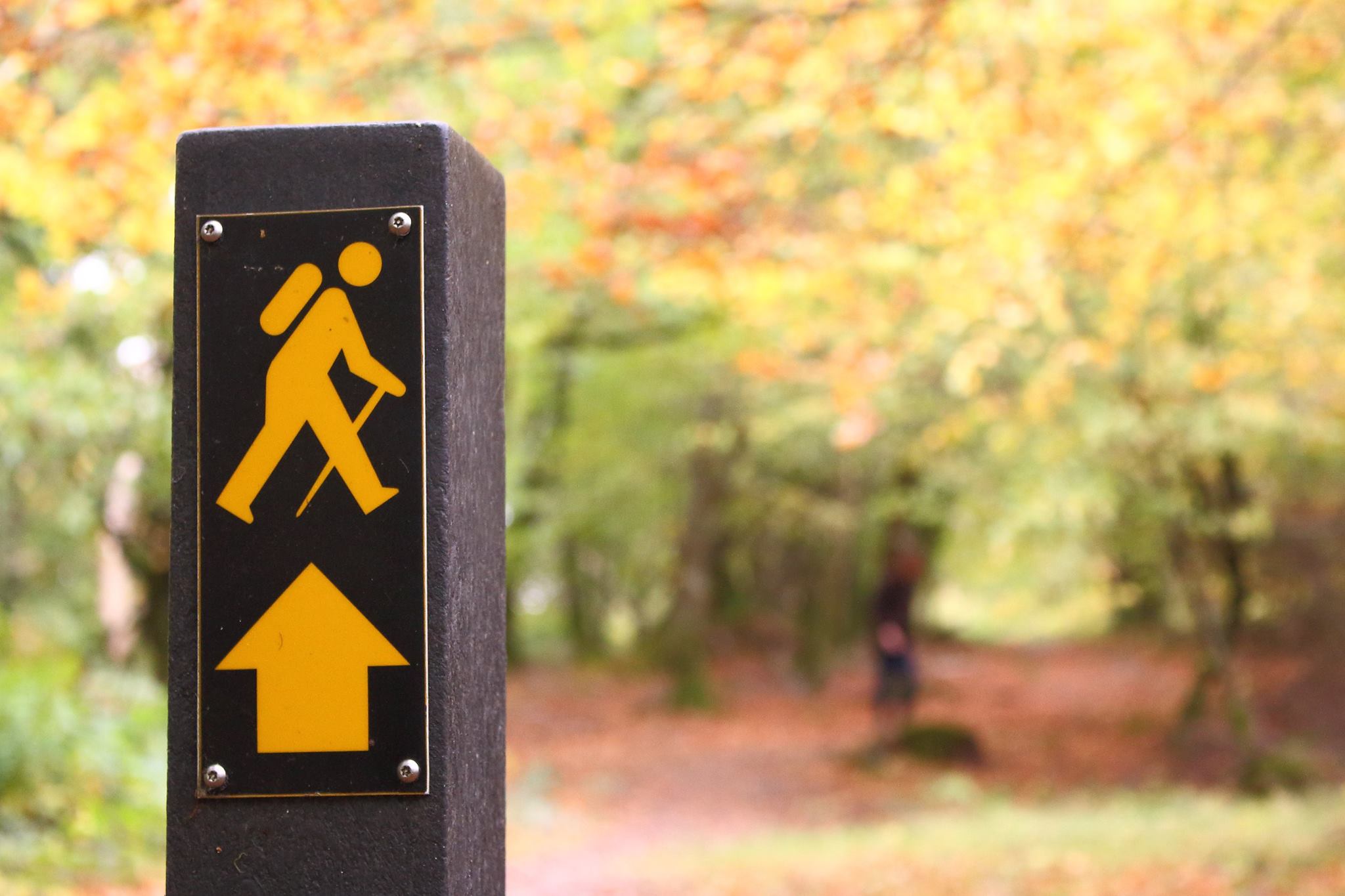 There are two loops to try out. There is the 4.2-km Kinnity loop trail. Located north of the Slieve Bloom Mountains, this a popular route for hiking, running, and walking. Generally considered an easy route, it takes an average of 1h 10 min to complete. This is an easy-going, well-marked and well-maintained trail that provides fantastic scenery along the way.
The Glinsk Castle Loop is slightly longer and will take three hours – no steep climbs so isn't too strenuous. If you're lucky you'll see some deer along the way. You will also come across the ruins of Glinsk Castle before reaching the peak of the trail where you are rewarded with spectacular views of the surrounding countryside.
Make sure to pop into the outdoor coffee shop at Kinnitty Castle for some refreshments after your walk. Kinnitty Castle is a 19th-century gothic revival castle and hotel.
Type Family
Length – 1hr 15mins and 3 hrs
Croghan Hill, Offaly
Discover this 1.4km out-and-back trail near Croghan, County Offaly. Generally considered a moderately challenging route, it takes an average of 36 min to complete. This trail is great for hiking, running, and walking, and it's unlikely you'll encounter many other people while exploring.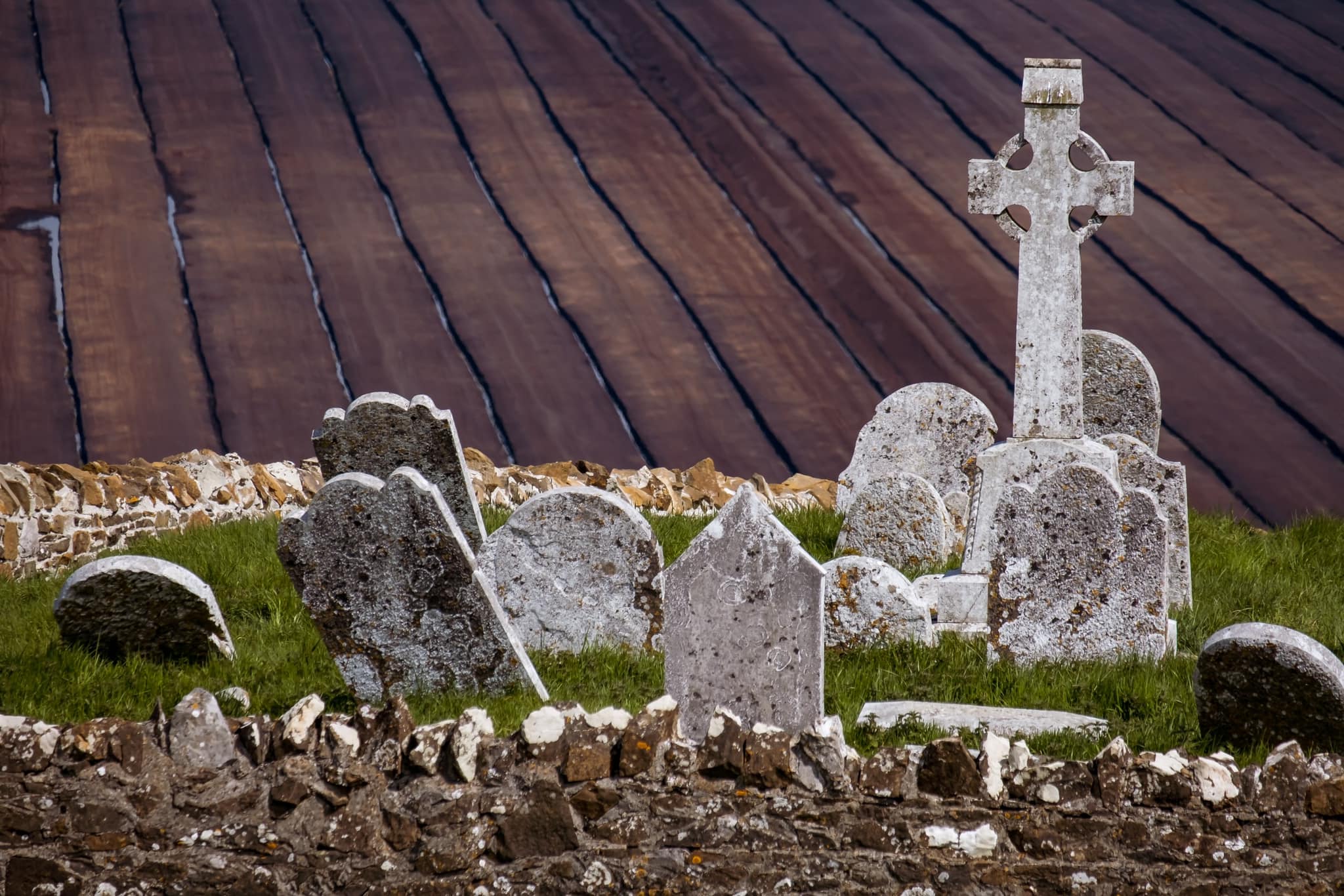 Croghan Hill is well worth a visit. This hill is the remains of an extinct volcano and the place of an ancient burial ground. It rises from the Bog of Allen in County Offaly. The summit has one of the most remarkable viewing points in the Midlands. It is believed that a Bishop MacCaille had his church there and lived around the time of St Patrick in the fifth century. The area also has strong associations with St. Bridget, who is said to have been born near Croghan hill. In pre-Christian times, Brigid as Brig, Bree or Bri was also associated with the Hill, and the inside believed to be a magic underworld called Bri Ele. Seen from Uisnech, the pointed summit coincides with the midwinter sunrise
It offers a 360-degree panorama with breathtaking views. Parking is available outside of the school, or in the car park of Croghan Community Centre which also has a park with picnic benches. You may encounter livestock along this route so leads are advised if you bring your dog.
Type It's suitable for all levels of fitness, taking approximately 30 minutes from base to summit
This is a great blog from the Indie Tripper if you want to read more about Croghan Hill
Westmeath
Belvedere House & Gardens
The 'Land of Light' event is still taking place until January 3rd.
It is an outdoor event that provides a spectacle of lights, music and performance for all ages. 'Land Of Light' is an outdoor illuminated walking trail event that really is a magical experience. Set in the beautiful grounds of Belvedere House, Gardens & Park, Co. Westmeath, the experience delivers thrills and excitement at every turn and allows families to enjoy spending time together. Open until January 3rd. Visit here for tickets Land of Light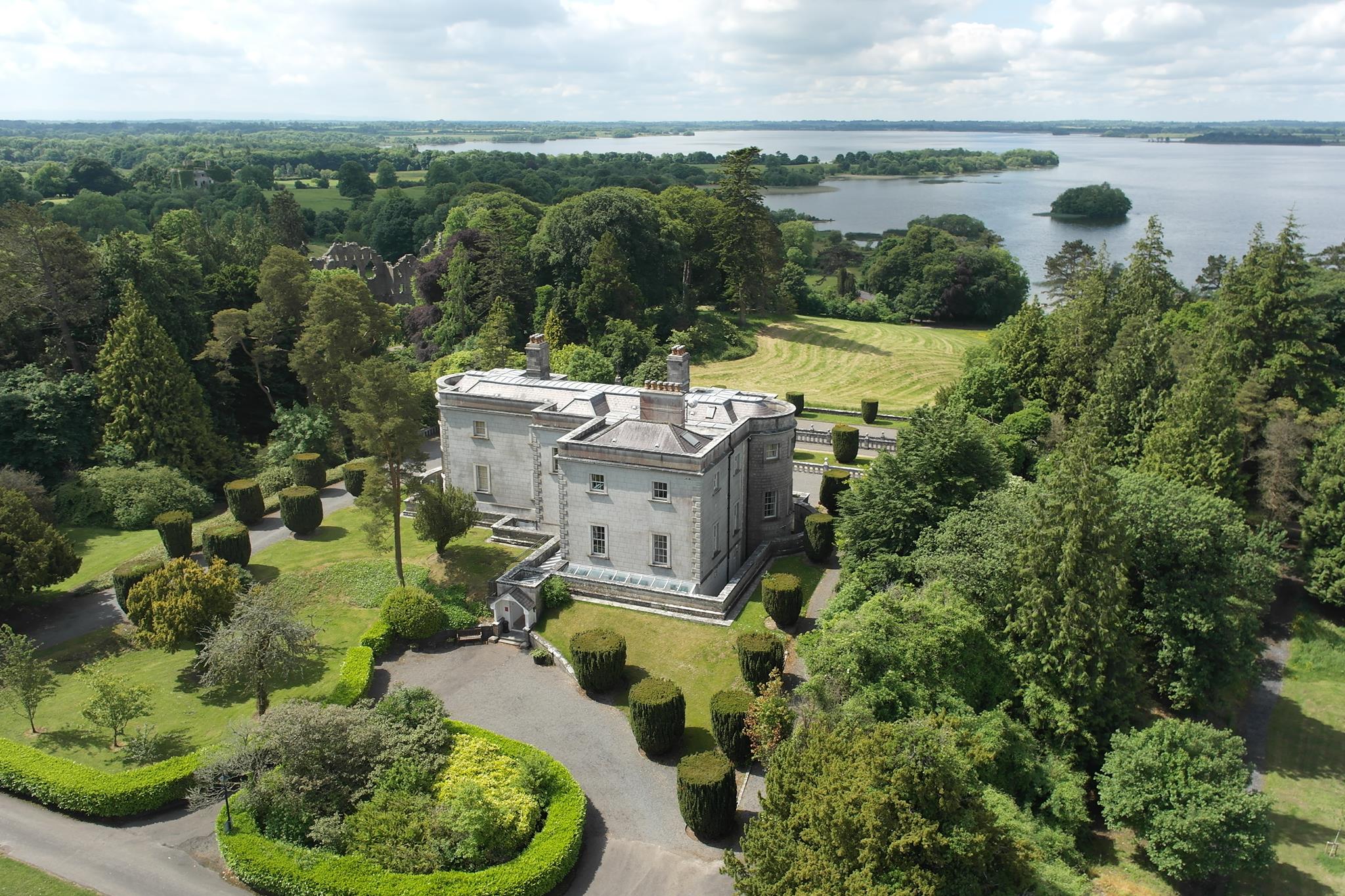 Belvedere house itself is smaller than you expect but because it is on an elevated site you can see Lough Ennel. This elegant country house has a most peculiar and fascinating history, of course it hosts 'the Jealous wall', an arched stone structure, which is the largest Gothic folly in Ireland. The Earl of Rochfort, Robert, had it built, to block out the view of his brother Arthur's house which threatened to outshine his own. The wicked Earl, suspecting his young wife Mary Molesworth of infidelity locked her up in 'Gaulstown', close by for thirty years until he died and she was then reunited with her family.
Type – A perfect family day out with guided tours and events on sight. There is also a children's playground, and coffee shop. Website Belvedere
Mullaghmeen Red Walk – Westmeath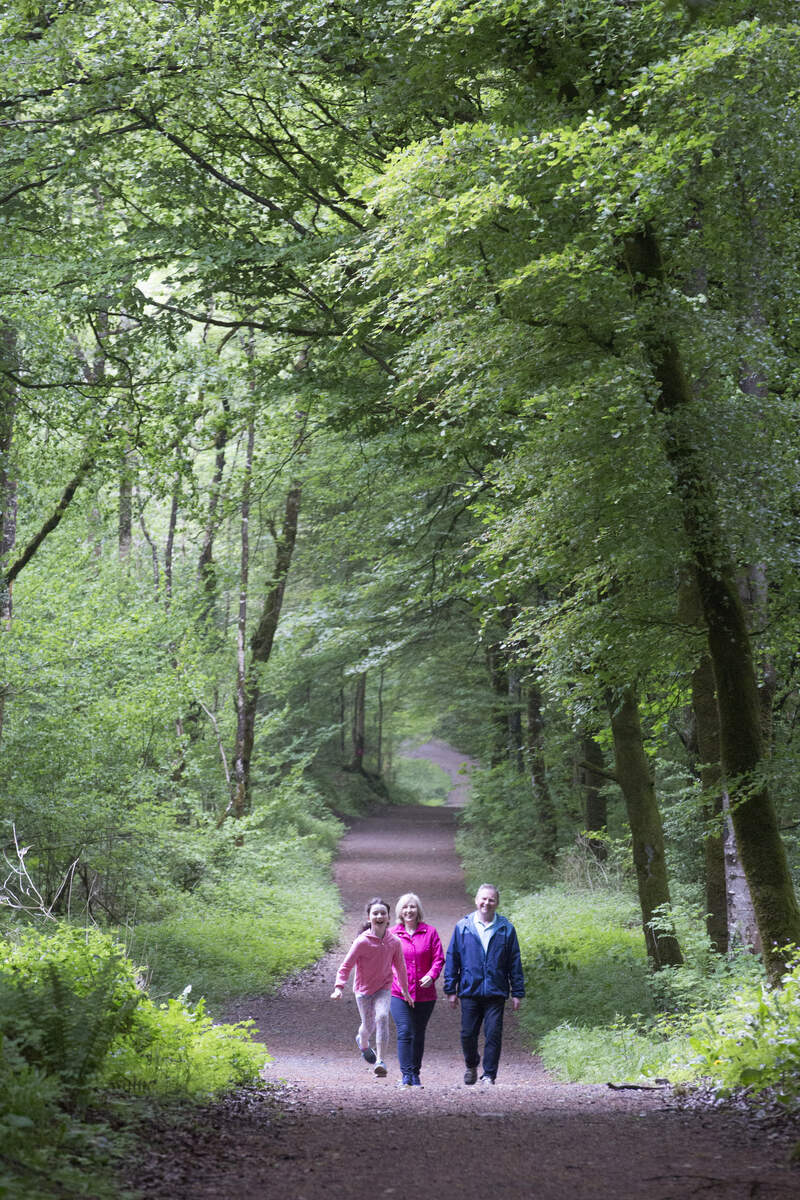 Mullaghmeen forest walk is located on 400 hectares of woodland mainly planted with beech trees. In fact, Mullaghmeen is the largest planted beech forest in the whole of Europe. The walk starts from the car park near the forest entrance at Hammondstown and loops through the beech forest. There is a good display of woodland flowers in the springtime, especially bluebell. There are scenic views of Lough Sheelin and the surrounding area and because the beech trees are so high-reaching it offers that beautiful dappled sunlight effect. Mullaghmeen Forest walk also is home to the highest point in county Westmeath, the views from the summit are spectacular.
Type – Easy/Moderate Length 3km – 1hr 20mins There are some short steep inclines
Distance: Four different waymarked walks available varying from 1.5km to 8km
Start and Finish Point – Mullaghmeen Forest Carpark
Longford
Leebeen Park Walking Trail, County Longford
Discover this 1.3km loop trail near Columbkille, County Longford. Generally considered an easy route, it takes an average of 21 min to complete. This trail is great for running and walking, and it's unlikely you'll encounter many other people while exploring. Don't forget to take along some food for the ducks and the swan family.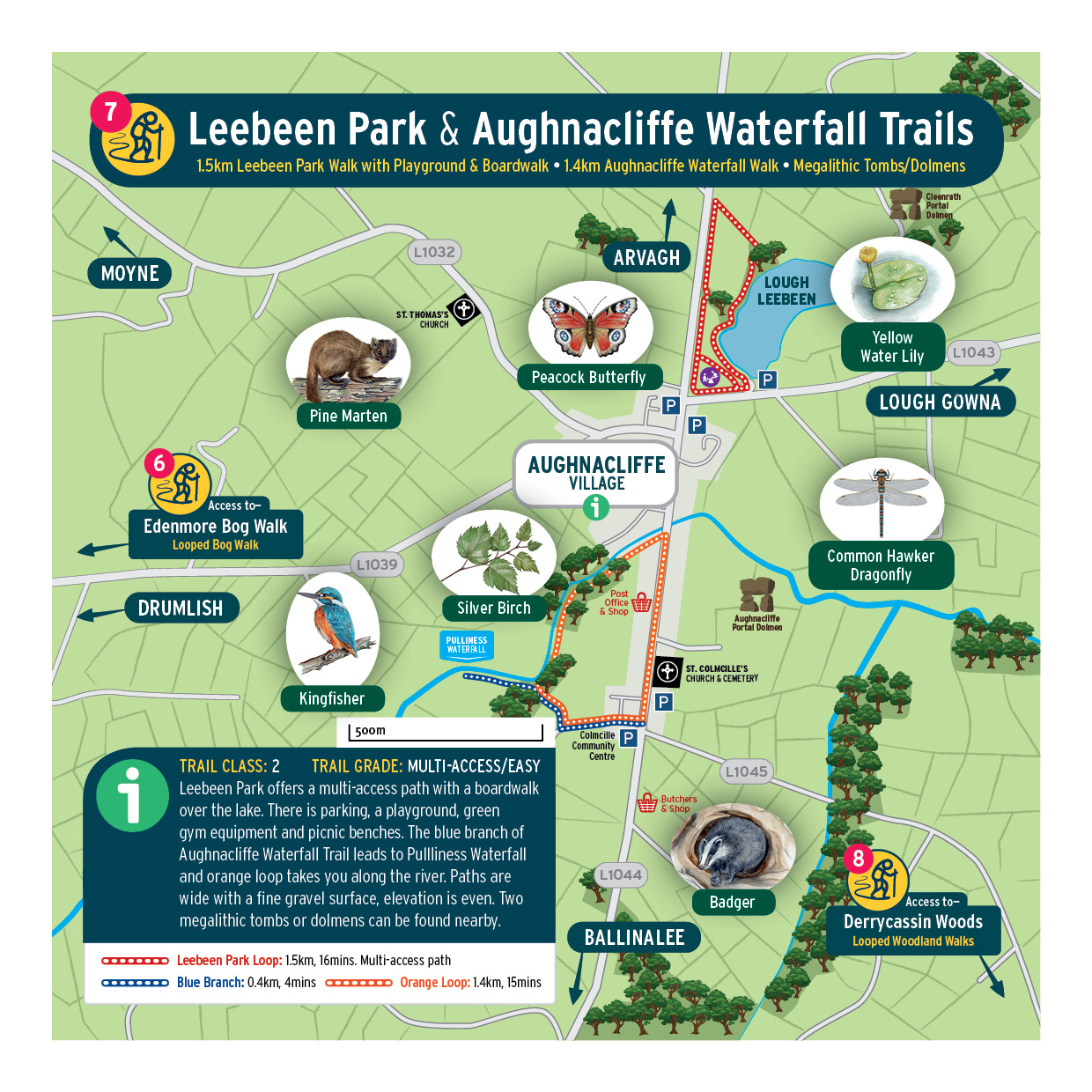 The beautiful Leebeen Park and Playground are in the picturesque village of Aughnacliffe in North Longford. It's the perfect place for a leisurely stroll. It has a terrific playground and fairy garden to keep the children entertained. The park overlooks Leeben Lake and Pulliness Waterfall is located nearby. Aughnacliffe, has an array of places to eat.
Type – Easy and short and great fun for all the family
Derrycassin Woods, County Longford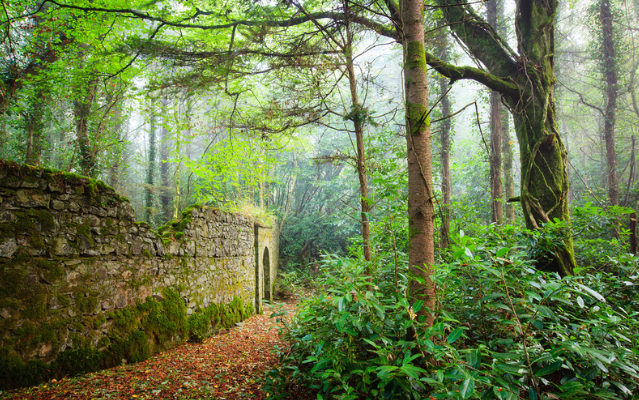 Derrycassin Wood is scenically located on the shores of Lough Gowna in Dring, County Longford. The forest covers an area of 179 acres and consists of three recommended walks, the Nature Trail, the Walled Garden Walk and the Main Avenue Walk. There are interesting low linear hills that date back to the ice age and also the remains of a rath or ringforth dated between 500-1500 AD. There are picnic benches and a lovely playground in the vicinity, so an ideal place for a family day out.
The shortest walk at Derrycassin Wood is the nature trail walk. Marked in blue dots, it takes about 30 minutes, leaving the inner car park, crossing a stone bridge and following along a track. Take a path down to the river and follow the river's edge past the second stone bridge.
Marked in red dots and taking about 45 minutes, the walled garden walk follows the track away from the car park. Keep along the woodland path, turn left downhill on a woodland path – this soon reaches the ruins of a walled garden. The path runs beside the high brick walls alongside the old gardens, now forested. The path continues pleasantly through rhododendron and woodland to return to the site of the house and your outward journey.
The longest walk, marked in white dots, takes about an hour, this is the main avenue walk. Follow the nature trail walk to cross the second bridge. Then keep left at next junction to follow the track that runs parallel to the lake shore. There are occasional views across the lake and benches. Near the far end of the forest, a track leads right and uphill. Follow this back through spruce plantation towards the car park.
Type – Easy – Family – There are various walks 30mins, 40mins and 60mins
Most of us will be glad of a Christmas time escape or even an excuse to get away from it all, so to prevent cabin fever, why not escape the claustrophobia and venture out!