How will you spend your Oíche Shamhna?
Let's have a look at a number of 'Spooktacular' events, walks, workshops and film screenings across the Midlands that are happening especially for the Bank holiday weekend and week ahead.
LONGFORD
Longford's annual Dead of Night Festival returns this Halloween! This free and frightful festival is sure to scare all ages with the Dead of Night Parade, scream-worthy spook walks, and a bone-chilling Beacon bonfire-alternative.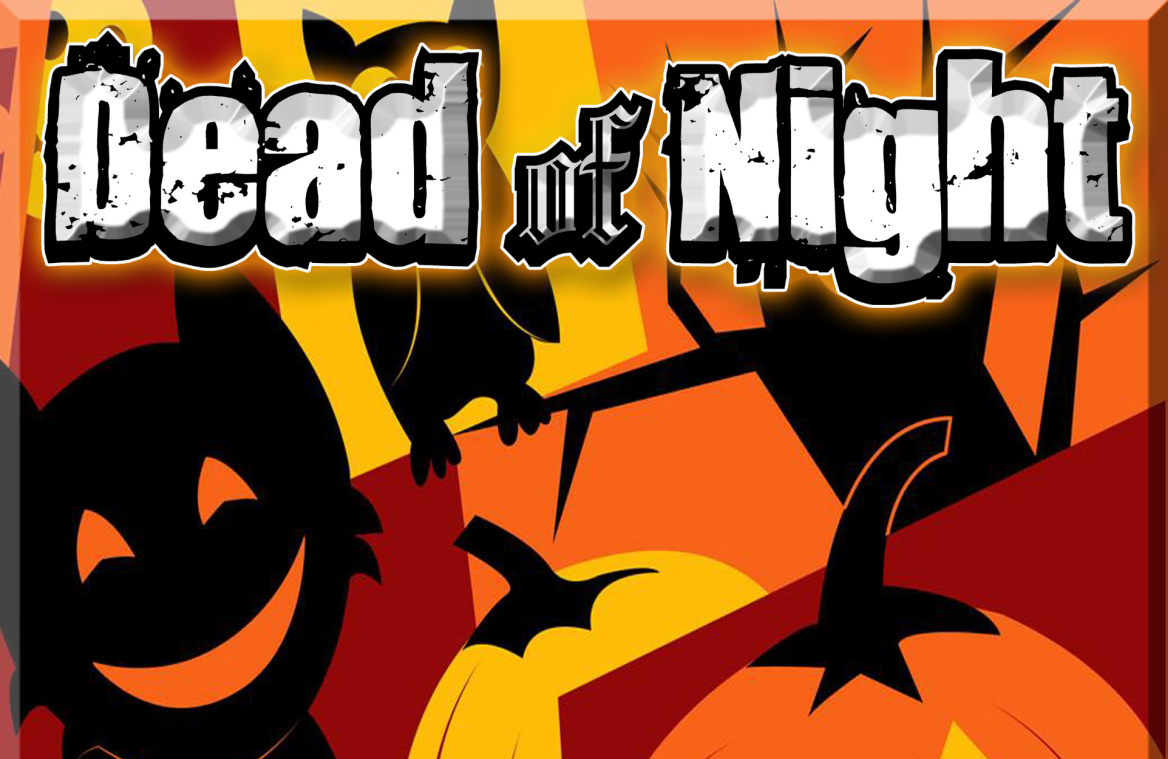 It all kicks off Halloween Night, Monday 31 October from 6-10pm at Connolly Barracks in Longford Town.
Dead of Night Parade from 6.30pm, starting at St Mel's College car park and finishing up at Connolly Barracks where there will be Acrobats, magicians and fire dancers from 7.30pm to 8.30pm.
Staying in Longford,
MediEvil CarniEvil includes: Live tours inspired by the history and folktales of County Longford. This is part of Longford Live and Local. Suitable for Over 8s.
When: 7pm, Friday 28 and Saturday 30 October
Where: Knights and Conquests Heritage Centre, Granard.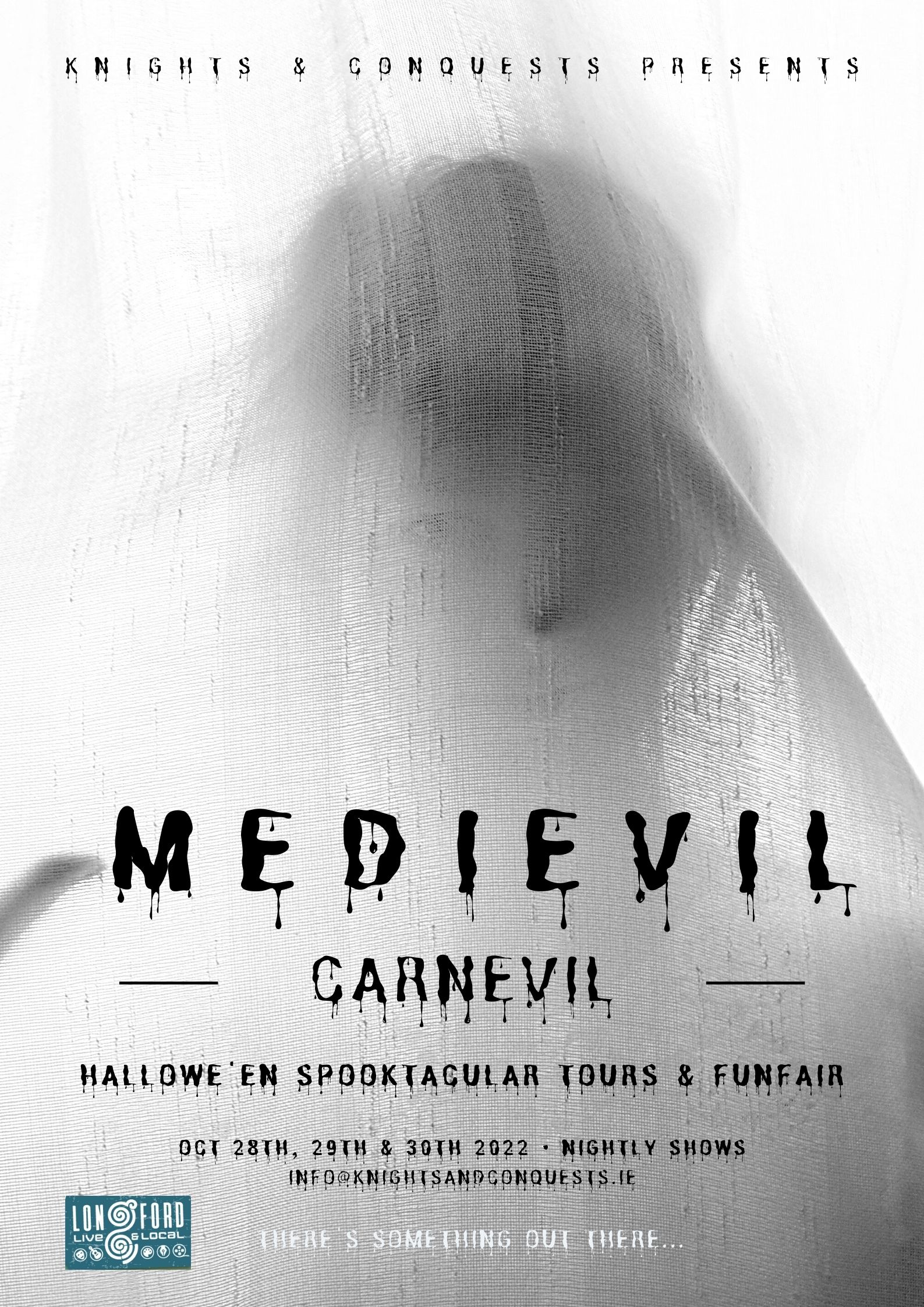 https://www.facebook.com/KnightsConquests/
WESTMEATH
A Halloween Trail at Belvedere House Gardens & Park is now open for bookings October 29th/30th/31st. A great day out for kids young and old meeting characters in costume along the way. Just follow the map, solve the puzzles and get some treats as you go. This is an outdoor experience so dress appropriately.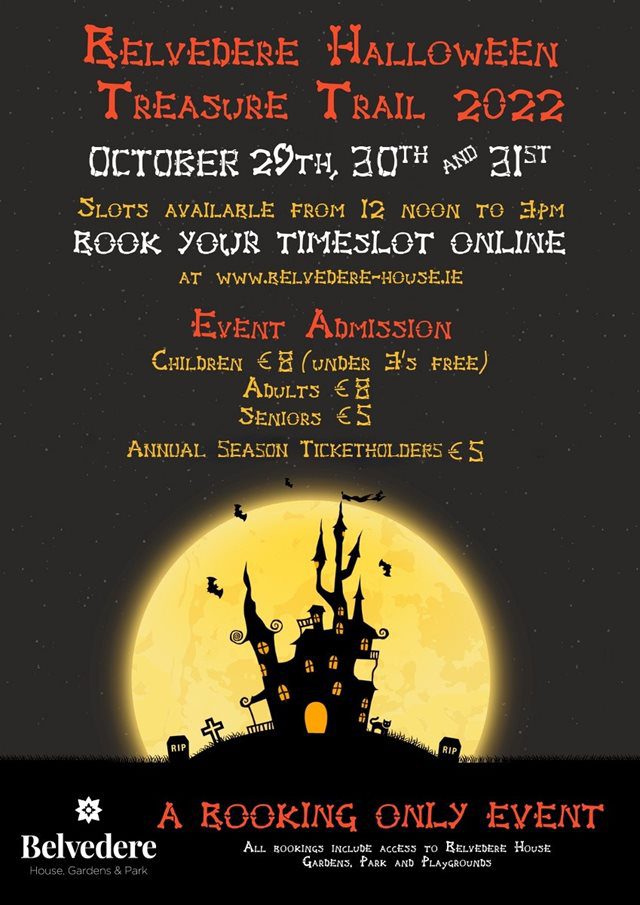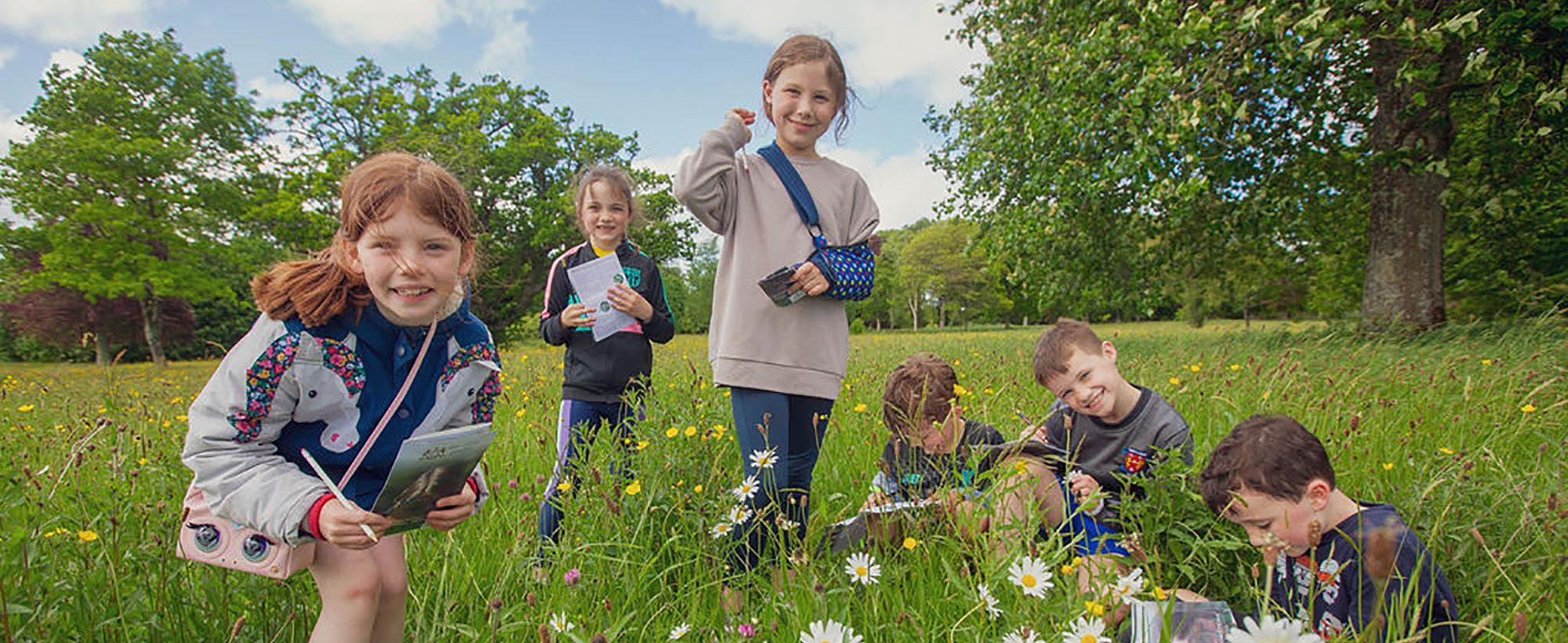 Hullabaloo Children's Arts Festival 2022 Festival workshops and family performances will take place in Birr, Clara, Edenderry and more during the Festival dates.
Children and families can enjoy art, storytelling, animation, film, musical theatre, dance, paper folding, craft and much, much more!
For more information on events, click https://www.hullabaloofestival.ie/
Edenderry
Don't miss Edenderry's, new and Fa-BOO-lous Halloween event for the whole family! Expect the unexpected, with spell binding street performances, dazzling special effects, surprise obstacles, jump scares, and for the young-sters spooky storytelling and Halloween crafts. It will also include food and drink stalls, live performances and much more!
All visitors, including their four-legged friends, are encouraged to come along in their best fancydress get-up. This is a Free to Attend ticketed event will be held be on Sunday 30th October 2022 between 3 and 8pm at O'Connelll Square, Edenderry. A sensory hour is also scheduled for 2pm to 3pm the same day. This event also takes place in Birr on Saturday 29th October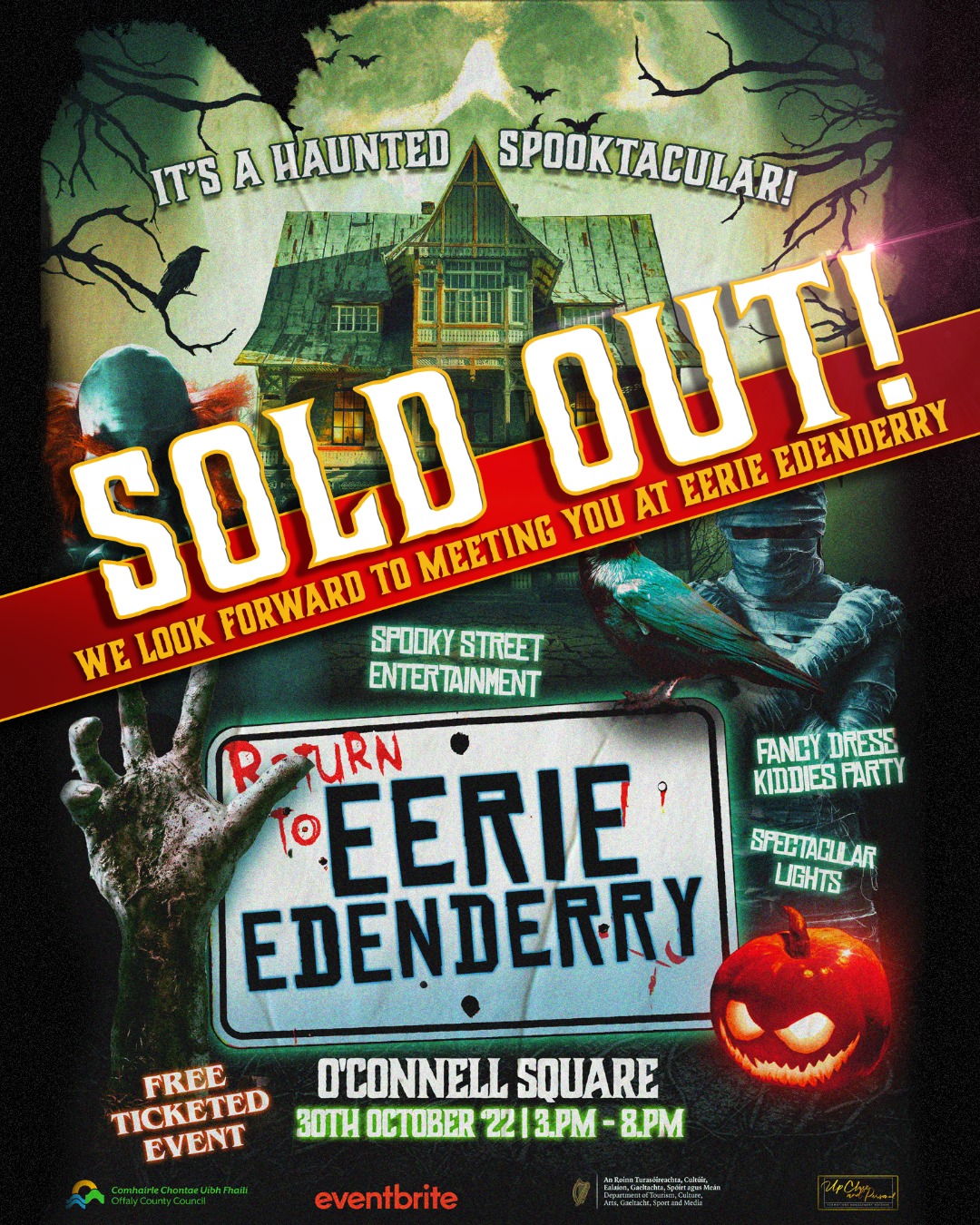 Emo Court
Get into a spooky mood on Halloween weekend with a very special open-air screening of the classic Night of the Living Dead at Emo Court. The cult 1968 zombie movie will be screened free of charge and outdoors in the dark, at 6.30pm on Sunday evening, October 30.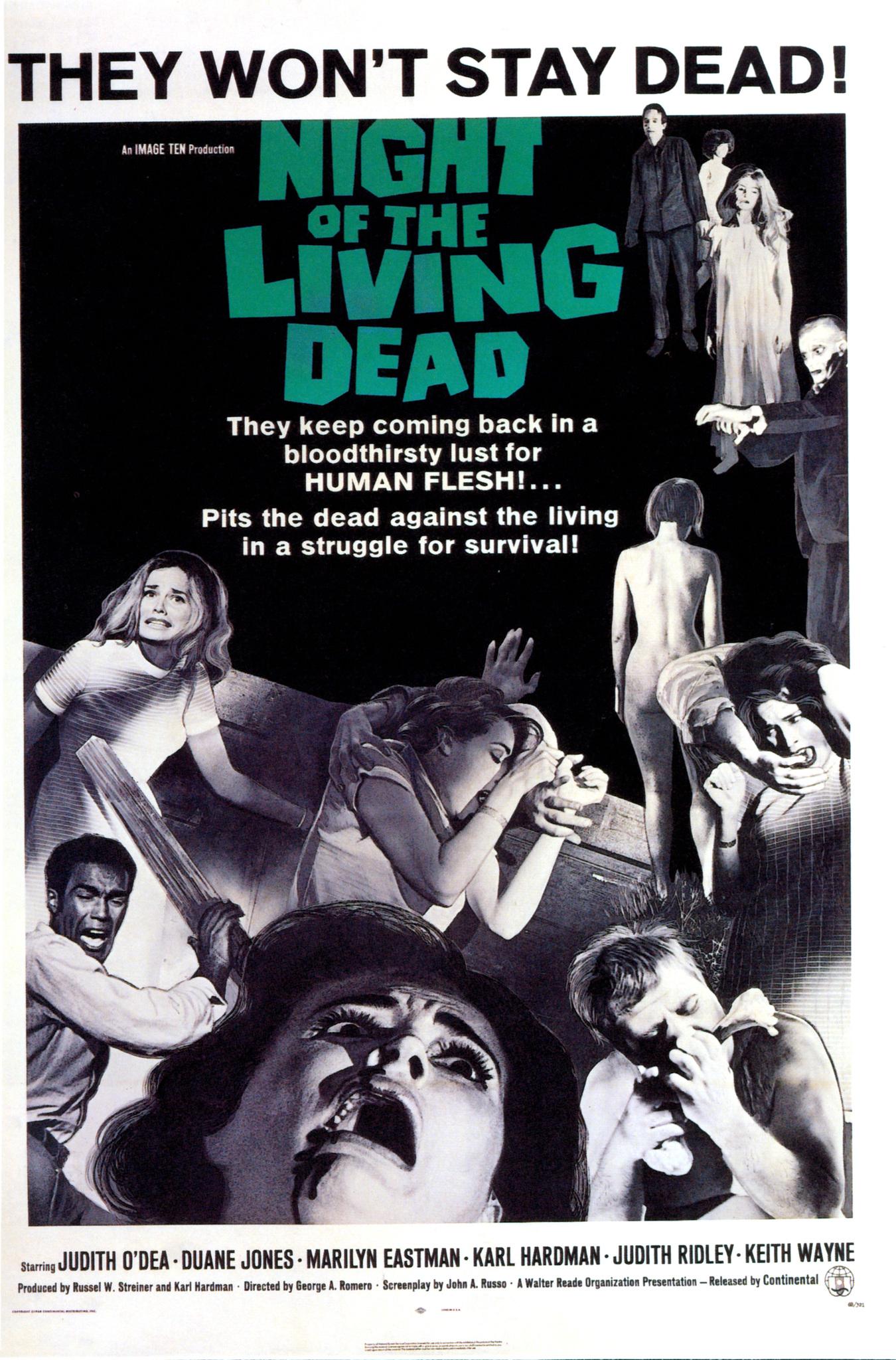 It will have a live musical accompaniment of a brand-new score by Stephen Shannon, Matthew Nolan and Jack Phelan.
Grab your gang and join them in Emo Court by the carpark. Bring your Halloween picnics, hot drinks and outdoor clothes or whatever you want to treat yourself and all you need for an experience that will haunt you, but in a good way.
If the weather is not good, the event will move indoors to Emo GAA Hall. See link to book your free tickets here https://www.happenings.ie/events/298/night-of-the-living-dead-with-live-score
Solas Garden Shop, Portarlington
At Solas Eco Garden Shop there will be a variety of Halloween events for the whole family
Pick your own pumpkin 16th-31st October
Halloween Cookery Course for kids – 26th October 4:00 pm – 5:30 pm €22.50
Halloween Ghost Stories – 28th October 4-5.30pm/ 6-7.30pm/ 8-9.30pm €10
Halloween Crafts for kids workshop – 29th October 12-1pm €12
Halloween Party at Solas 31st October €15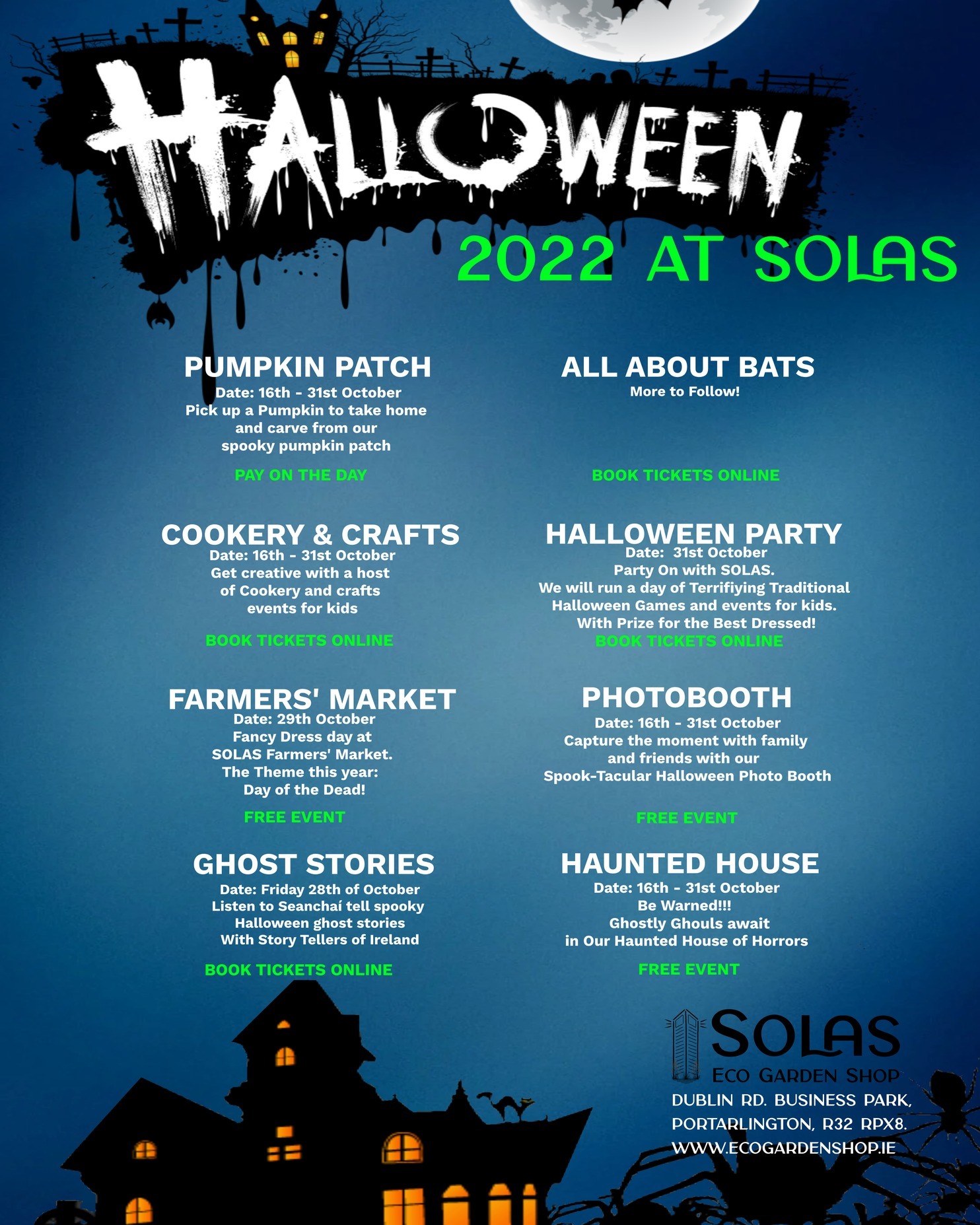 Abbeyleix
HALLOWEEN EVENT IN HERITAGE HOUSE – Haunted House
A family fun event
Friday, 28th October & Saturday, 29th October,
from 4pm to 8pm.
5 euro per person. Entry every 30 minutes.
Fancy dress is encouraged!
Pre-booking is essential – info@abbeyleixheritage.com, call us at 057 873 1653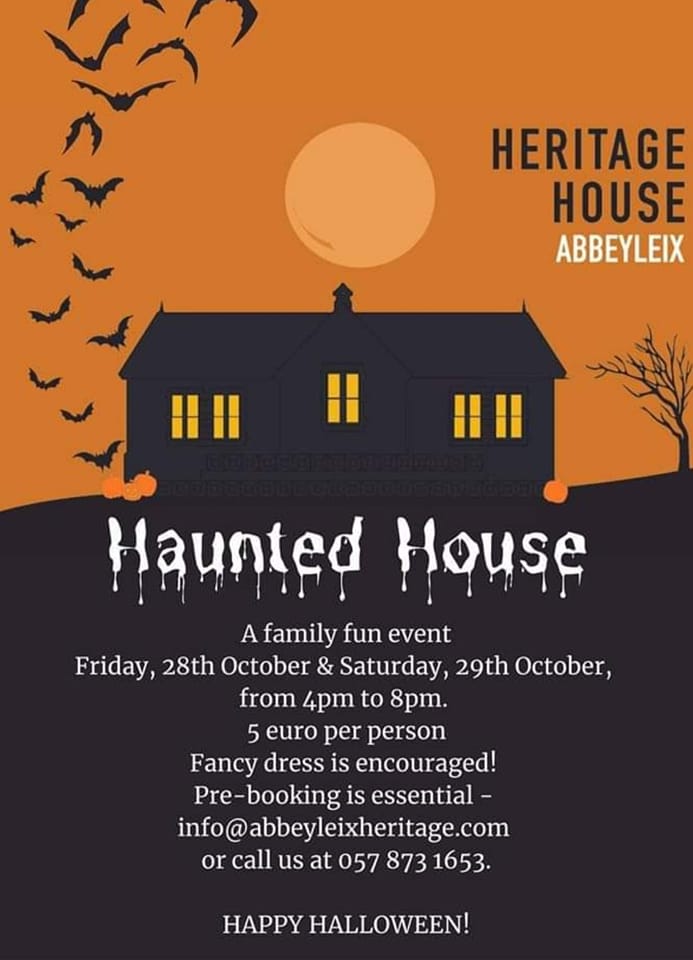 Enjoy yourselves and dont forget!
"Where there is no imagination, there is no horror" (Sir Arthur Conan Doyle)