"I really love the Irish way of living, especially the magnetism of the Irish people" (Andrea Milley)
It took Andrea and Markus Milley, both hailing from Germany, to return home to realise how much they cherished Ireland. Now settled back on their farm in Clonanny, Portarlington, they are producing their own edible cold pressed oils. Originally they ran a successful timber business, the Milley's now produce eight different types of edible oils made from flowers, flax, hemp, hazlenut, sunflower and almond seeds.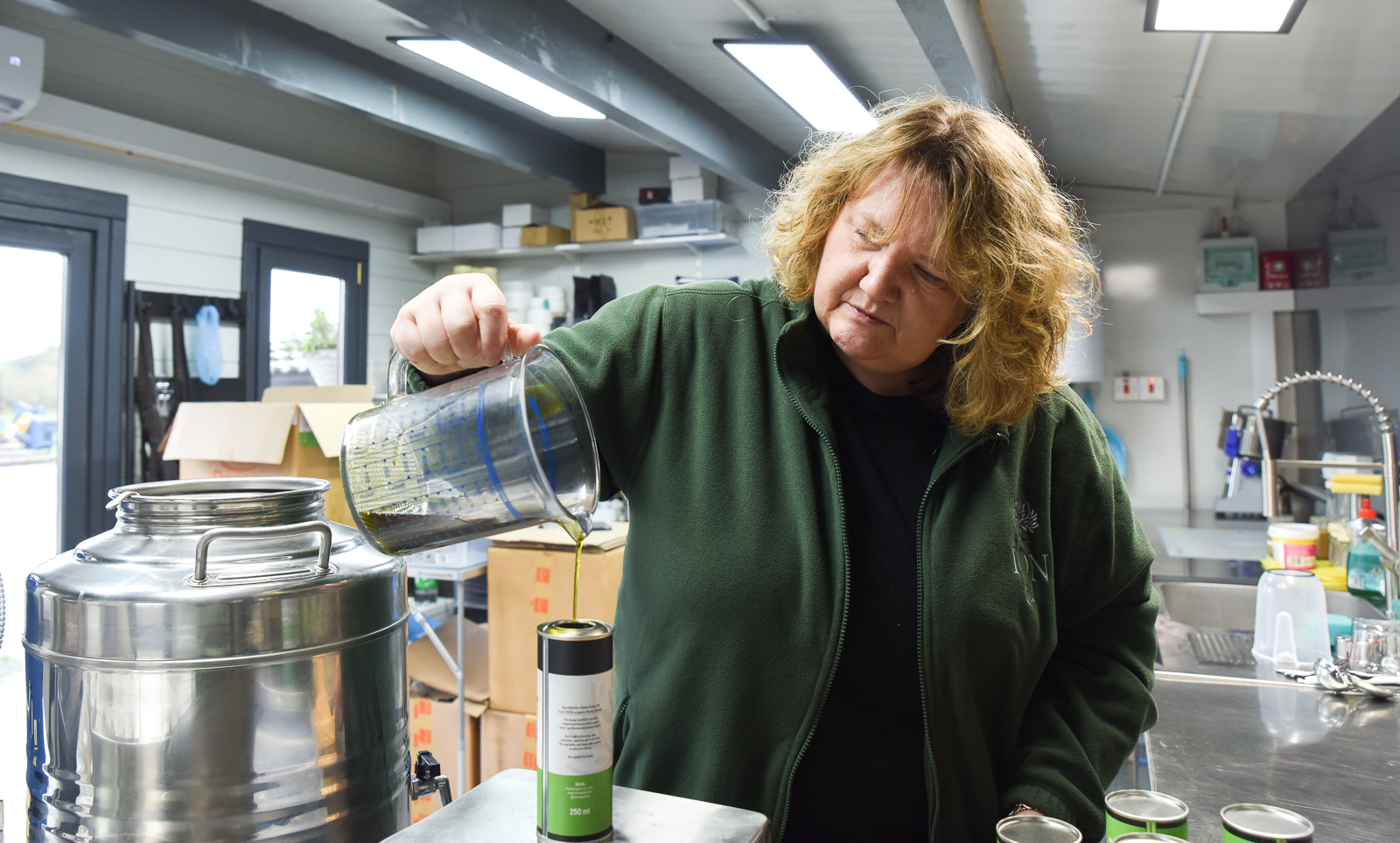 What are cold pressed oils?
Cold pressed oils are extracted by slowly pressing the seeds to release their oils. This process not only keeps their nutrients intact but remain a storehouse of healthy fats, vitamins, and minerals. This can that contribute towards the overall wellbeing of the body and according to Andrea, it is a commonplace product in Germany, but not so in Ireland. The range of ÍON products produced on the family farm are cold pressed oils and spice herbs mixes. These oils are not for frying, but can be added to salad dressings, dips, smoothies, soups, desserts or even taken as a health supplement. "What surprises people is the taste", Andrea explains. Customers tell her "oh that doesn't taste like an oil, it tastes like hazelnut," to which she replies "and that's the way it's supposed to taste." They also do a range of twelve different spice mixes for example their 'Café de Paris' is "good for steak" and 'Sugar and Spice' is a "good sugar alternative."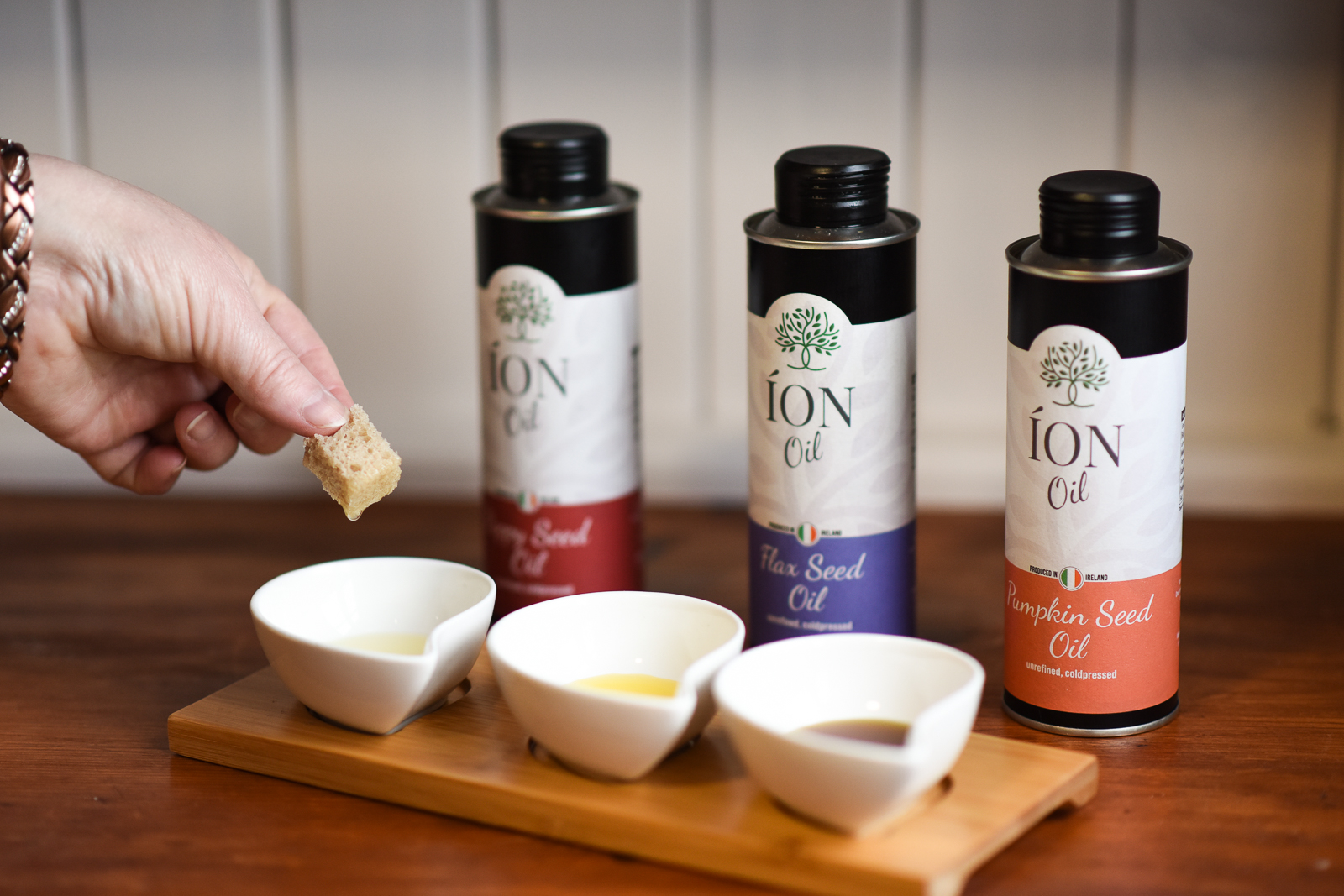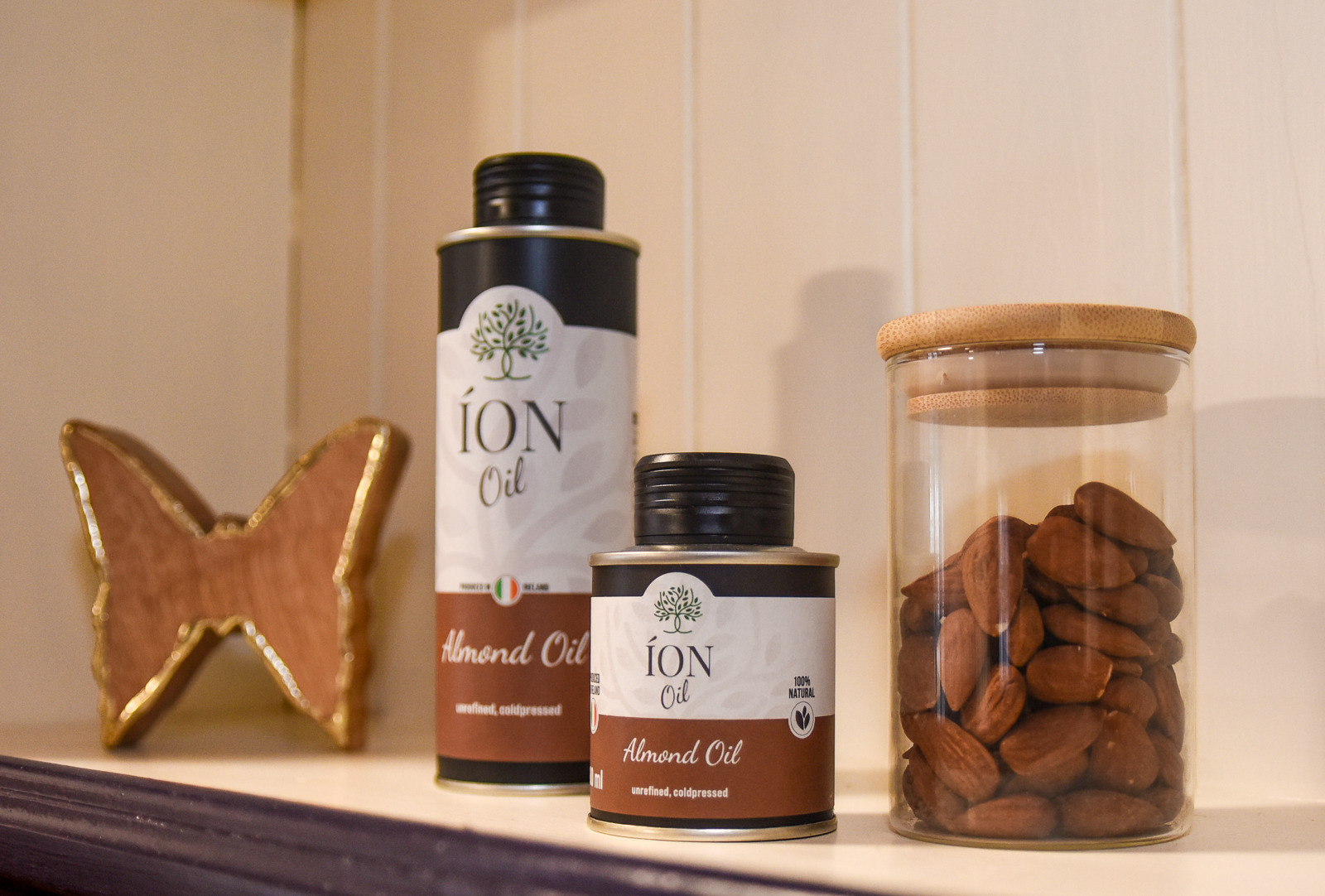 How it started
Originally from Germany, Andrea and Markus Milley bought the farm in Laois where they ran a successful timber business. In 2002 for family reasons, they rented out their farm in Laois and moved back to South Germany, to a University town called Tübingen, "I even get a shiver talking about it," Andrea recalls. While in Germany, Andrea really missed Ireland, for not only it's quality of rural life but the Irish people. Her sons who were in school "were very upset, as they loved it here." It was 2018 before they returned to Laois. Along with the realisation that their timber business was no longer viable, they began to investigate the idea of producing their own edible oils. Their eldest son, who had completed his Agricultural Science Degree, was eager to transfer the farm to organic. "When my son talked about growing the seeds on the farm and my husband Markus needed to look after his health more, we began to look for edible oils in Ireland and noticed a gap in the market, so we said, why don't we do it ourselves?"
Prize-winning Oils
The Milleys only use 100% certified organic seeds and nuts in their oils,"we get the seeds, we press them, they are not filtered or refined – just a pure oil and this is what you get, just pure quality." The valuable and healthy ingredients are retained in the oils. Following cold pressing, the oil is bottled into cans and delivered fresh to customers. Their poppyseed oil made it into the final of the Irish Quality Awards, and their hazelnut and a sunflower oil was also a winner at 'Blas na hÉireann'.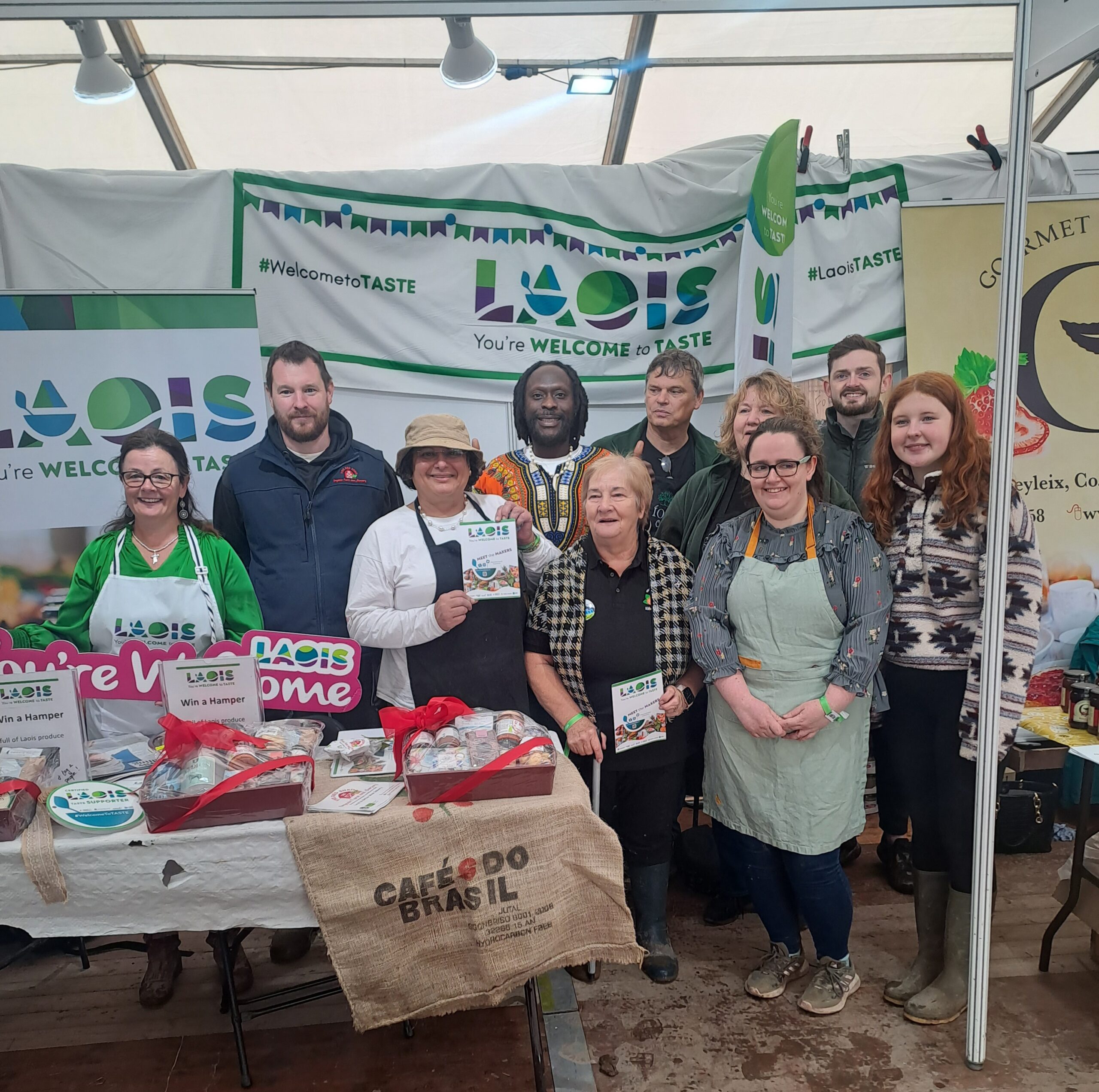 Joining Laois Taste
It was when they joined Laois taste that they found it became a reality for them .According to Andrea "it was a great way to meet the twenty six other Laois producers and also a great way to attend markets and events as a collective". The aim of Laois Taste is to promote local producers, strengthen the Laois food industry and to promote Laois into one of Ireland's top food destinations. Andrea believes the midlands has so much to offer "people always associate Cork or Dublin with food but we have so much to offer here too, just look at the diverse members of the Laois Taste collective."
On the future, Andrea says it's all about educating Irish people on the benefits of using edible oils "I know it's going to be hard and there's a lot of educating people, but it will be worth it."
For more information on where to buy online, visit their page Íon oils.
Health Benefits of Edible Oils