The 4 winners of County Enterprise Awards for the Midlands are the perfect snapshot of the innovative SME's which are at the heart of enterprise in the region. As part of National Enterprise Week, the Local Enterprise Offices in Laois, Longford, Offaly and Westmeath each awarded their County Enterprise Award Winners for 2023. The four winners will now go on to represent their counties, and the Midlands region, at the National Enterprise Awards in the Mansion House in June.

The variation in the types of businesses is testament to the depth and scale of small business in the region. The 4 winners vary from a Glassware company in Offaly whose customers include the likes of Max Benjamin, a Craft Brewery in Laois with sustainability at their core who brew in a 200 year old Mill which is also open for tourism, an Energy Audit company in Westmeath who offer a one-stop-shop to customers in the delivery of energy efficiency upgrades, and a Language Programme company in Longford who place over 2,000 international students with host families through 120 schools each year.
Offaly – Glass Innovations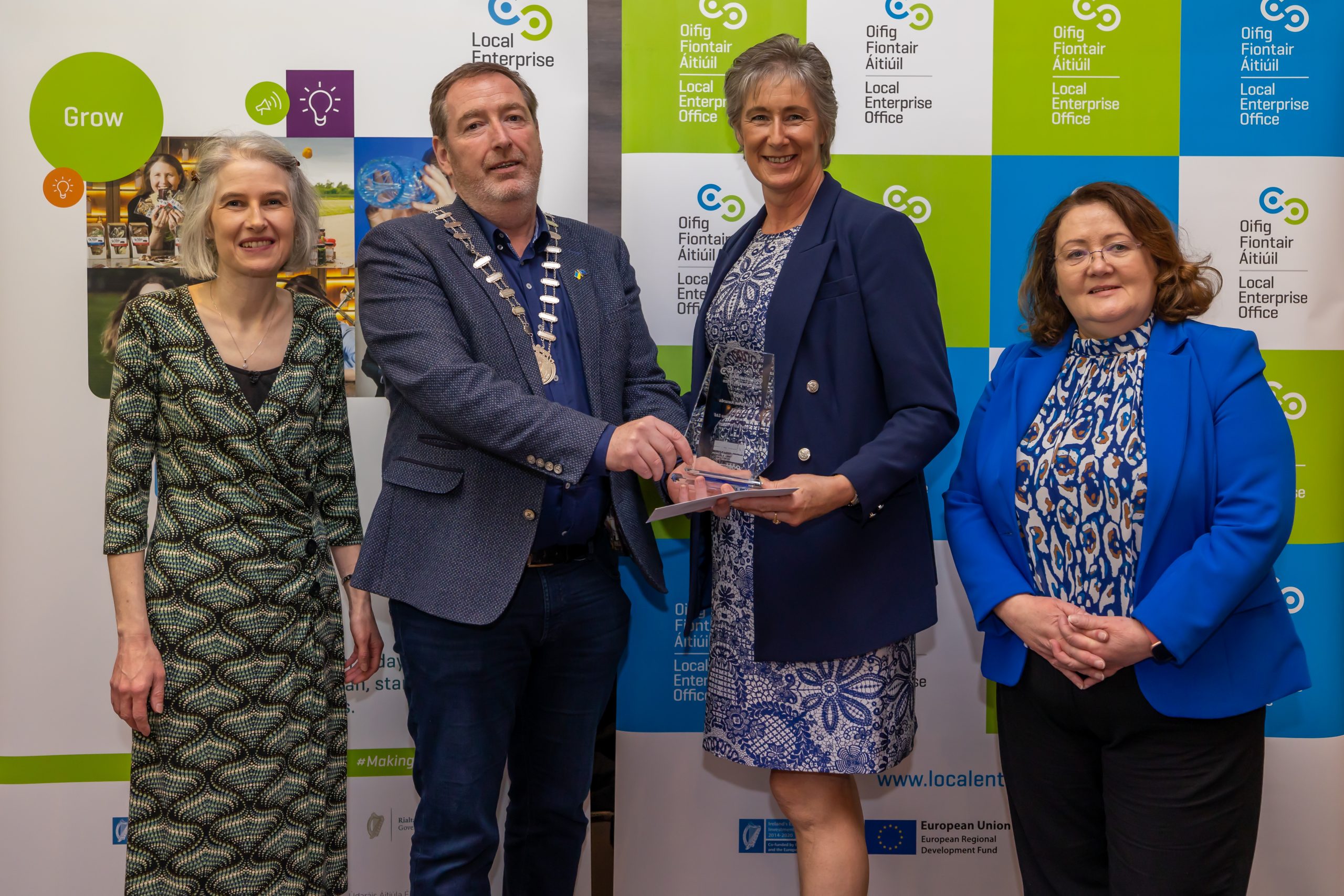 Glass Innovations Ltd., established in 2001 by Gretchen Donovan, is a family run business based in Ferbane. They provide a decoration service for bottles and glassware for drinks, body care products, candles and diffusers. Their customers include Dunnes Stores; Aldi; Lidl; The Handmade Soap Co.; Fragrances of Ireland and Max Benjamin to name but a few. The company designs bespoke glass and packaging solutions to give products shelf presence and branding, services can also include supplying glass and accessories, to provide and all in one service for their customers.

Other winners at the awards ceremony, held at the Tullamore Court Hotel, included four category prize-winners. Daingean based Anthony Gorman's Wooden Crafts Ltd (One to Watch Award); Tullamore based Allpro Recruitment Ltd (Business Strategy Award); Clara based Irish Training Solutions (XSF) Ltd (Export Award) and Rahan based NIS Ltd (Innovation Award).
Westmeath – Watt Footprint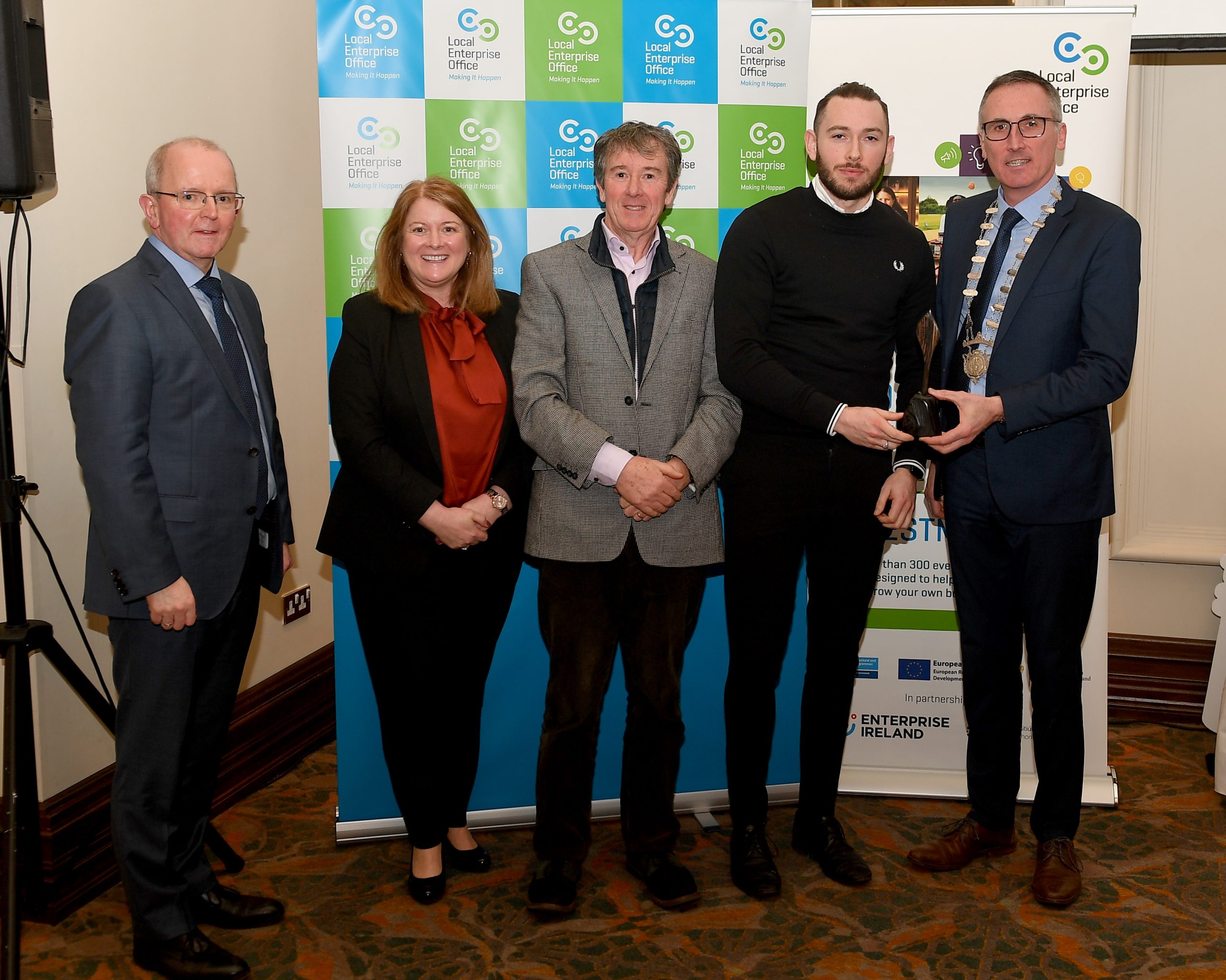 Paul O'Reilly took the top prize in Westmeath for Watt Footprint Ltd. The company offer a one stop shop approach to delivering energy savings for their clients. From initial energy audit and delivery of upgrades to the measurement and verification of the savings. Watt Footprint have an in-house team of energy specialists including energy engineers, energy auditors, metering specialists, software/technology experts and project managers.

Other winners at the Westmeath Enterprise Awards held at Mullingar Park Hotel included ECN Technologies Ltd from Mullingar, which scooped 2nd place, and Lir Steelworks from Fore, Castlepollard that went home with 3rd prize.
Longford – Midland Language Centre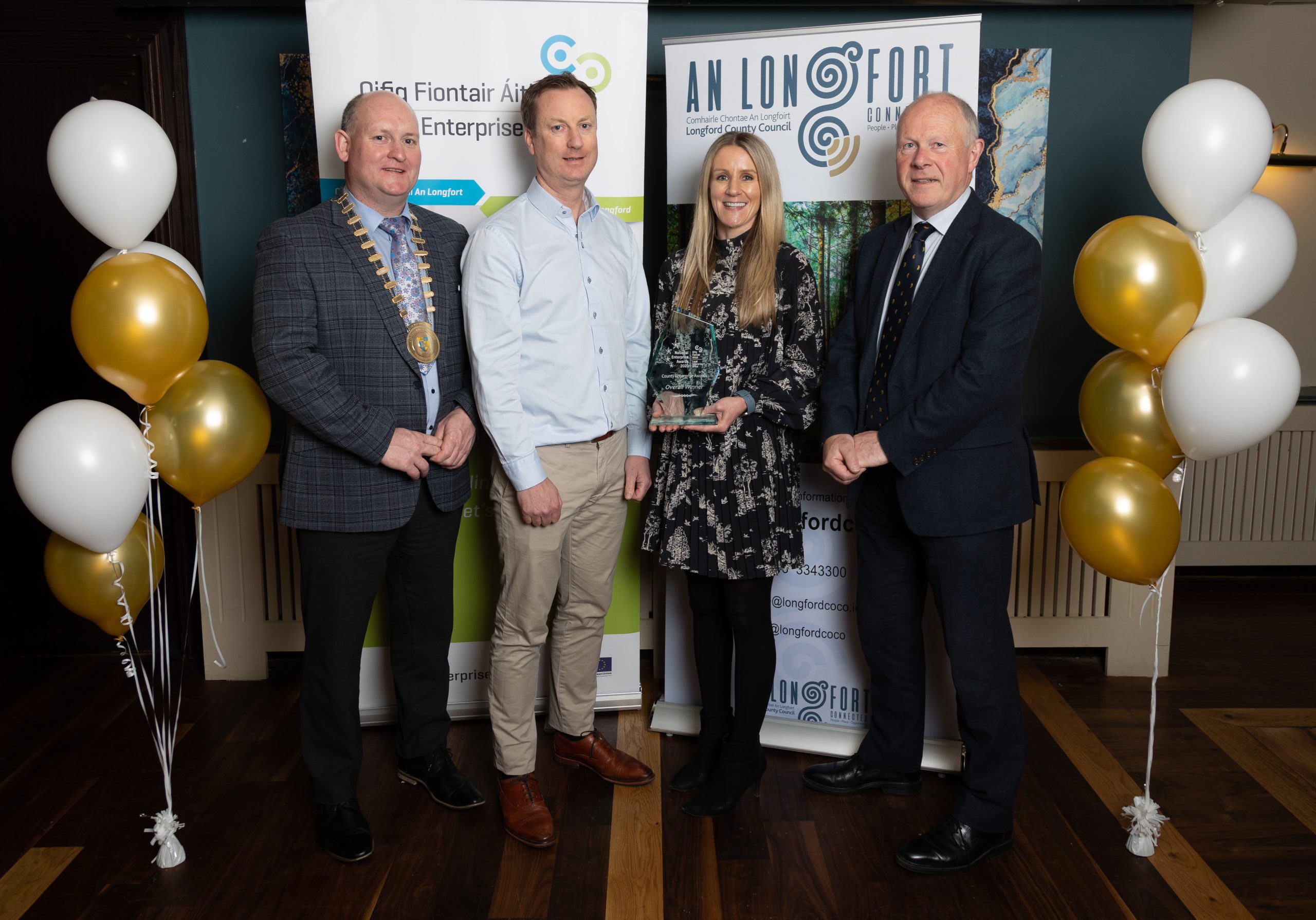 Winners for Longford are the Midland Language Centre. The company provide homestay programmes for international students coming to Ireland to learn English. Set up by Clodagh Brady in 1976, the Centre has been managed by Angela Brady since 2004. It has grown significantly, with over 2,000 international students a year matched with host families and placed onto language programmes in over 120 schools across Ireland. Programmes vary in length from one year to shorter courses, including two to four week summer programmes with many activities and camps offered.

Other winners at the Longford awards included Pallet Solutions Ltd, owned and managed by Enda McKeon, Mark Cadam Ltd, Áine's Boutique, Spirit Clothing and Skelly's Bar, Restaurant and Guesthouse.
Laois – Ballykilcavan Farm & Brewery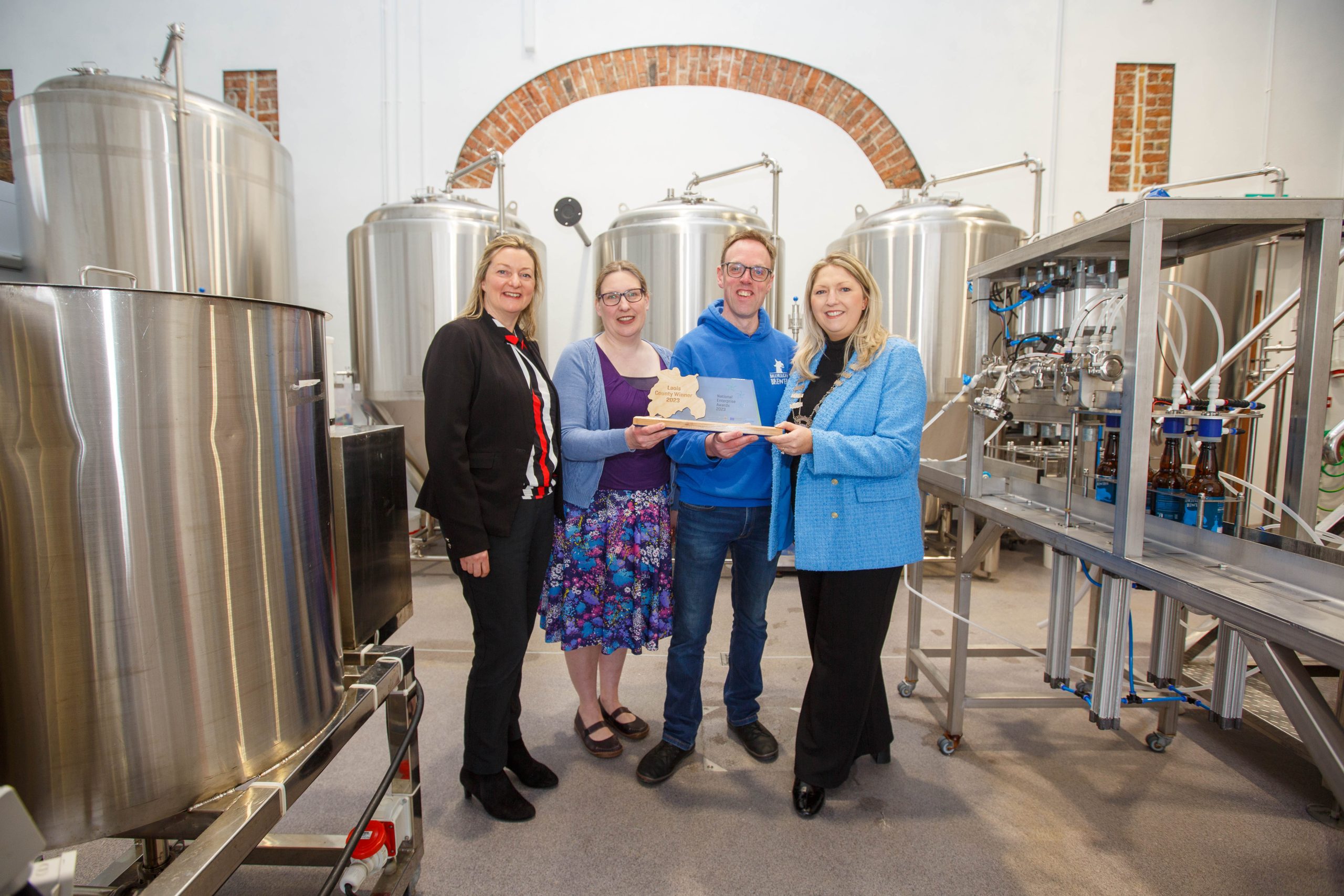 Ballykilcavan Brewing sells two separate, but strongly linked products: craft beer and tourism.

The brewery produces a wide range of small-batch beers from lager and a variety of pales ales, to a red ale, brown ale and stout. Connected to this is their new visitor centre that opened in April 2022. The visitor centre is located in a 200 year old mill building and caters for tour groups, corporate, family and school groups and have regular scheduled tours for members of the public.

Ballykilcavan are the only brewery in Ireland making their beers using standard and specialty malts made from their own barley, and the only brewery in Ireland who can make a beer using ingredients that are sourced 100% from the farm where the brewery is situated.
Midlands at the National Enterprise Awards
The 4 County winners will now represent the region at the National Enterprise Awards which take place in June. The Midlands region has a strong record of success at the National Enterprise Awards in recent years.
The region took home 3 Awards at last years finals. The Best Start-Up category was won by Acoustic Interiors supported by Local Enterprise Office Offaly, while the Green/Sustainability Award went to Cirtex, supported by Longford Local Enterprise Office. There was also a win for Salutem Insights Ltd., backed by Local Enterprise Office Laois, who won in the Mid-East Region award.

The previous year saw another strong performance by the Midlands, having won the overall National Enterprise of the Year Award with Bevcraft Group and Local Enterprise Office Westmeath, once again showing the fantastic business environment on offer to local enterprises here in the region.
Your Local Enterprise Office
Your Local Enterprise Office provides advice, information and support to you in starting up or growing your business. With 4 dedicated teams across the Local Authority network in the Midlands, your county 'LEO' offers you a wide range of experience, skills and services. Find out more