On Saturday 24th June 2023, Midlands Women in Tech will host a Career Networking Morning at the Ardonagh Analytics Lab in Mullingar from 10am to 12pm.
The Midlands Women in Tech community aims to close the gender gap and to help women and girls embrace Tech by educating and inspiring more women about the opportunities a career in tech can offer.
Career and Training Opportunities for Women in Tech
This event is an excellent opportunity for women who are looking to change their careers into the tech industry. It offers a platform for women to network with professionals, gain insights into the latest trends and innovations in tech and learn about job opportunities.
If you are considering a Career in Tech or upskilling in your current role; the Career Networking Morning offers the perfect chance to learn more, providing information about some of the IT Courses and Apprenticeships available throughout the Midlands. Additionally, there will be industry representatives from key Midlands Tech companies to speak about their day-to-day roles and the skills involved, as well as recruitment specialists to support on CV and interview preparation.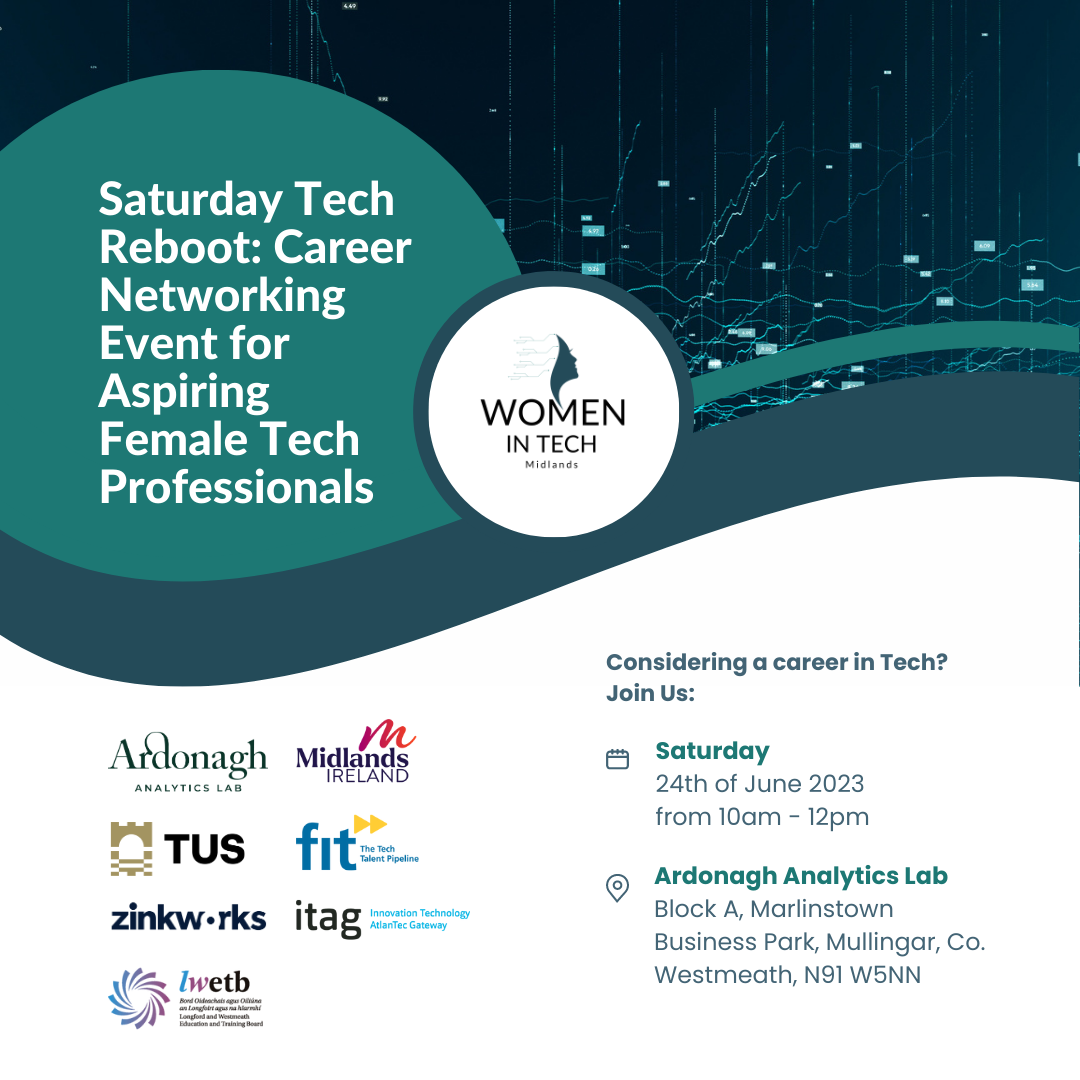 Meet women in Tech and Education from the Midlands and beyond
This event will feature representatives from many regional and national supporters including Ardonagh Analytics Lab, Zinkworks, Technological University of the Shannon, Midlands ICT Cluster, MidlandsIreland.ie, ITAG & ITAG Skillnet, Fastrack into Information Technology (FIT), Longford and Westmeath Education and Training Board (LWETB) and more to be announced.
Aisling Fallon, Line/Delivery Manager, Zinkworks and Co-Founder of Midlands Women in Tech commented: "Midlands Women in Tech has been established to increase the visibility of women in tech in the Midlands region, and encourage more women and girls to consider tech as a career. We're delighted to host this networking morning, and would encourage anyone working in tech, or interested in learning about a career in the industry to join us on the morning."
Sharon Keane, Agile Project Manager, Zinkworks, and Co-Founder of Midlands Women in Tech said: "This career networking morning is about creating an open and informal space for women to learn more about careers and upskilling in tech, with the support and guidance of women already in the industry, and we're looking to highlight the great opportunities for women in tech across the Midlands."
Marie Browne, Head of Data Operations, Ardonagh Analytics Lab said: "At Ardonagh we are committed to ensuring ours is a truly inclusive workplace that fully represents the diversity of the communities we serve. This is a great opportunity for us to get involved with a fantastic organisation supporting women to achieve a full range of career opportunities in tech."
Join a thriving ICT Industry here in the Midlands
Sinéad Pillion, Head of Operations, Ericsson and Chair of the Midlands ICT Cluster Steering Committee said: "The Midlands region is home to over 400 ICT companies, employing thousands of people in the region. The Midlands ICT Cluster is delighted to be part of this Midlands Women in Tech event, highlighting the excellent opportunities available for women in the industry here in the region."
Midlands Women in Tech Career Networking Morning
Date: Saturday, 24th June 2023
Time: 10am – 12pm
Venue: Ardonagh Analytics Lab, Block A, Marlinstown Business Park, Mullingar, Co. Westmeath, N91 W5NN
The event is open to all, with no registration needed, for more information, visit the Event Page
For further information on Midlands Women in Tech, visit Midlands Women in Tech on LinkedIn