Cloondara or Clondra is a picturesque village in County Longford, off the N5 near Termonbarry, and where the Royal Canal ends at the River Shannon. The Royal Canal Greenway, stretches 130km from Maynooth, Co Kildare to Clondra, Co Longford.
Cloondara gets its name from Cluain Dá Ráth, meaning 'pasture of two ring forts'.
On the Royal Canal greenway, entry to the village is gained by passing under the horseshoe arch of Richmond Bridge where you can take the towpath. As you enter, Richmond Harbour is the main focal point of the village as many of the buildings are built around it. There is a 'Waterways Ireland' office beside the bridge with a service area with amenities like showers and toilets, as well as a car park, and playground.
Named after the bridge, The Richmond Inn is central to the village where you can stay (there are several guest rooms) and there is food served daily in the Pub. The Richmond Inn was originally a flax mill built in 1821, and along with The Camlin Bar, it is now regarded as a perfect place for cyclists and walkers to end their day after travelling on the greenway.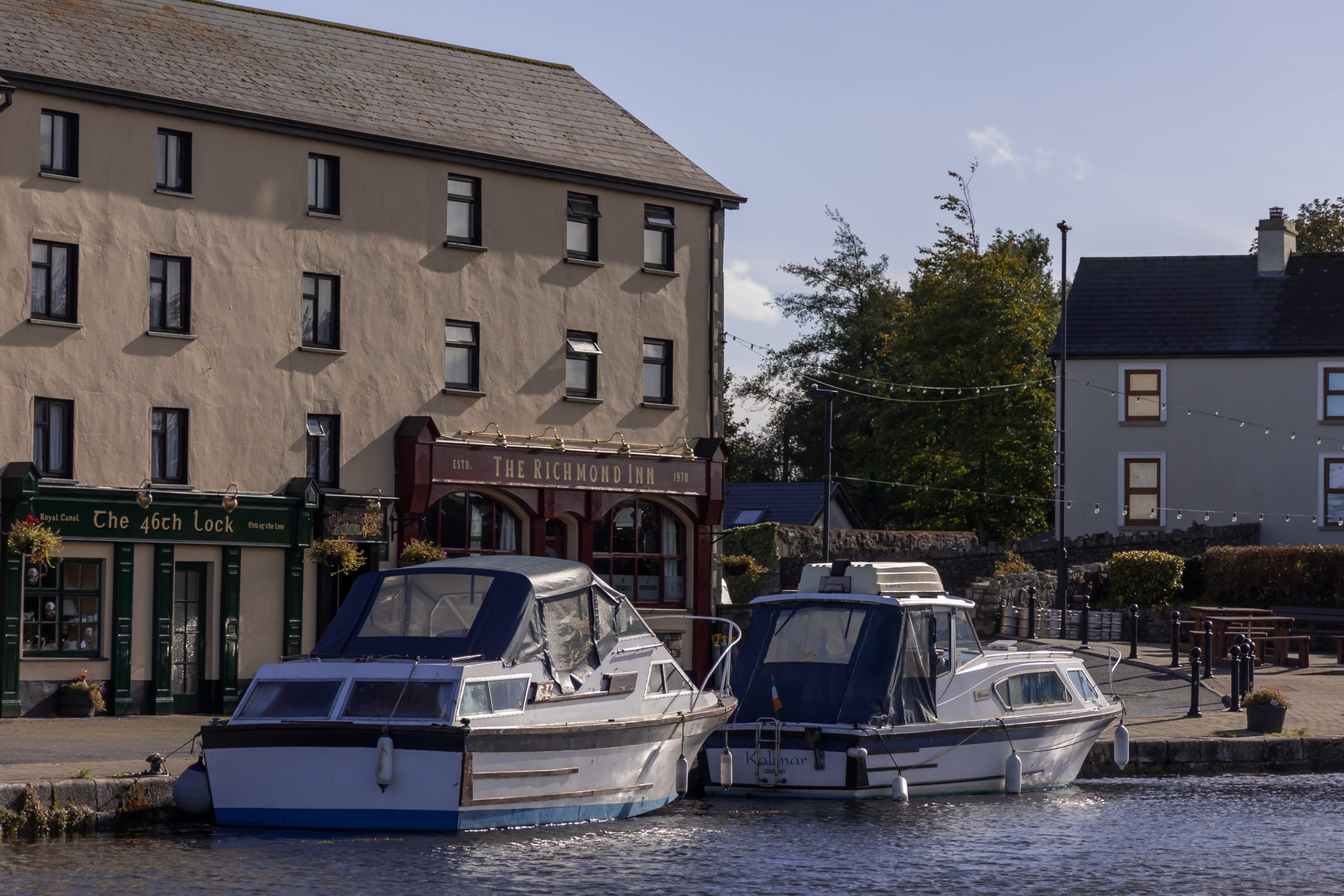 This usually tranquil village becomes a hive of activity during the summer months with several canal rallies, water polo championships, kayaking, angling competitions, heritage week events, an outdoor country music festival, a walking festival and much more. It also has a wonderful outdoor seating area if you just want to take in the scenery. Boats can be hired at Richmond Harbour to cruise the canal and experience the beauty of the Irish midlands.
Nearby is the 'Lock Keeper's Cottage' just opposite the 46th Lock, this marks the last lock of the Royal Canal as it is where it connects with the Camlin River.
The Royal Canal Greenway has been named 'European Cycle Route of the Year 2022'.
Information on heritage sites around Clondra can be found on the Explore Longford App or visit www.longfordtourism.ie