The Esker Arts Centre in Tullamore is finally opening its doors to the public on April 15th. After decades of trying to get the Arts Centre off the ground, with community groups and individuals, all flying the flag for years, it was the amalgamation with Offaly County Council that helped see it through. I paid a visit to the Esker at the centre of Tullamore.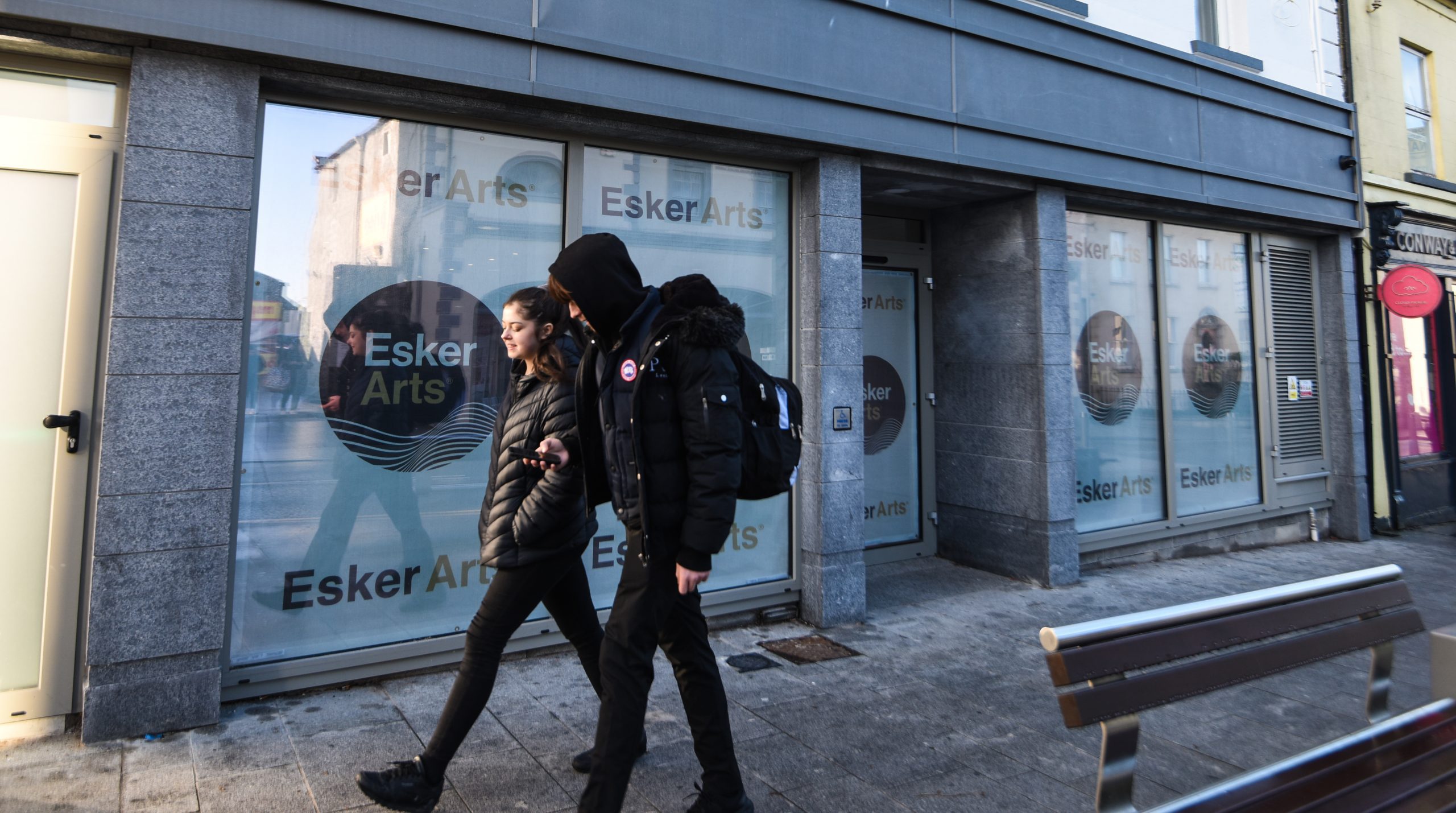 If you look up the word 'esker' you will find it is derived from the Irish word 'eiscar' meaning divide. As the glacier retreated towards the end of the ice age, a winding ridge of material, about 10 metres high was revealed. This is an esker. Eskers are dominant landforms in the Irish Midlands. So it is safe to say you'll be walking upon the same sand as our ancestors did! As a cultural centre, this is good to know we are building on tradition.
According to Marketing & Box Office Manager, Sara Dowling, who has moved to Tullamore for her new role, "We've inherited a really interesting backstory, and we will use it to form a new identity and coalesce going forward". When I meet Sean Walsh the new Artistic Director, a towering figure from Mayo, I am assured the place is in safe hands. From Mayo, Sean has 17 years of experience engaging communities and he was instrumental in opening up the Ballina Arts Centre.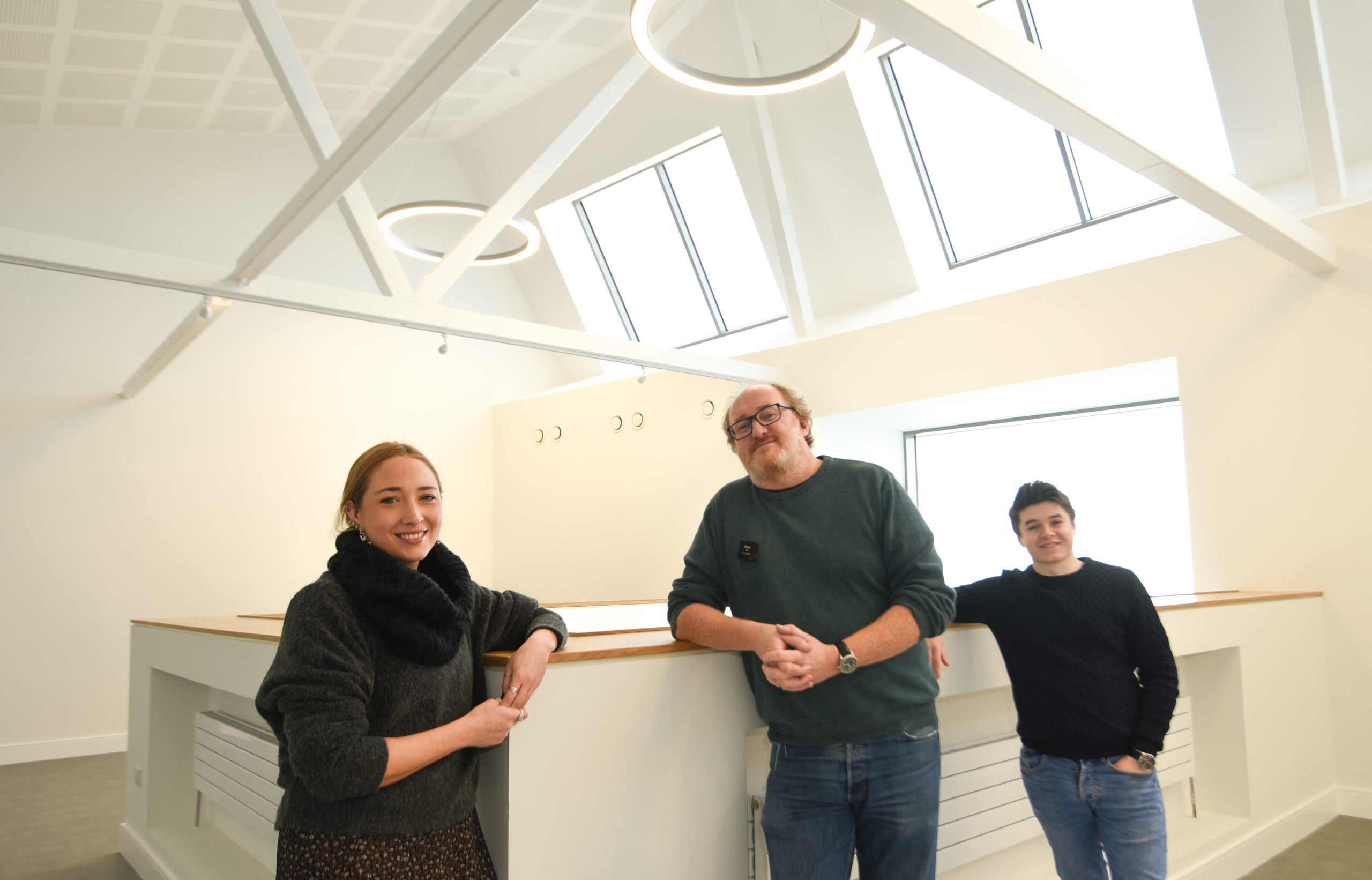 According to Sean, "One of our jobs is to create a hub or a focus for creative activity and creative people in Offaly, so they will have a place to go. This place we will be a magnet for all these people, whether they paint or act or just dabble in the arts" Sean's inherent ambition for the place, and you can hear the passion in his voice, is to make the place a hub, "a centre of making, with real activity and facilities to bring life and creativity to the building and then to the town and it's community. There are so many good things that can come out of the Esker Arts Centre with opportunities for schools to visit and demystify the concept of what an artist is."
Lee Hamill, (the Administrator who moved to Tullamore from Cavan), believes there are a lot of artists using kitchens, spare rooms and attics as spaces and "we want to accommodate these artists, painters, sculptures, animators, printmakers". They will eventually have a printmaking studio in the premises. Lee and Sean show me the older part of the building and we take what was the old Kilroys shops stairs. The top floor is a place where you can barely hear traffic and with the re-painted black wooden floors, it feels like home. The rooms upstairs, each with their own little fireplace, are spaces for up to seven artists. Right beside the artist's rooms there is a large workshop area, which will be available for group activity.
The light coming through the windows upstairs creates a peaceful and creative space and you can imagine it will be a hub of activity, a beacon of light even, for Offaly. As Sean explains his ambition to "put Offaly on the map, with a building dedicated to art. It will be validation to raise the profile of the county for artists to grow within it."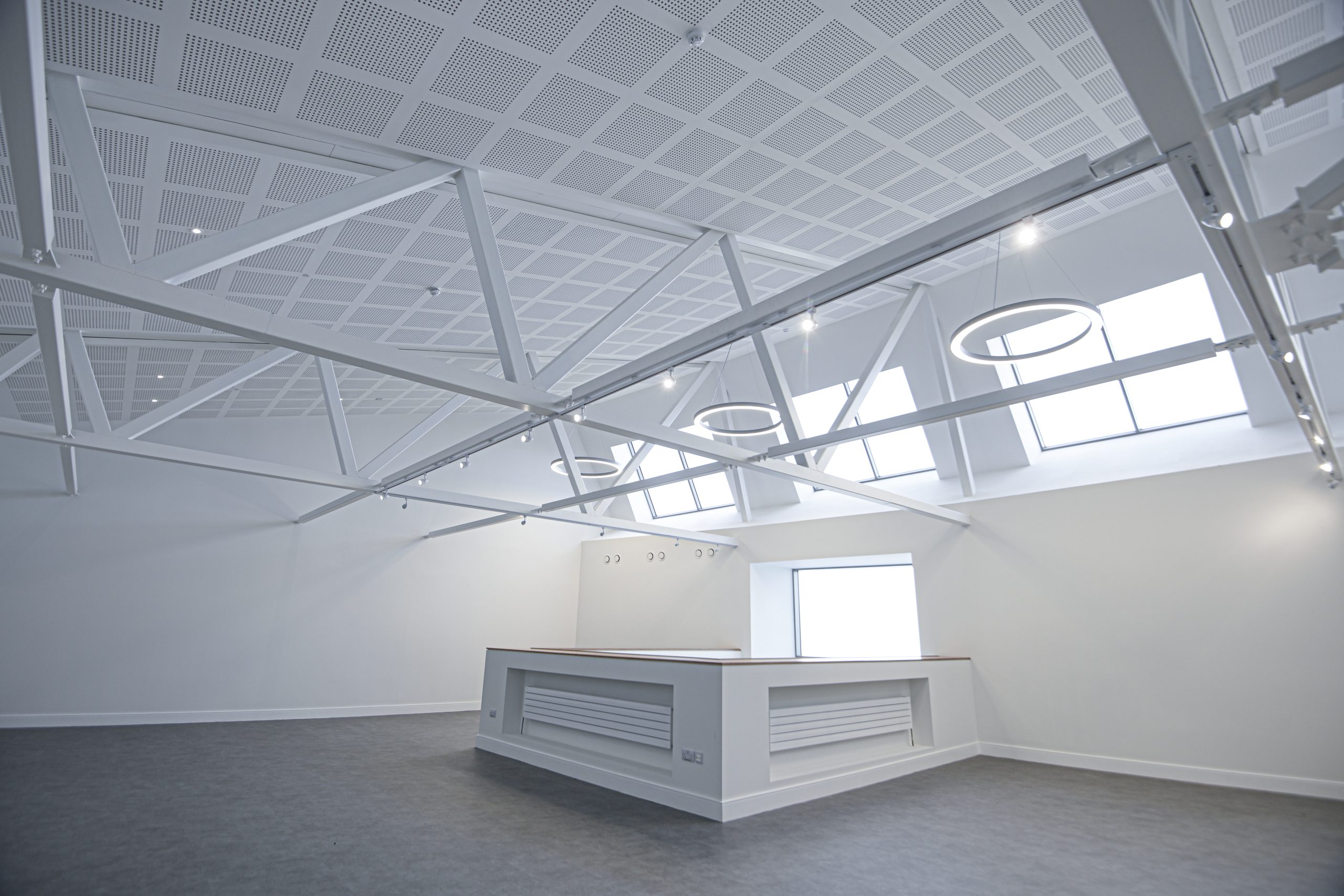 There are two huge gallery spaces, one above the other, painted white with circular lights. These are tall and open spaces ready and waiting for exhibitions and the hum of people's chatter. When I reach the theatre itself, it is warm and glowing red, in contrast to the gallery spaces. With 228 seats, the stage is floor level and there will be a cinema projector and large screen, perhaps for Independent films. Now, with the huge appetite for Irish and Independent cinema, there will be plenty of interest. There is a bar area also, serving wine and soft drinks and Sean mentions a possibility of a café which will open during the day in the future. And perhaps, saving the best til last, at the exterior of the building, there is an outdoor Greek-style amphitheatre, an open semi-circular space just waiting for people and good weather!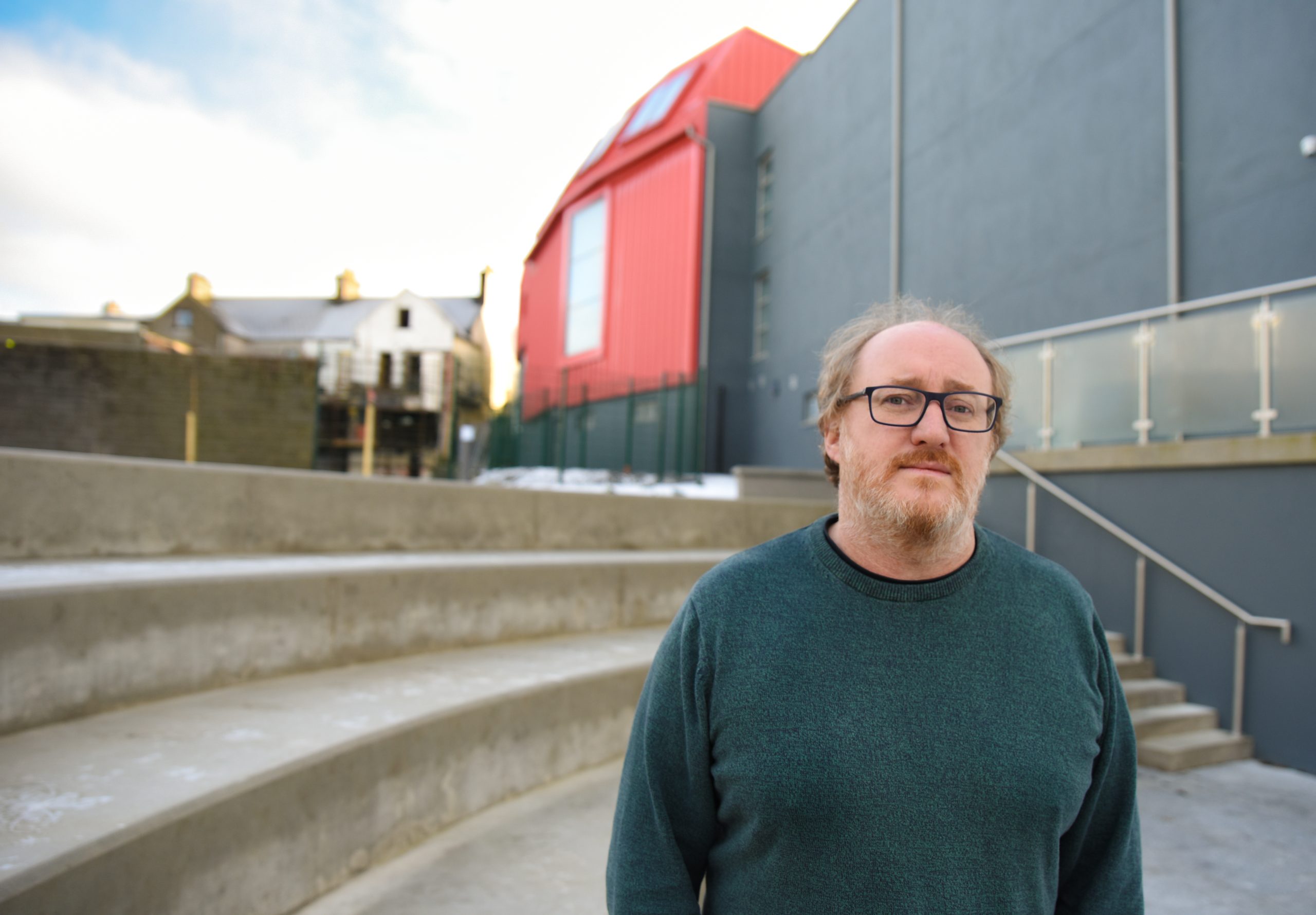 So put the date in your diary for the opening of the new Esker Arts Centre in Tullamore for Saturday April 15th, with a free exhibition of contemporary Irish art from the Arts Council collection. The exhibition, featuring up to 40 paintings, will feature works from the 1960s to today and it will fill the two gallery spaces, upstairs and down.
One of the more local events they will put on will be The Tullamore Musical Society's 'Michael Collins, A musical odyssey!' That is due to run from April 29th to May 6th. As Sean explains, it's really a juggling act, "we want the first year to show a lot of different things, literature, visual arts, film, dance art, workshops, and community arts." Sara, says they will be reaching out to the public and artists to ask questions and involve their opinion in their strategic plan. Before you can move mountains you have to walk along the esker! Congratulations to all, it will certainly be worth the wait.