Technological University of the Shannon and Athlone-based technology company Zinkworks have launched a new €2M Telecommunications Research Group to Make Driverless, Intelligent Shipping Ports a Reality
The group will develop cutting-edge autonomous port management capabilities using 5G, AI and cloud, improving eco-efficiency and safety.
As the race for self-driving cars heats up, a team of researchers at the Technological University of the Shannon (TUS) and Athlone-based ICT start-up Zinkworks are turning their attention to how shipping ports can adopt the technology to improve global supply chains, eco-efficiency and safety.
To do this, they have formed a new €2 million cognitive – or 'thinking' – technologies management research group aiming to develop a prototype for managing the full port eco-system autonomously – from the cranes to the vehicles that transport shipping containers.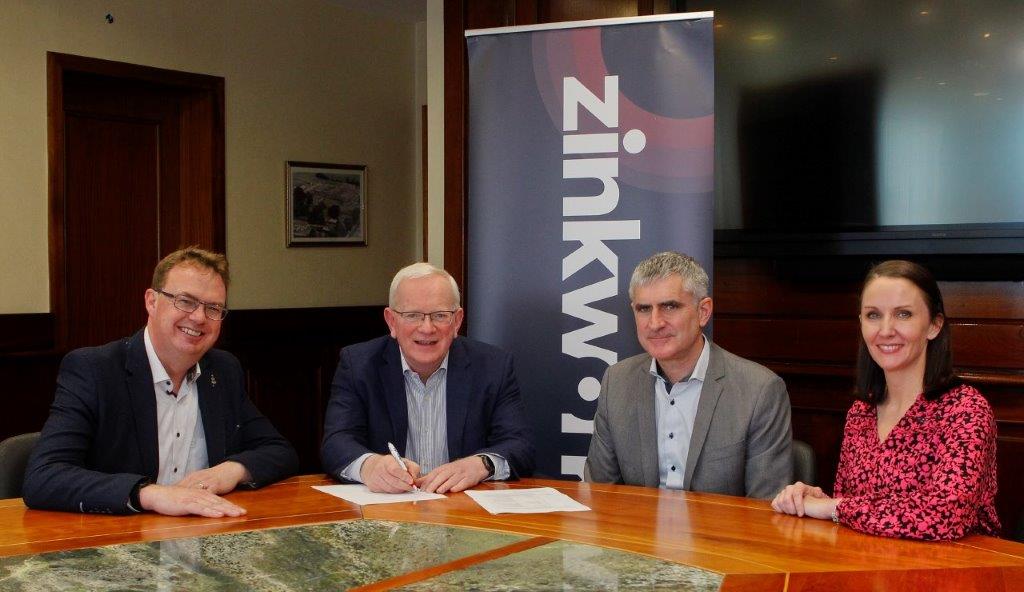 According to Dr Enda Fallon, principal investigator on the project and Head of the Department of Computer and Software Engineering at TUS, outputs from the project will have the capability to "smooth the issues with global supply chains".
"Using 5G intelligent telecommunications management systems, we will be able to alleviate congestion in a port, taking into account things like when did the last ship come in, where did the containers go, how they are stacked and stored and how does that impact the network coverage," he explained.
"Because you've got so many autonomous vehicles and so much networking involved, it is critical to be able to understand that environment and predict what the network coverage is going to be to ensure the autonomous vehicles stay connected and continue to operate as intended."
"To put things in perspective, he continued, "Imagine if, due to a crane having issues with the network, a shipping container weighing 100 tons ends up dangling 40 feet in the air in windy conditions because of poor coverage. That's a serious safety hazard."
The new TUS-Zinkworks research collaboration, which received initial funding from the IDA and Enterprise Ireland through the Innovation Partnership Programme, will encompass 15 research staff and PhD students.
TUS President Prof. Vincent Cunnane said the project "illustrates how close collaboration can create deep knowledge for the fast-moving technology sector".
"Proximity to TUS was a vital factor in Zinkwork's establishment in Athlone in 2018, and we are delighted to formalise our ongoing partnership and offer our significant expertise and research capabilities in developing this highly sophisticated cognitive telecommunications management prototype," he said.
Prof. Cunnane also pointed to the importance of deep, strategic technical knowledge development and transfer, explaining that TUS's transition to technological university has been "vital" in building the physical and knowledge capability to support start-up companies, such as Zinkworks, as they continue to expand their workforce.
TUS supports regionally based ICT companies through its Software Research Institute (SRI), which it established in 2006 to facilitate applied research collaborations with industrial partners.
Zinkworks, which services clients in the telecommunications and financial services sectors, has expanded significantly since its establishment and now has more than 200 employees across three locations, Athlone, Letterkenny and Hyderabad in India.
The highly successful ICT start-up aims to launch its first telecommunications product through this research project with TUS, which is expected to take 18 months to bring to fruition.
"As 5G private networks are rolled out in complex dynamic environments like ports and manufacturing facilities with advanced automation, understanding the impact of the changing environment on the critical network characteristics and quality of service is essential," Zinkworks CEO Paul Madden explained.
"The collaboration with TUS will provide this knowledge and through machine learning, modelling will define how best to optimise coverage required for complex industry use cases."
The partnership is also expected to benefit current and future TUS students by providing the project's investigators with insight into the skills that students will require in the medium to long term.
"Such a problem-based innovative project creates opportunities for both undergraduate and postgraduate students, giving them day-one, industry-ready skills. This talent pipeline is vital to support the regional ICT sector," Dr Fallon said.
"As we look ahead to an autonomous future, the nature of jobs is changing. There will be huge employment opportunities but many of the current engineering jobs will be automated, with more high calibre jobs and specific, advanced skill sets required to manage these autonomous systems."
Dean of Faculty of Engineering and Informatics at TUS Dr Sean Lyons also welcomed the collaboration, saying, "We have a demonstrated track record of engagement with industry, and this collaboration serves to further illustrate what can be achieved through our close links with local companies."
Technological University of the Shannon TUS and Zinkworks are founding members of the Midlands ICT Cluster www.midlandsireland.ie/business/ict-cluster/