Technological University of the Shannon have secured over €1.3m in funding to support major Bioeconomy Research projects in the coming years under the Policy and Strategic Studies Research Call from the Department of Agriculture, Food and the Marine.
The Bioeconomy sector is one of the most important in Europe, employing close to 17.4 million people, with an annual turnover in excess of €2 trillion including agriculture, forestry, fisheries, food, paper and pulp production, as well as parts of the chemical, biotech and energy industries. Ireland has abundant bioresources that present immense opportunities for the development of a vibrant circular bioeconomy on the island.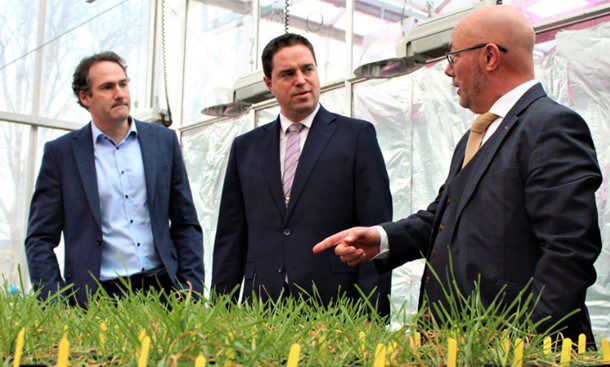 Development of Bioeconomy Demonstration Sites in the Midlands
The first project looks at the Development of Multifaceted Bioeconomy Demonstration Sites in the Midlands Just Transition Region. It will involve the development of a Bioeconomy Demonstration site at a dedicated 5.4 hectare peatland site in Mount Lucas, Co. Offaly. The site will explore the change of land-use away from reliance on fossil fuels with a view to producing renewable feedstocks, alternative-biomass production and high-value biorefinery products for local/regional employment opportunities across connected food, cosmetics and healthcare industries, balanced with protecting biodiversity and natural capital. The 2 year feasibility study will research potential changes of land uses in the transition to a sustainable, climate neutral and circular bioeconomy. The research will include scoping, surveys, feasibility and market analysis to inform circular bioeconomy policies for future land and green business use.
Circular Bioeconomy
The second project looks at the Circular Bioeconomy. The Circular bioeconomy refers to the intersection of bioeconomy and the reusing of resources in the move to net zero-carbon processes. The project will again focus on demonstration projects, providing state of the art high-quality biotransformation services aiming to unlock the innovation potential and uncover opportunities to build relationships and partnerships across the circular bioeconomy. It will demonstrate two laboratory scale biobased processes, upscaled to demonstration pilot level at the National Bioeconomy Campus in Lisheen, Tipperary and develop best-practice processes at scale to harness the full wealth of these two bioresource exemplars including process circularity and life cycle assessment evaluation.
Both TUS Bioeconomy research projects are part of a €4.2m national research scheme, which is funding 19 projects in total across the country in the areas of Agri-food, Forest and Bioeconomy as a funding instrument to support evidence-based research which will be integral in the formation of future public policy.
Learn more on the Technological University of the Shannon https://www.midlandsireland.ie/study/tus/