Veteran Inventor, Tony Bergin will be at the National Inventions competition segment of the Tullamore Show this Sunday. The renowned 93-year old inventor from Cooleshall on the Offaly/Tipperary border shows no signs of slowing down as he will take part in the Tullamore show for the 26th year. Only last year, he won an award for inventing a device called 'Coat Hanger Plus Helper', to assist people with reduced mobility to dress themselves independently.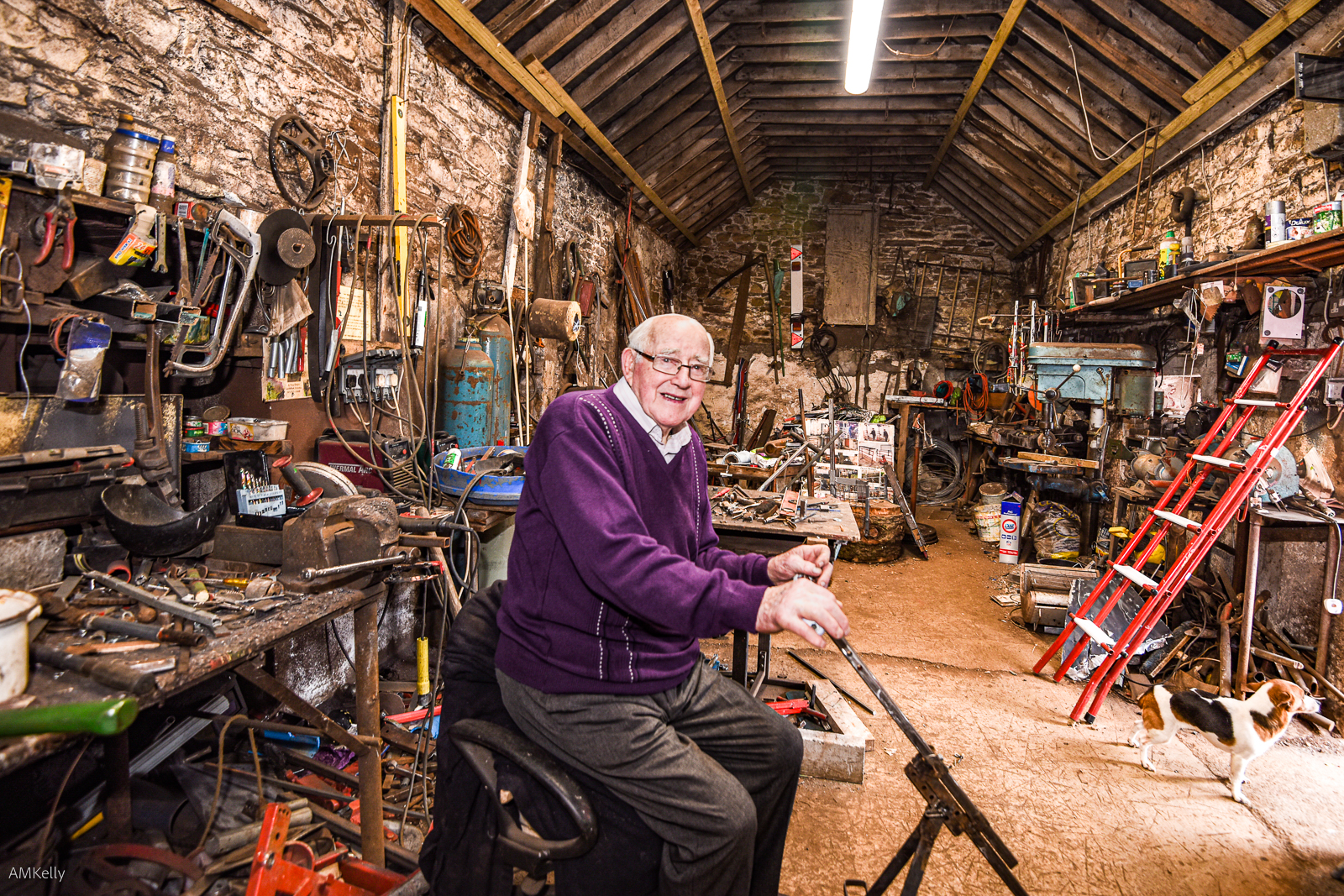 His latest invention
This year he has developed his very own walking aid which he thinks is safer than any other. After having his hip replaced, he developed this 'safer model' because it has skids on the back of it and makes it much more stable when he is moving. The one he got from the HSE has wheels, "it's too lively and runs away on me" and this one, he says is far better. He has even made it so you can rest your foot on it as a foot rest.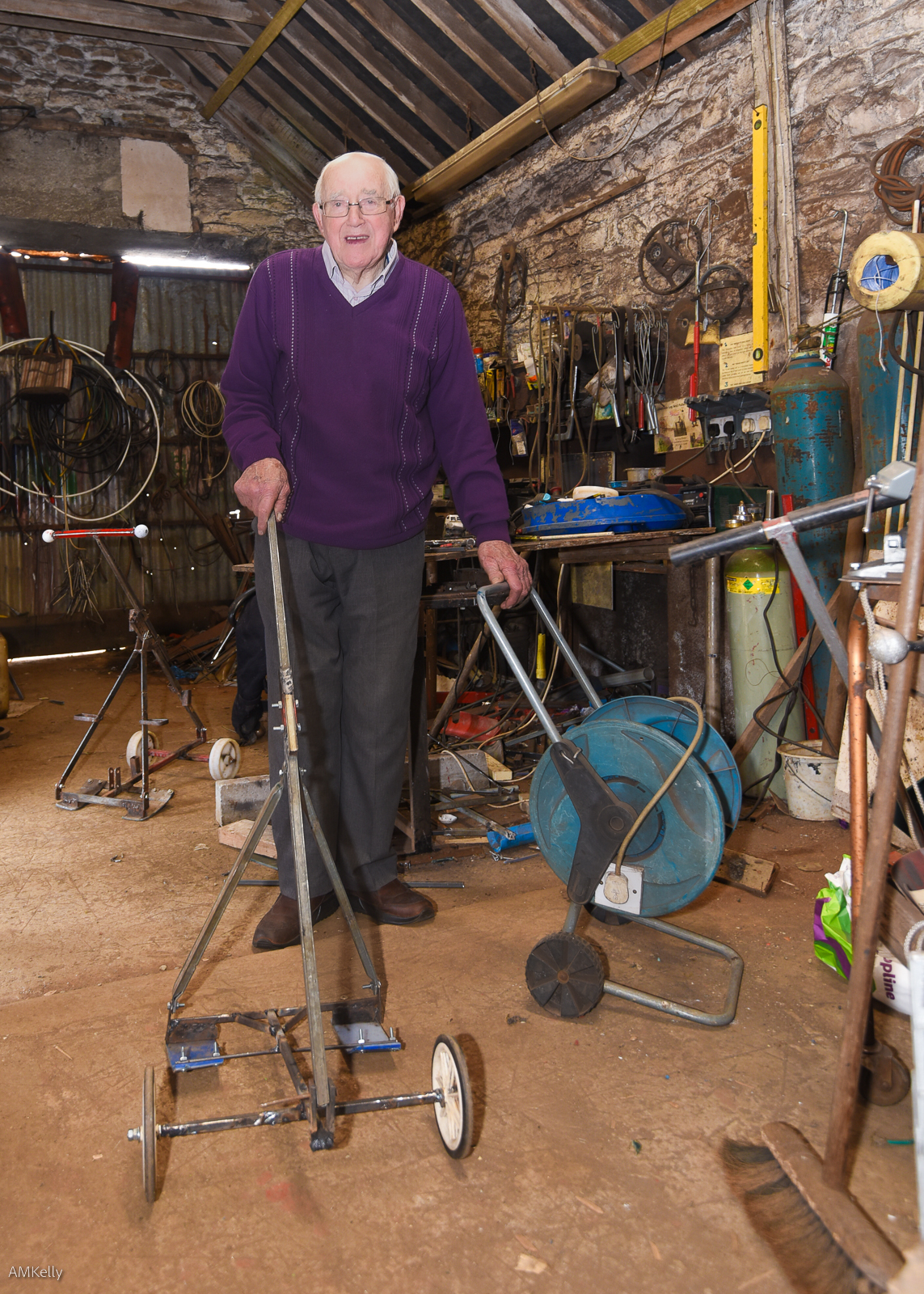 "I'd go to bed at night with an idea and I'd stay awake all night. Something evolves in your mind all the time as you go along". He admits he isn't able to find where things are in his shed anymore. When you enter his shed it is filled with rusty screws, broken wheels, tools, saws and has that gorgeous familiar 'shed smell' of petrol mixed with oil and mustiness and all things that remind me of my own Dad's shed as a little girl.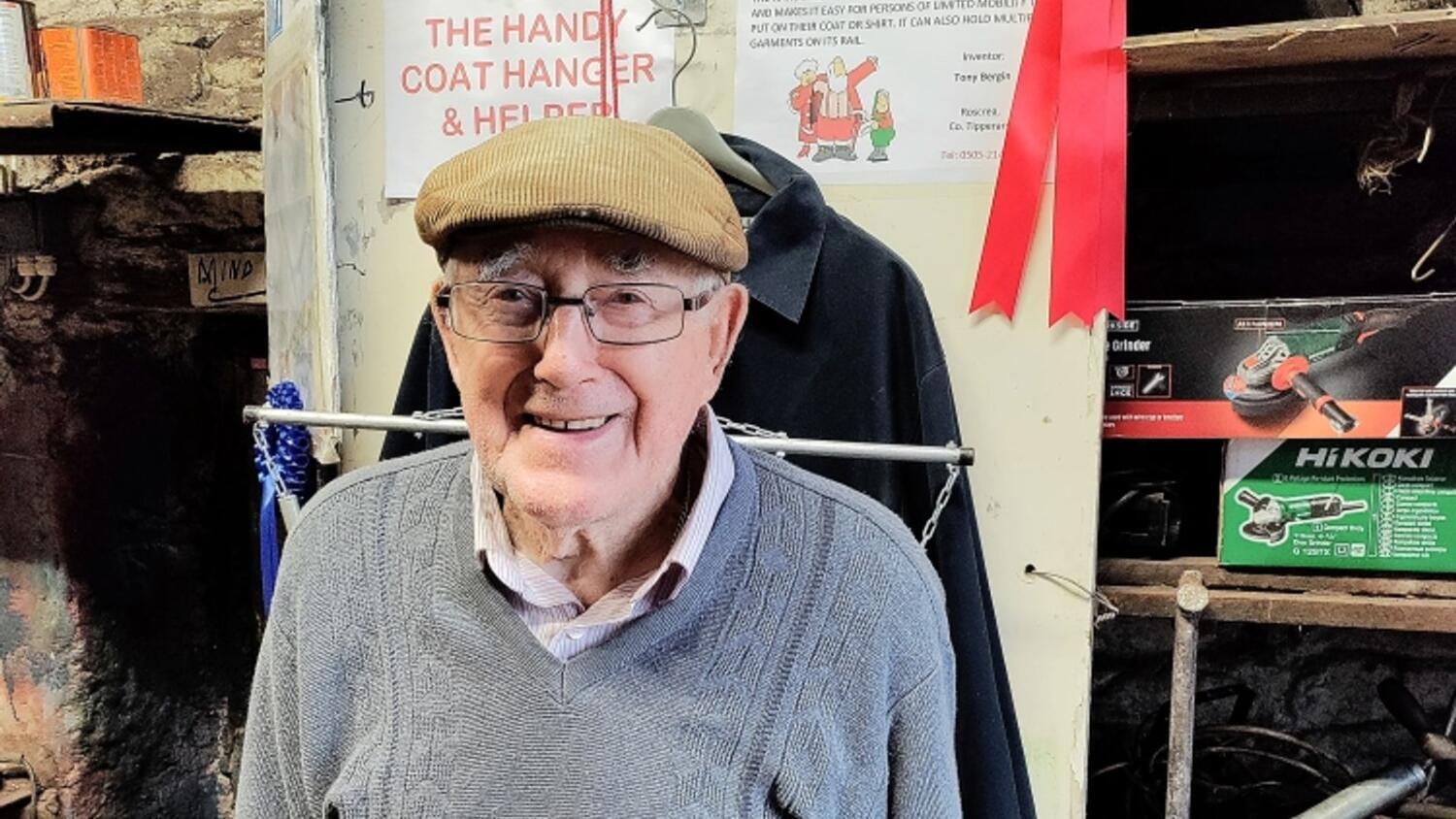 His protoypes have been copied
Many of his protypes have been copied and further developed but he says of them, "I don't mind the copiers, especially if it makes life easier for people". His generous spirit and closeness to nature was highlighted during covid when his friendship with a fox made national news. "You wouldn't believe the joy I had with that bloody fox!" he tells me. They eventually got so close the fox put his paw on his lap. "I used to whistle and he'd come, running" he says and the birds also respond to his whistle and he often feeds robins from his hand. See video below of Tony feeding birds out of his hand.
His philosophy on life
No stranger to the national press, you can hear Tony talking to me recently on RTE Radio 1's Countrywide, about his own views on inventing and life. (towards the end of the show)
I ask him what keeps him thinking young and continuing to invent, he says immediately; "My philosophy is to help people. There is so little connection with human nature – If you have an idea, put it out there – if its any help to people at all. We get more satisfaction out of giving things than taking." And before I leave him, he is eager to tell me "I love nature Ann Marie. I can't emphasize enough for people to go back to nature because nature will open up your mind and your imagination." What a beautiful human being.
The Tullamore Show
The Tullamore Show, Ireland's premiere National Livestock show is expecting to attract 60,000 visitors to Co Offaly this weekend August. New to the event this year will be a hot-air balloon display as well as the new Sustainable Livestock Village. A total prize fund of €175,000 is up for grabs, with over 1,000 competitions taking place at the Butterfield Estate this Sunday.
Traffic advice for the Tullamore Show
The N80 between Portlaoise and Mountmellick will re-open to cater for large traffic volumes heading to the Tullamore Show.
Free car parking is provided adjacent to the show grounds and motorists will be directed along 4 dedicated routes to each of 4 car parks as follows:
The Showground is located on the outskirts of Tullamore on the N52 – Tullamore to Birr Road, approximately 7km from Tullamore town. More information here
Organisers are encouraging patrons to purchase their tickets online so as to avoid long queues on the day. Tickets can be purchased for €20 online or €25 on the day. Children under the age of 12 can attend free of charge