Why not start the year 2023 afresh by taking up a new course with your local Further Education and Training Centre? We have compiled a list of some part-time and FREE courses taking place across the midlands, that range in skills from 'Mindfullness' to Bookkeeping, Art or even Construction.
Most people think they can only begin their studies at the start of the academic year in September, but as you can see there are many opportunities to start in January. Beginning your studies in January offers you a wide variety of perks that you might not have considered. Below, you'll discover our top reasons to start studying in January.
LONGFORD WESTMEATH EDUCATION TRAINING BOARD (LWETB)
Thinking of barbering as a career? There is a FREE Industry recognized and accredited course is for you. Salon & classroom tuition delivered by an experienced & qualified Barber. Class time Tues 9:30- 4pm for 12 weeks (subject to change and min/max numbers) *Full Barber Kit included*. Location Further Education and Training Centre, Battery Road, Longford.
For Payroll, Bookkeeeping, Nursing Theory & Practise, Office Skills and more, the FET Centre located on Clonown Road, Athlone is running a variety of Level 3,4 and 5 Courses in January www.fetchcourses.ie
A Maria Carton Style Advisor is presenting a 6 week Fashion course, starting the 12th January 2023 from 7pm-9pm. This is an in depth course ideal for ANYONE who loves their fashion. Places are limited so apply today. www.fetchcourses.ie/course/finder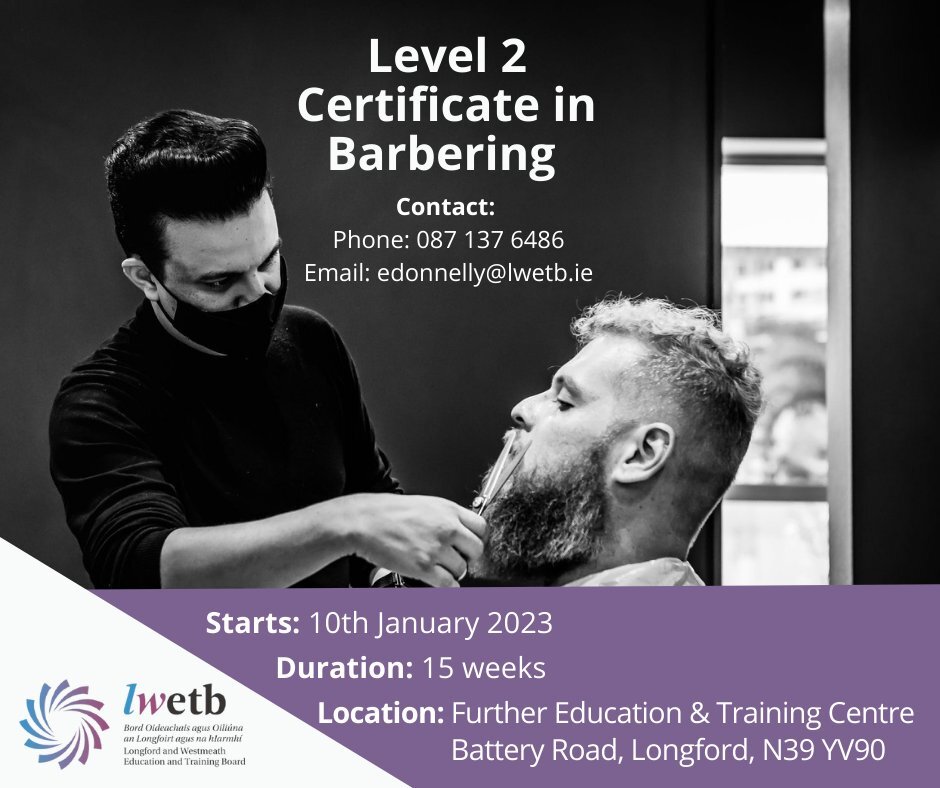 Athlone Training Centre
Looking to learn a new skill in 2023? They have the course for you, Kerb, Flag and Paviour Laying! This full-time 10 week course aims to provide you with the knowledge, skills and competencies to prepare an area, lay and fit curbs, flags and brick paviors. Course starts in January, apply here herettp://ow.ly/SXe650M8mk
If you are looking for an Evening Course in Athlone? The Athlone Training Centre located in Garrycastle are offering a variety of evening courses in January. To find out more about a course or to apply contact the team on 090 65 00061 or email courserecruitment@lwetb.ie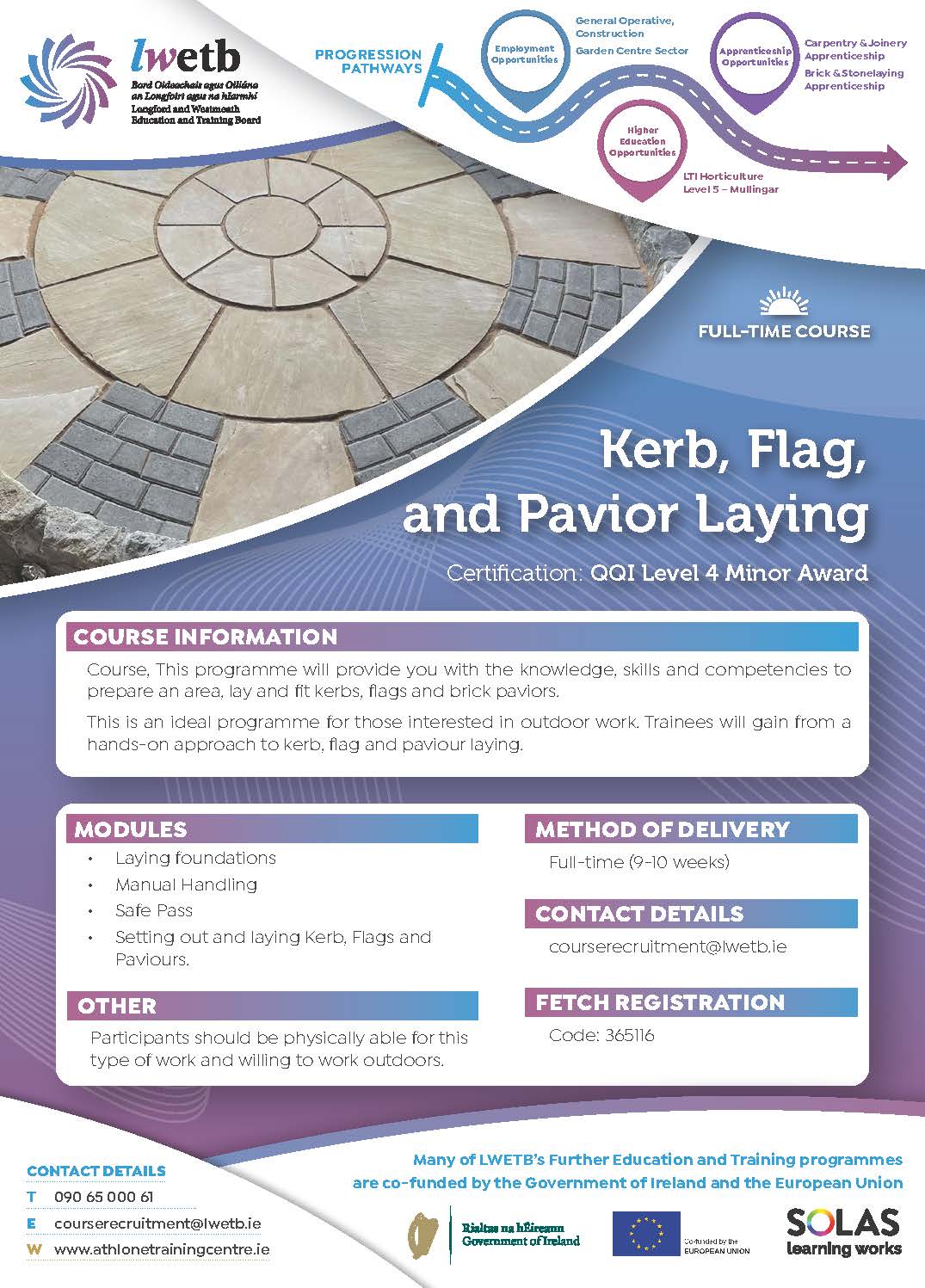 The LOETB National Construction Training Centre in Mount Lucas are taking on new Scaffolding Apprentices., Monday 27th February. More info here http://mountlucas.ie/scaffolding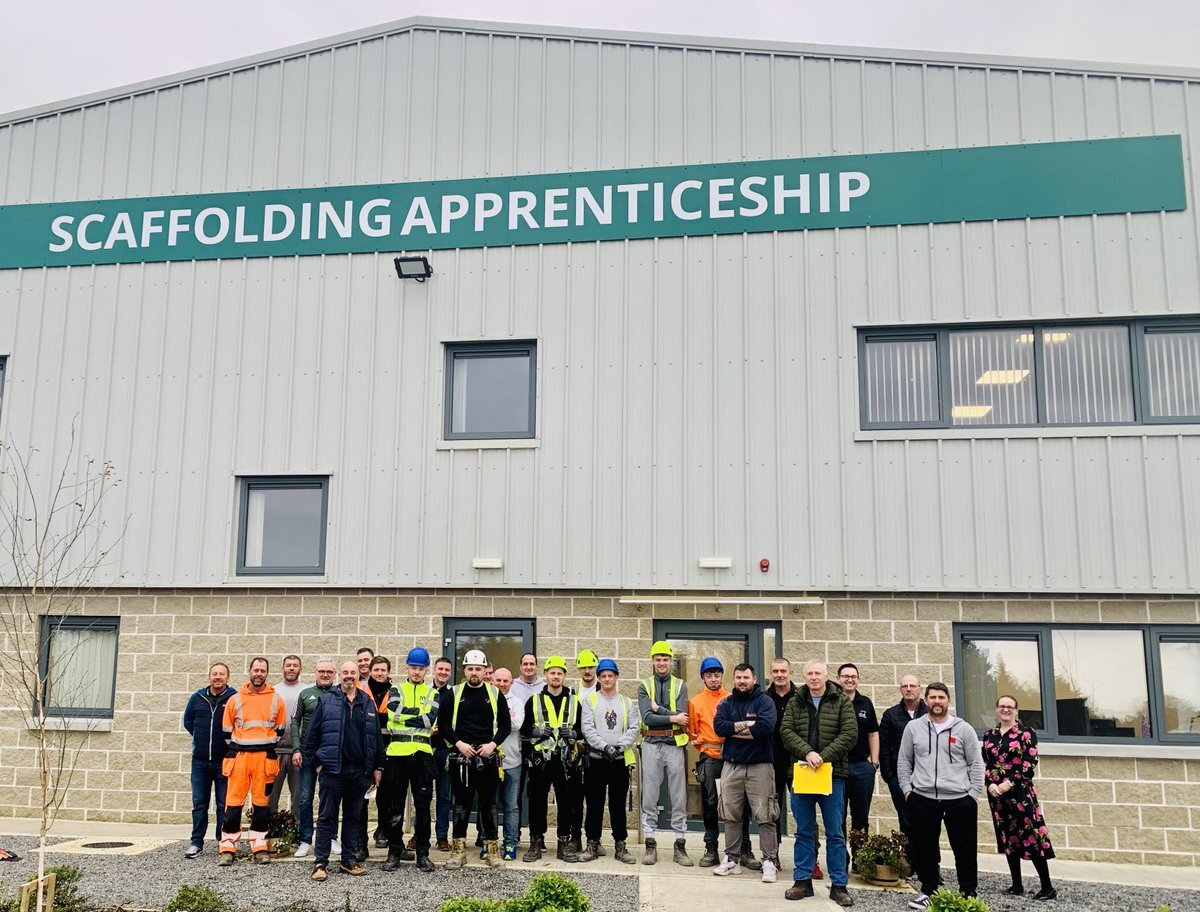 LAOIS OFFALY EDUCATION TRAINING BOARD (LOETB)
The LOETB National Construction Training Centre in Mount Lucas are taking on new Scaffolding Apprentices., Monday 27th February. More info here http://mountlucas.ie/scaffolding
LOETB Portlaoise
Plenty of FREE full-time and part-time courses starting in the New Year in LOETB, Portlaoise. Open to everyone. Register interest using the link below or get in touch. https://forms.office.com/e/GyRsu3e7BR
New part-time Level 5 Early Learning and Care course starting in January! Interviews will take place after Christmas. Contact Lisa with any queries- lmcevoy@loetb.ie. Register here https://forms.office.com/e/GyRsu3e7BR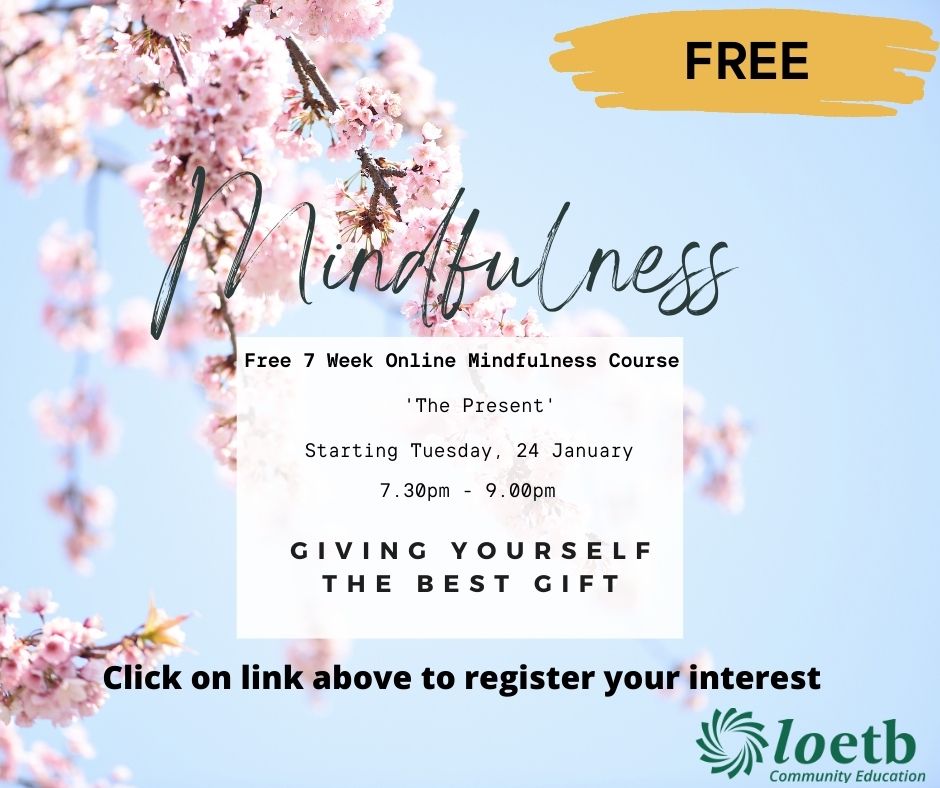 Loetb Abbeyleix
Check out Laois and Offaly ETB Community Education's FREE evening Art class which will be held in the LOETB Abbeyleix Further Education and Training Centre starting on Jan 25th. To register contact Hazel on 0578630099 or email hduffy@loetb.ie
Check out their Evening Class in Internet Skills commencing on January 18th in conjunction with Loetb Adult Literacy service. Register now https://forms.office.com/e/gr5RWmK6Zs
Starting in January ***FREE*** 7-week online Mindfulness Course. Every Tuesday, starting 24 January 2023.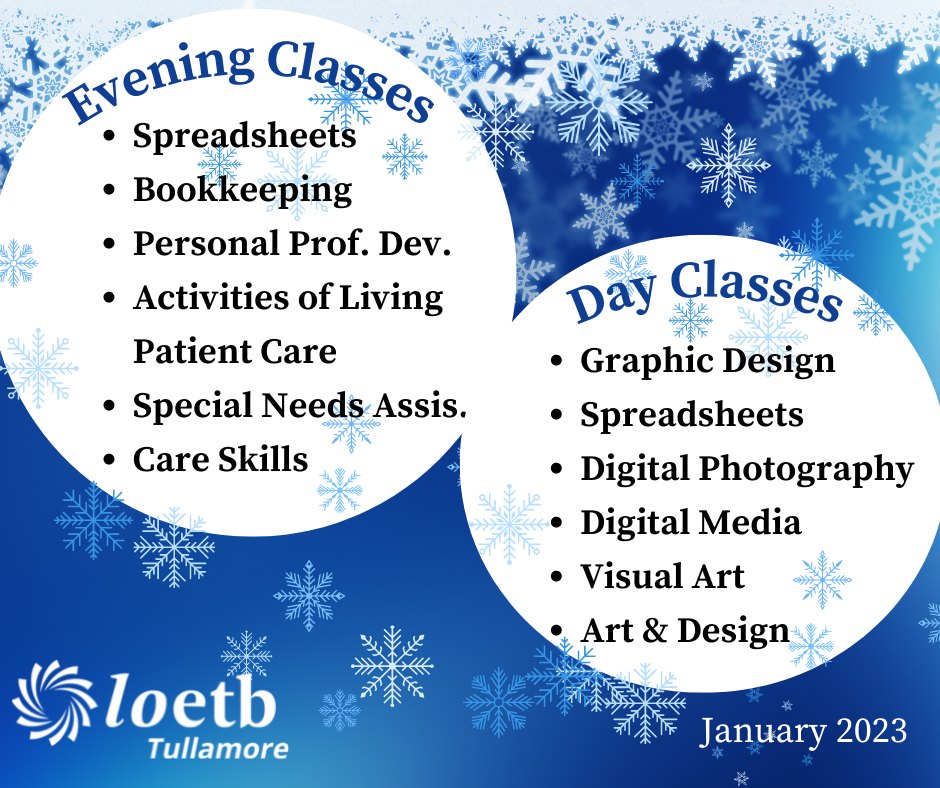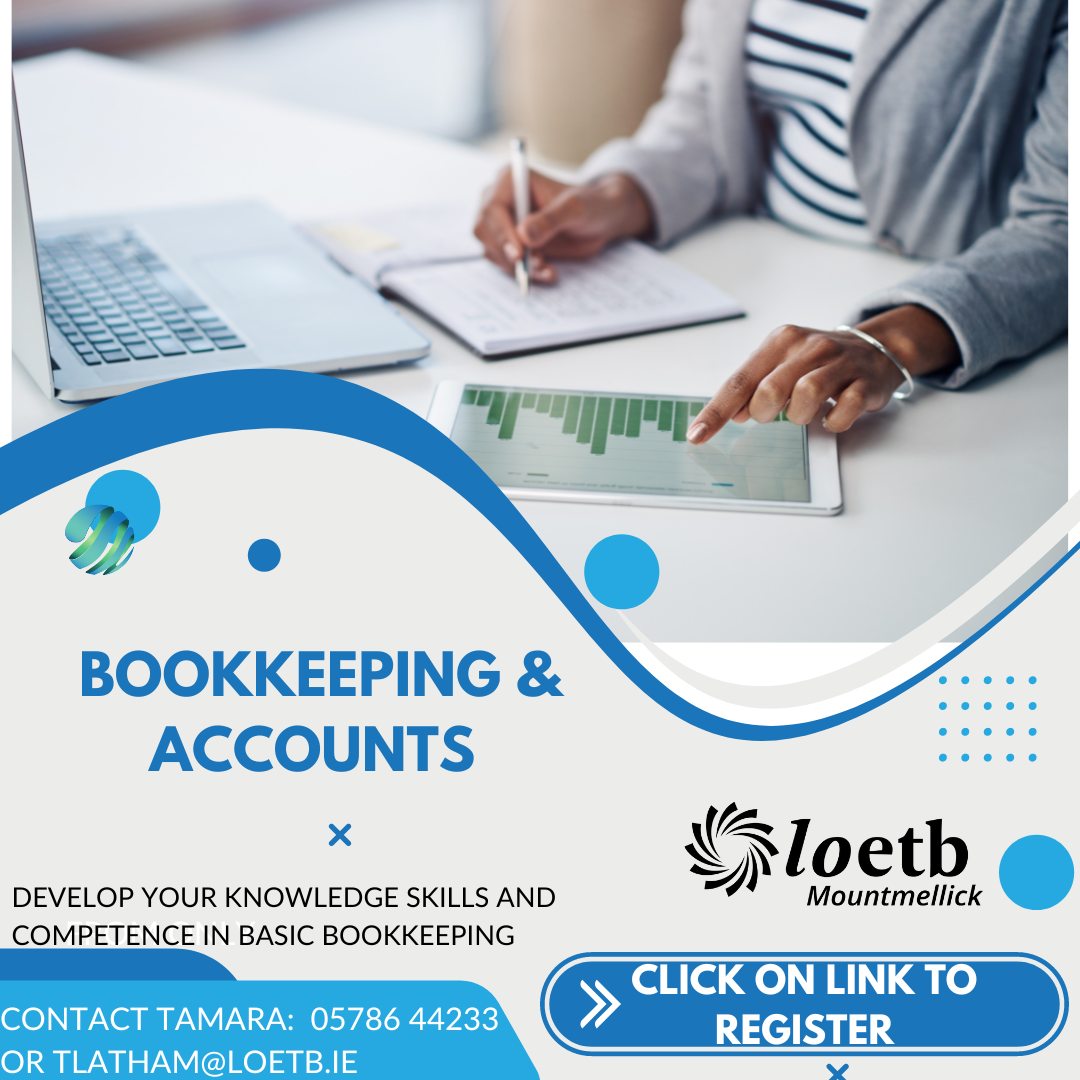 Mountmellick Further Education Training Centre
Commencing January 2023 Nail Technician Course. Monday Evenings, 14 weeks
Registration evening will take place on January 11th at 6.30pm.
To register your interest please complete the link below or contact Tamara for further details on
05786 44233 or Bookkeeping and Accounting Level 4 is Commencing January 2023, Thursday mornings from 9.30-12.30. For further information contact Tamara on 05786 44233 or tlatham@loetb.ie or apply through the link Bookkeeping and Accounting Level 4
Tullamore Further Education & Training Centre
New part time courses commencing January 2023.
Applications can be made online at www.tullamorefetc.ie
For more information email tullamore@loetb.ie or call 057 93 49424.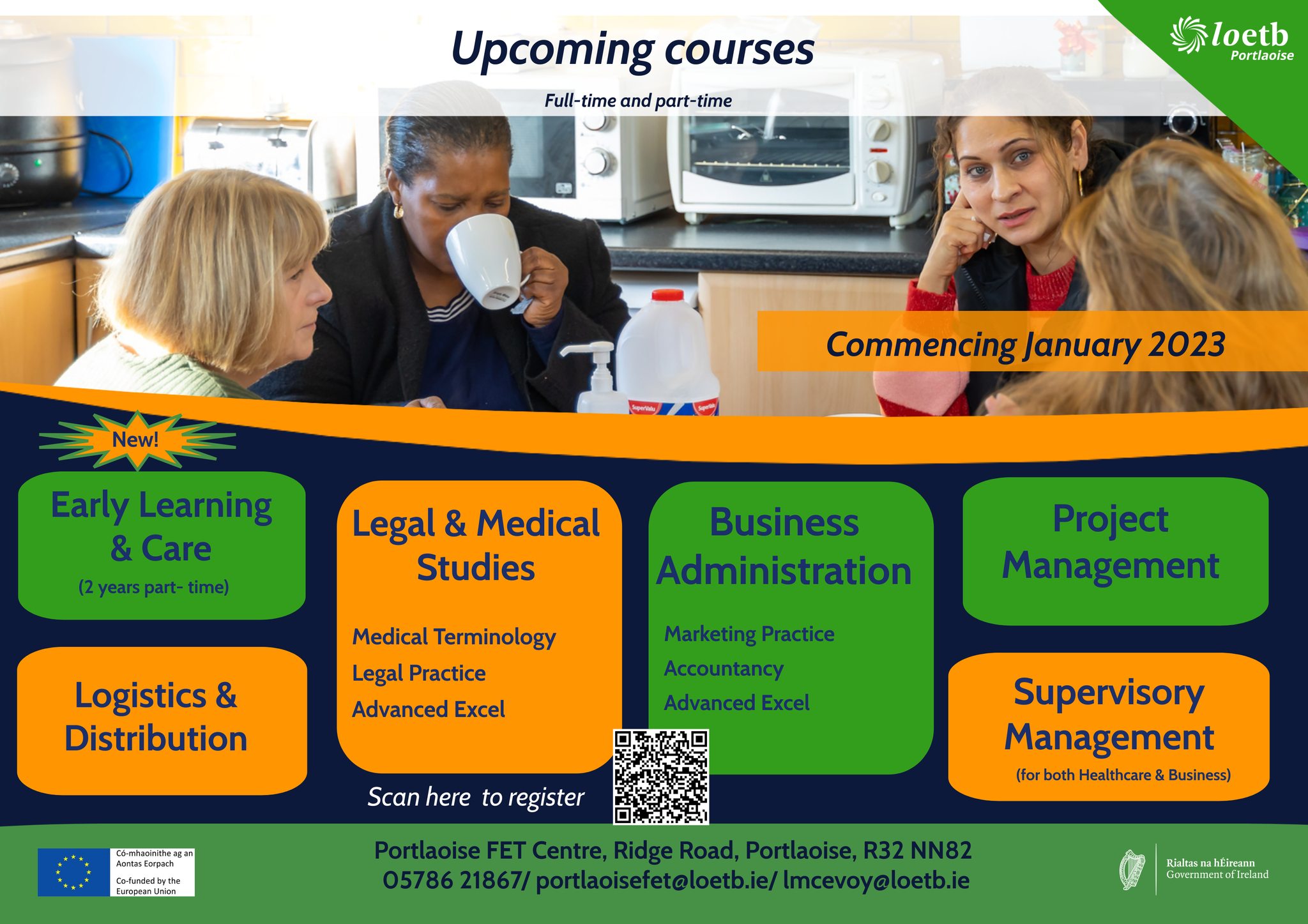 LOETB Birr have a range of new courses starting in January: Digital Presentations Level 5 – Wednesday mornings, Bookkeeping Level 5 – Monday mornings, Customer Service Level 5 – Thursday afternoons and Spreadsheets Level 4 – Wednesday evenings. Express your interest https://forms.office.com/pages/responsepage.aspx?id=1EnCadxXPkuADz7bp7sCLOkFCDMm1_hCnxy0kwZmf5ZUNk82U0M2QVpORFhJM1ZEUkVLUFFaM0NDWC4u
LOETB Portarlington
New SNA and Child Psychology modules starting in January 2023. Places are limited. Click on the following link to apply: https://portarlingtonfetc.ie/expression-of-interest..
They are also running Business Level 6 and Healthcare Modules in January
So why not think about taking those first steps towards your ambition by taking up a brand new course, who knows, it may steer your life in a different direction.