Congratulations to Colmcille Broadband Connection Point (BCP), St Joseph's National School and Scoil Bhríde Glen, who won awards at the first ever national Microsoft Dream Space Showcase, representing both Co. Longford and the broader Midlands region at the STEM event.
Prize winners from the inaugural Longford Microsoft Dream Space Showcase, which was held in Edgeworthstown at the end of May, represented the county at this national event which took place at Microsoft Ireland's campus in Leopardstown, Dublin on Friday, June 16 last.
Having already presented at the local Dream Space Showcase event, the Dublin event gave the primary school children and the local Our Kids Code clubs an exciting opportunity to present and showcase their micro:bit projects to an even wider audience.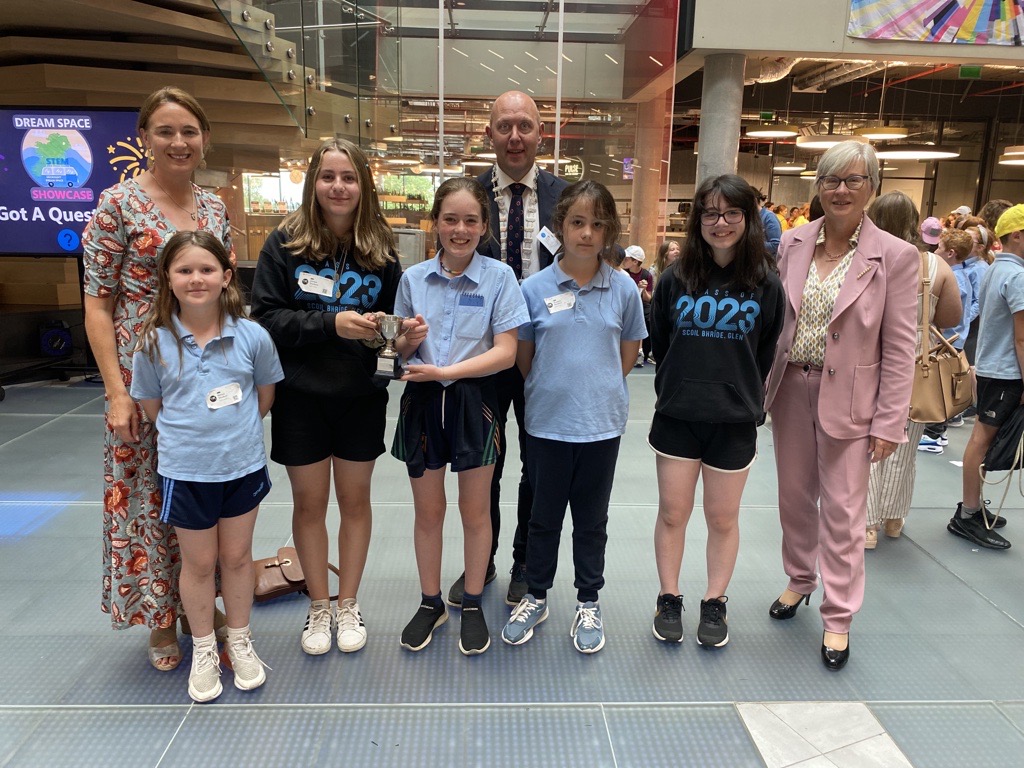 Challenge using STEM to address UN Sustainable Development Goals
The first-of-its-kind event saw 320 students from across Counties Longford, Tipperary and Kildare travel to One Microsoft Place to showcase their Science Technology Engineering Arts Maths (STEM)-based projects. The innovative projects presented by the students addressed various challenges related to the UN's Sustainable Development Goals (SDGs). These include wearable tech for improving young people's wellbeing, inclusive and accessible voting systems, initiatives to clean the ocean and prevent illegal dumping, as well as measures to reduce water wastage and so much more.
The collaboration between Microsoft Dream Space, Microsoft Ireland's STEM innovation and education programme, OurKidsCode and the Department of Rural and Community Development, as well as the participating schools and clubs, began back in September 2022, when the Microsoft Dream Space education team visited Broadband Connection Points (BCPs) in Counties Longford and Tipperary to conduct hands-on STEM education sessions as part of the "do your :bit" challenge.
On the day the students engaged in a wide range of activities including Minecraft Education Build Challenges, Badge Making, Music Making, Stem Sign Language. They also heard from speakers who shared their insights and experiences of working with Microsoft as well as having the opportunity to meet with Microsoft Ireland Site Lead and Vice President for Microsoft Global Operations Service Centre, James O'Connor.
The Longford winners awarded prizes were:
Scoil Bhríde, Glen was awarded the 'Digital Creativity Award',
St Joseph's National School was named 'Longford's Rural Future Champion', and
Colmcille BCP Our Kids Code Club won the 'Most Collaborative Project'.
These groups saw off competition from schools and clubs across counties Tipperary, Longford and Kildare.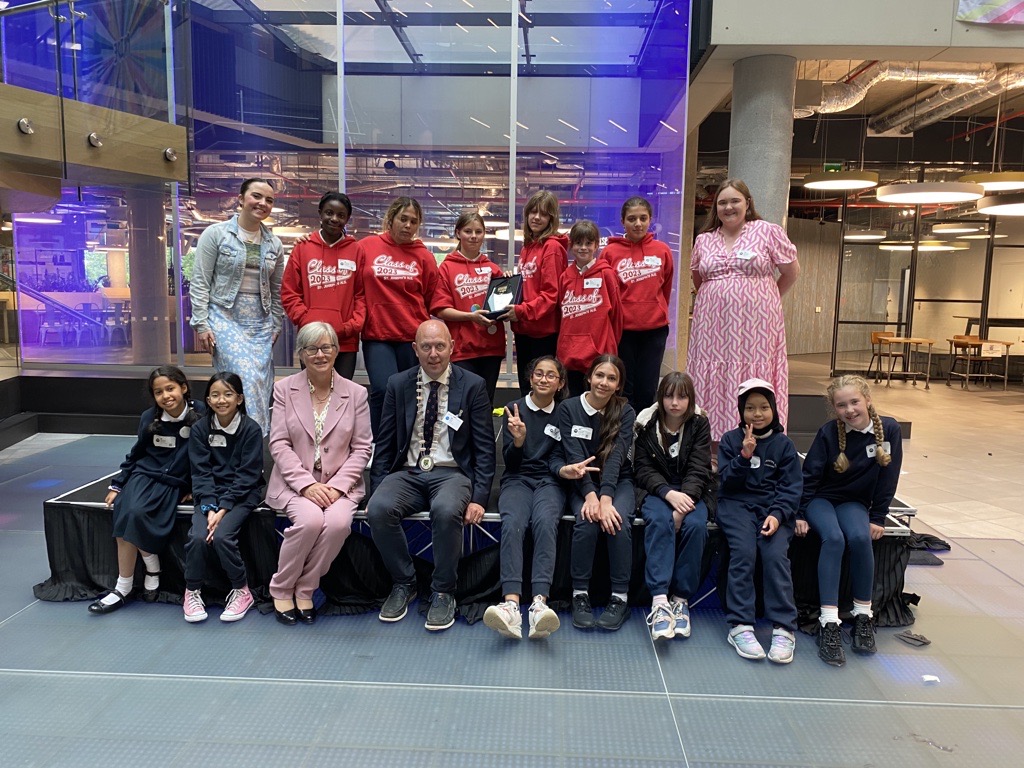 €3m investment with focus on closing urban to rural Digital Skills Gap
Cllr Paul Ross, who represented the then Cathaoirleach of Longford County Council Cllr Turlough McGovern at the event, extended his congratulations to all the schools, teachers and children involved. "The Longford primary schools and local Our Kids Code Clubs were exceptional on the day in how they presented their micro:bit projects and how they represented Longford," he said.
Longford County Council Chief Executive Paddy Mahon added, "A huge well done to all of the children who got to represent Longford on this new national stage."
James O'Connor, Microsoft Ireland Site Lead and Vice President for Microsoft Global Operations Service Center, said, "The inaugural Microsoft Dream Space Showcase was very exciting day for Microsoft Ireland and we were delighted it was such a success. Last year, we announced our intention to invest a further €3m in the expansion of our immersive Microsoft Dream Space STEM experience, to ensure that every student across the island of Ireland has the opportunity to develop the skills needed to succeed in a digital economy. The showcase was an important step on the road towards making that ambition a reality, as well as a step forward in helping to close the digital skills gap that often exists between rural and urban communities.
"It also marked the culmination of many months of hard work by primary school students and clubs as they sought to create innovative solutions to today's major sustainability challenges. I'd like to congratulate all the students who showcased their work at this inaugural event and particular congratulations to the students in Longford who received special recognition on the day."
Longford County Council is committed to continuing the operation of these programmes under the Longford STEAM Programme uniting educational initiatives in the subjects of Science, Technology, Engineering, Arts and Mathematics. Schools and local coding clubs will be contacted in the coming months to engage with the next programme of activities.
The Midlands region is leading the way in STEM education for children, as well as Microsoft Dream Space, Longford County Council are also working to become the first county in Ireland to offer Computer Science in all secondary schools. The Ericsson INFUSE programme run from Athlone offers thousands of students opportunities to learn about a future in tech and software engineering. VEX Robotics are working with Offaly County Council to teach coding and robotics to children at primary and secondary levels – just some of the exemplar programmes in place across the region. To learn more about Tech in the Midlands, visit Midlands ICT Cluster