The Technological University of the Shannon has opened new 'TUS Learning Gates' at locations across the Midlands.

Several 'TUS Learning Gates' are to be located throughout the Midlands region, ensuring access to Higher Education opportunities is available to those living and working in surrounding areas throughout the Midlands.

The first TUS Learning Gates to open in the Midlands are located in Remote Working Hubs located throughout Laois, Longford, Offaly and Westmeath: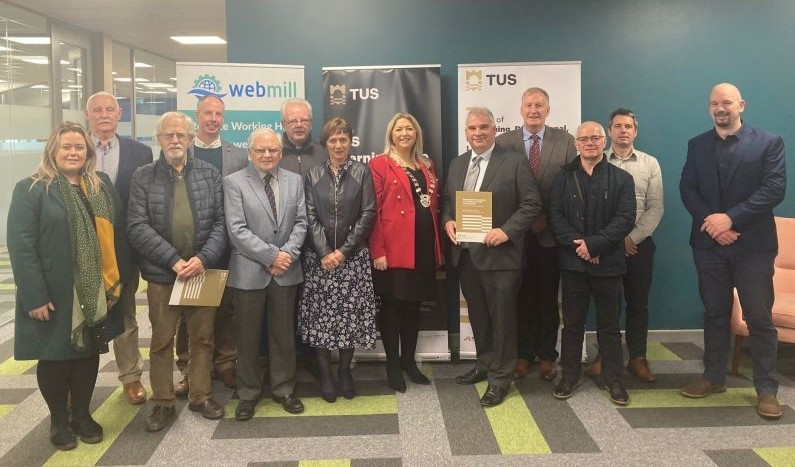 The 'TUS Learning Gate', a concept introduced by Dr. Michael Tobin, Dean of Faculty of Continuing, Professional, Online and Distance Learning, seeks to formally establish a location/space where TUS students and academic staff may meet and learn together, through the provision of one of the many online programmes provided by the Faculty of Continuing, Professional, Online and Distance Learning at TUS Athlone Campus.

The 'TUS Learning Gate' represents a space where TUS lecturers may deliver their lectures online, where students may study and access the TUS library online, where students may view their online lectures, meet to discuss projects, and/or complete group work based on the requirements of the programme that they are taking with the University. The objective is to enable students to study and work locally yet have a learning space to go to that is warm, comfortable, and set up to meet their needs.

Dr. Tobin added that "The TUS Learning Gate locations are all ideally located, and organised as a remote working hub, with desks and offices already in place, enabling students to have some of the third level experience in their local towns. Additionally, it minimises the necessity to travel to Athlone when attempting to seek out a quiet and professional space to work in." The concept he continued, "arose from student/lecturer feedback commenting that online learning students were often meeting in hotel foyers for group work, that their local broadband wasn't good enough or that they had no quiet place to study or to access their online classes. However, all of this is now solved with this progressive partnership between many Midlands Hubs and TUS, where together they are opening the 'TUS Learning Gate', thereby resolving those issues for those living in these regions and their surrounding area."

The 'TUS Learning Gate' is made available to students by each designated hub as it seeks to ensure that their region has a Higher Education facility. It is anticipated that a suite of programmes and services will be offered through the partnership, to support and assist those accessing each centre as a remote working location.

Mr. Declan Doran, Business Development and Work Practice Coordinator believes "The 'Learning Gates' will also represent a location where TUS may host information events and other such activities – broadening our reach and ensuring we are providing accessible education via online learning channels across the Midlands. This is in addition to creating an identity within each respective Learning Gate location, that TUS is present and seeking to work with local industry in designing programmes and research opportunities. TUS will use this as a location to proactively seek funding to support learning opportunities locally under various government and other initiatives e.g., Springboard+, ICT Skills, and the Human Capital Initiative. Programmes will be identified through consultation with local stakeholders and designed to support those working and living (and possibly commuting) in the vicinity of each TUS Learning Gate location. Our objective is to deliver relevant, accessible programmes locally or in a location affiliated with the 'TUS Learning Gate"

Professor Vincent Cunnane, president of the Technological University of the Shannon further added that "The objective of the 'TUS Learning Gate' is to bring the delivery of Higher Education to these regions, to ensure that those living and working in these localities can access flexible part-time Higher Education programmes, as delivered by TUS locally. This will go some way towards supporting these regions social, business, and industrial communities through the provision of access to appropriate skilled staff, through either upskilling or re-skilling opportunities, to be made available through the partnership between each remote working hub and TUS and locally enabled by the 'TUS Learning Gate' concept."

Michael Newham, Business Development Manager for Midlands Hubs, the network of regional co-working facilities, said he was delighted to see so many remote working hubs in the region team up with TUS on this new concept. " Our hubs offer calm professional spaces with an essential range of facilities such as fast broadband, and Eduroam that support learning, and encourage collaboration among members whether you are a student or an established business. With nine Learning Gates available throughout the Midlands and more to come in 2023, we're ensuring location is no longer an obstacle to accessing higher education."

In recent years, TUS has been very successful in receiving funding through the Springboard+, HCI and ICT Skills initiatives, all initiatives that make learning and upskilling available to many cohorts of people (employed, unemployed, and others) on a part-time flexible basis. In the current academic year, the University has over 2000 students, predominantly adults studying their range of programmes each week from all 32 counties availing of their range of part-time flexible programmes delivered in an online learning mode across disciplines including Business, Law, Leadership, Quality and Lean, Logistics, Packaging, Executive Management and many more. And, indeed going forward these students would like to see Learning Gates established in all counties.

The 'TUS Learning Gate' concept represents a network of facilities specifically for those students, as they wish to work and study with fellow students in a professional environment, with access to a dedicated desk and Wi-Fi.
For more information on the network of Midlands Hubs, click here
For more information on TUS and their range of courses, click here